Registering yourself or your children through LeagueApps is quick and easy — you can be signed up and paid in just a few minutes! See our guide below for step-by-step instructions. If you run into any issues along the way, be sure to let your program organizers know so they can contact our support team.

Step 1: Select a program
Organizers using LeagueApps will choose to display their program choices in many different ways, but you can usually find their offerings on their websites. Once you've chosen a program, click the Register button to get started.
Step 2: Log in or create an account
If this is the first time you've used to LeagueApps to register for a program, you will need to create an account. If you're a returning user, click the Sign in with LeagueApps link.
⚠️ When creating an account, enter your information as the parent/supervisor. You will enter your child's information later.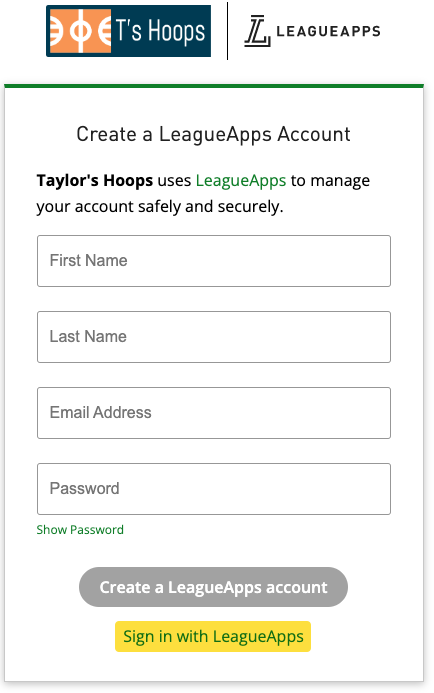 Step 3: Enter Member Profile Information
Next you will need to enter member profile information specifically required by the program organizers, such as your name and address.
⚠️ When entering member profile data, enter your information as the parent/supervisor. You will enter your child's information later.
Step 4: Enter your child's information or choose an existing child member
After creating your parent/supervisor account, the next step is to create your child's account.
You may add multiple children to your account, but each child must be added individually.
⚠️ If you receive an error when entering an email address for you child, leave the field blank.

Step 5: Choose registration type
After you enter or select your child, you will be asked to pick a registration type. There is often only one choice, but click on the option that best suits your preference.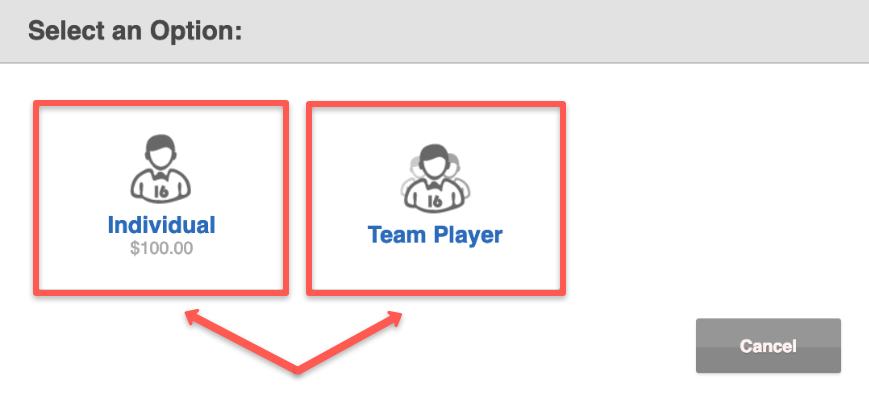 Step 6: Enter Registration Details
After selecting a registration type, you will be asked to complete details specific to the program you have chosen — and, in some cases, choose among payment options.
⚠️ If you have been given a discount code by the program organizers, it must be entered on this step.
If your child's program offers payment plans, you can select one or choose to pay dues in full. If you select a payment plan, you will also need to agree to the plan by checking the box.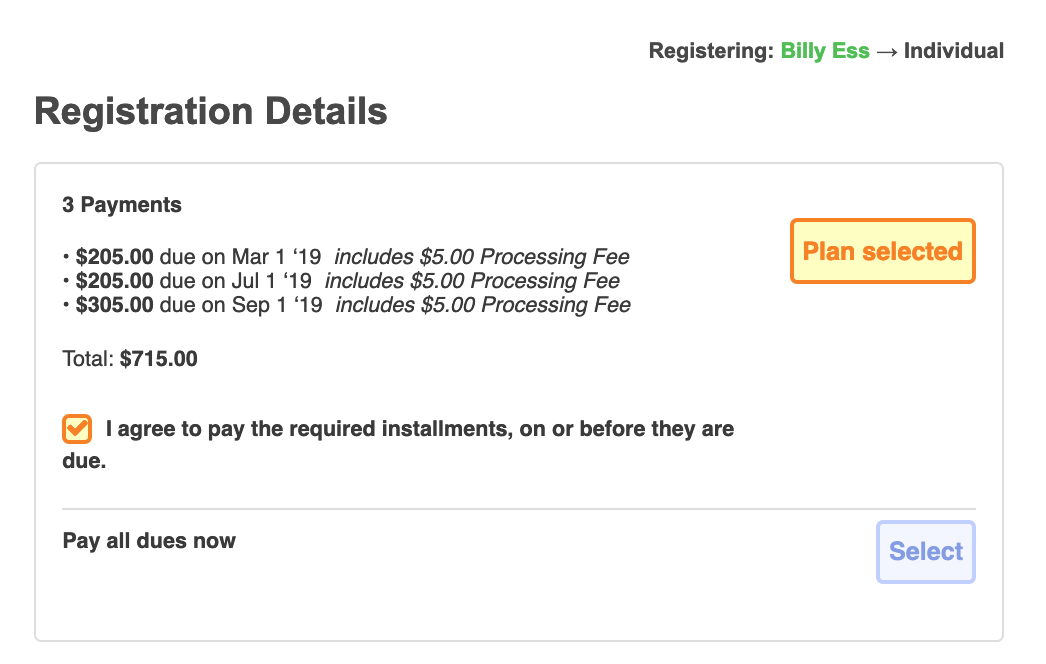 After selecting a payment option, where applicable, proceed complete any registration form fields required by the organizers.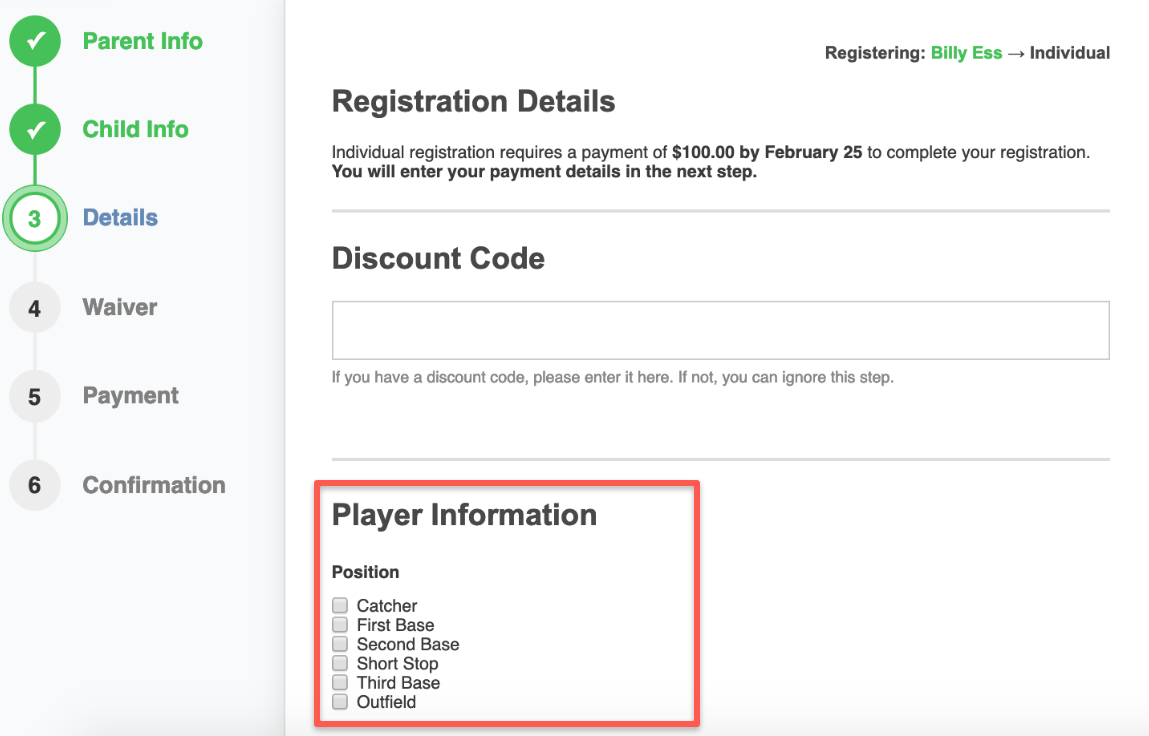 Step 7: Accept Waivers
Most organizers will require you to accept a waiver or waivers. Read through each carefully and agree to them by checking the box. If a waiver is hidden, click the small arrow to the left of the checkbox to unhide its text.
⚠️ Each waiver acceptance is unique, date and time-stamped, and is stored so you and the program organizers can reference in the future.
Once you checked the box for each waiver, click Next to continue to payment.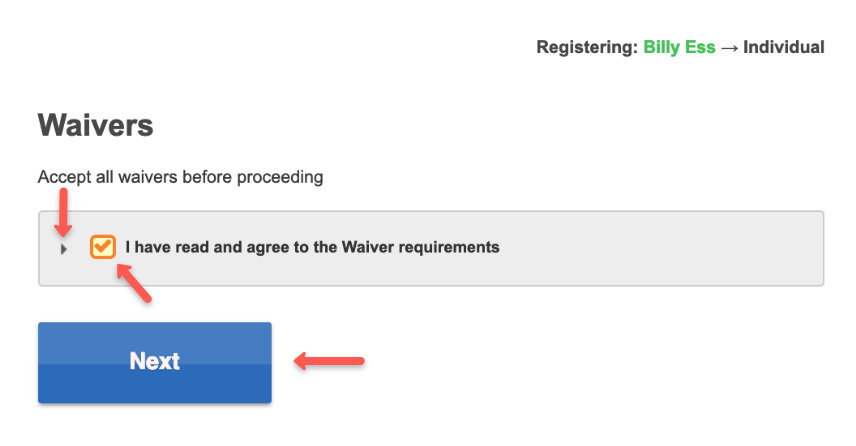 Step 8: Complete Payment
Finally you be asked to complete payment. For many LeagueApps organizers, you will be able to pay by either linking your bank account or by entering your card details.
Click on your preferred payment option to finalize payment.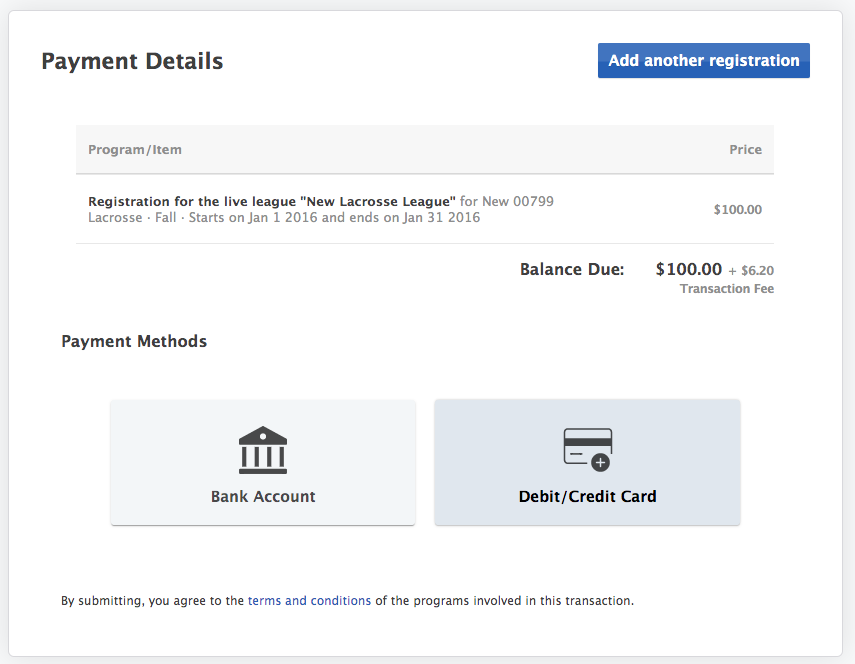 Final step: Registration Confirmation
Once payment is complete, you will be taken to a registration confirmation. This page may included program details, which will also be included in a confirmation email that is automatically sent to you.
From this page, you can complete additional actions if desired. This is a great opportunity to add another parent or supervisor to your family account. Other actions are:
Pay the balance due
Add another registration
Visit your dashboard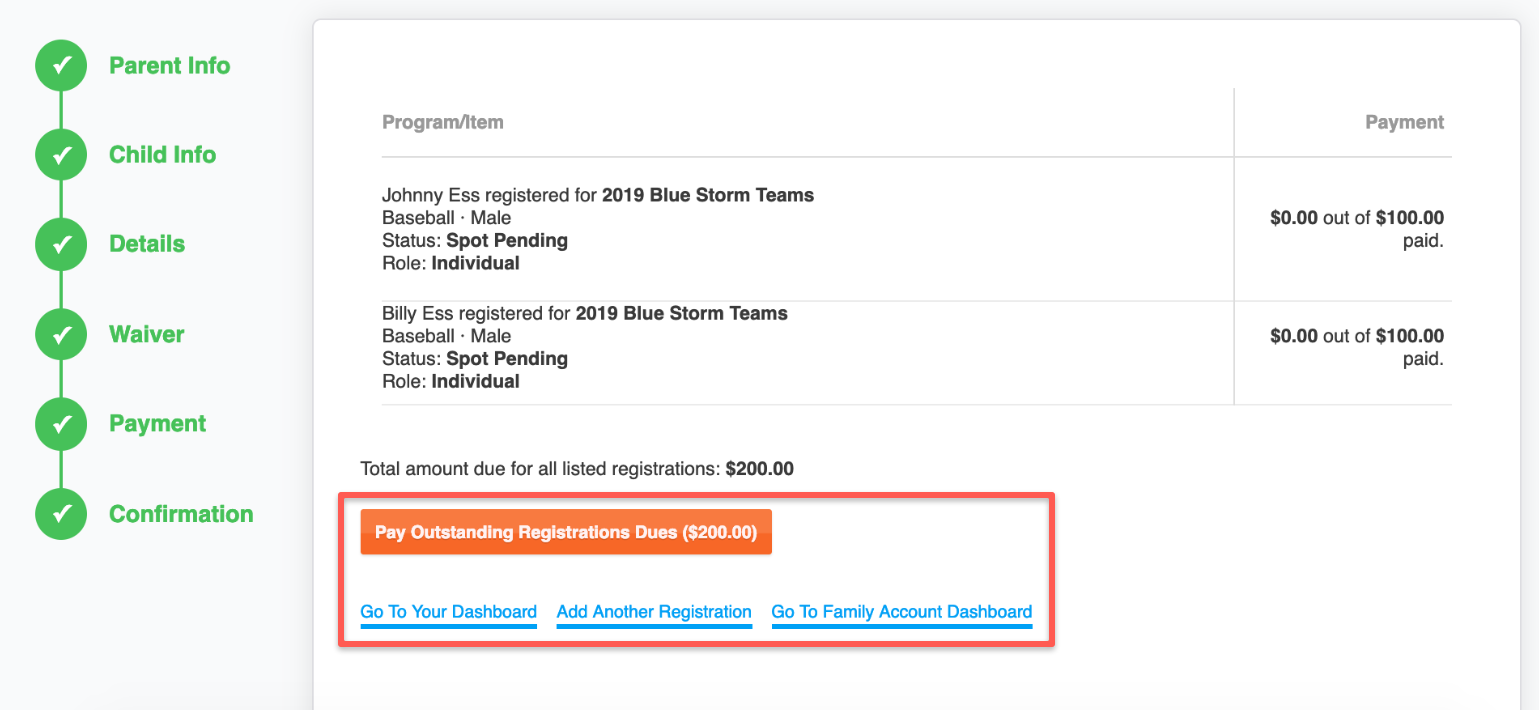 Other helpful guides for parents