If you are a team participant or staff member, you most likely have access to your team's roster. Roster visibility is determined by your system administrator, and you may not have access to your team's roster. Use this article to learn more about the team roster via the web portal.
⚠️ This article will not cover viewing roster information via the LeagueApps Play or branded mobile apps.
Log in and navigate to team page
To access your team page, you'll need to log in first. This log in page can usually be found on the organization's website. (The login page found at leagueapps.com will not work for program staff, parents or participants.)
Once you are logged in, a list of teams for which you are registered will appear on your member dashboard. Click on a team name to visit it's team page.
Web rosters
Here you will see a list of players and staff on the roster. The amount of information displayed here is configured by the program organizers. Below is a sample view of the web roster on mobile.
Also depending the organizer's preferences, you may have the ability to export roster information to a CSV file or print the roster.
The information displayed on the printed roster is determined by the program organizers.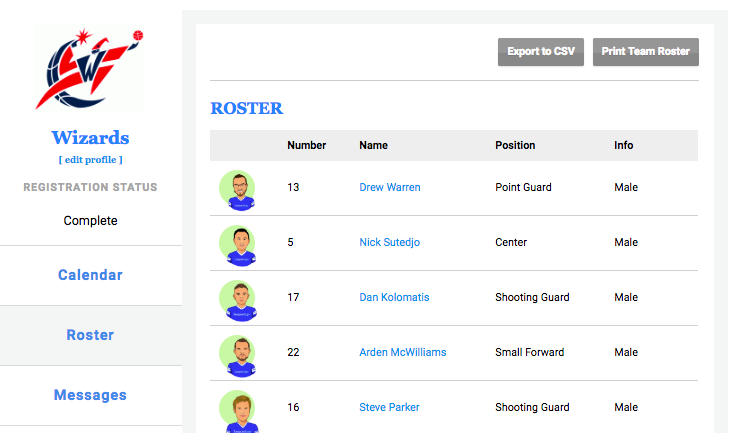 Roster Management & Submission
Most programs provide roster management capabilities to program staff. Learn how to invite, add, or copy players as a staff member or captain.
Your program may require roster submission. If so, submit your completed roster by clicking Submit Roster. This is not reversible, so take care to submit your roster once you're certain it's completed.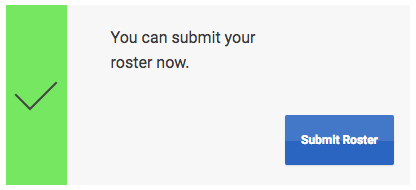 Depending on your administrator's settings, you may be unable to make changes to your roster after submission. Make sure your roster is complete before submitting!
Staff Managed Form Fields
Your program may provide staff managed form fields for each registration. These are form fields answered for a participant by their team's staff member. If your program has staff managed form fields:
Navigate to the Roster tab from your Team Page
Click Edit next to a player's registration record
Fill in the form fields and click Edit Player to save the changes.
Depending on your admin's preferences, you may be able to edit all form fields or only staff managed form fields (you may also not have editing capabilities for any form fields).