LeagueApps' transformed tournaments scheduling experience is available for our partners to leverage alongside our existing functionality for scorekeeping, standings, and registration. This experience includes pool play & single elimination bracket game generator, drag & drop calendar views, tournament-level double booking prevention, mobile app upgrades, and more. It has been optimized for both desktop web and mobile web views.
Table of Contents
Accessing Tournament Scheduling
Schedule Grid
Manage Locations
Click on Manage locations.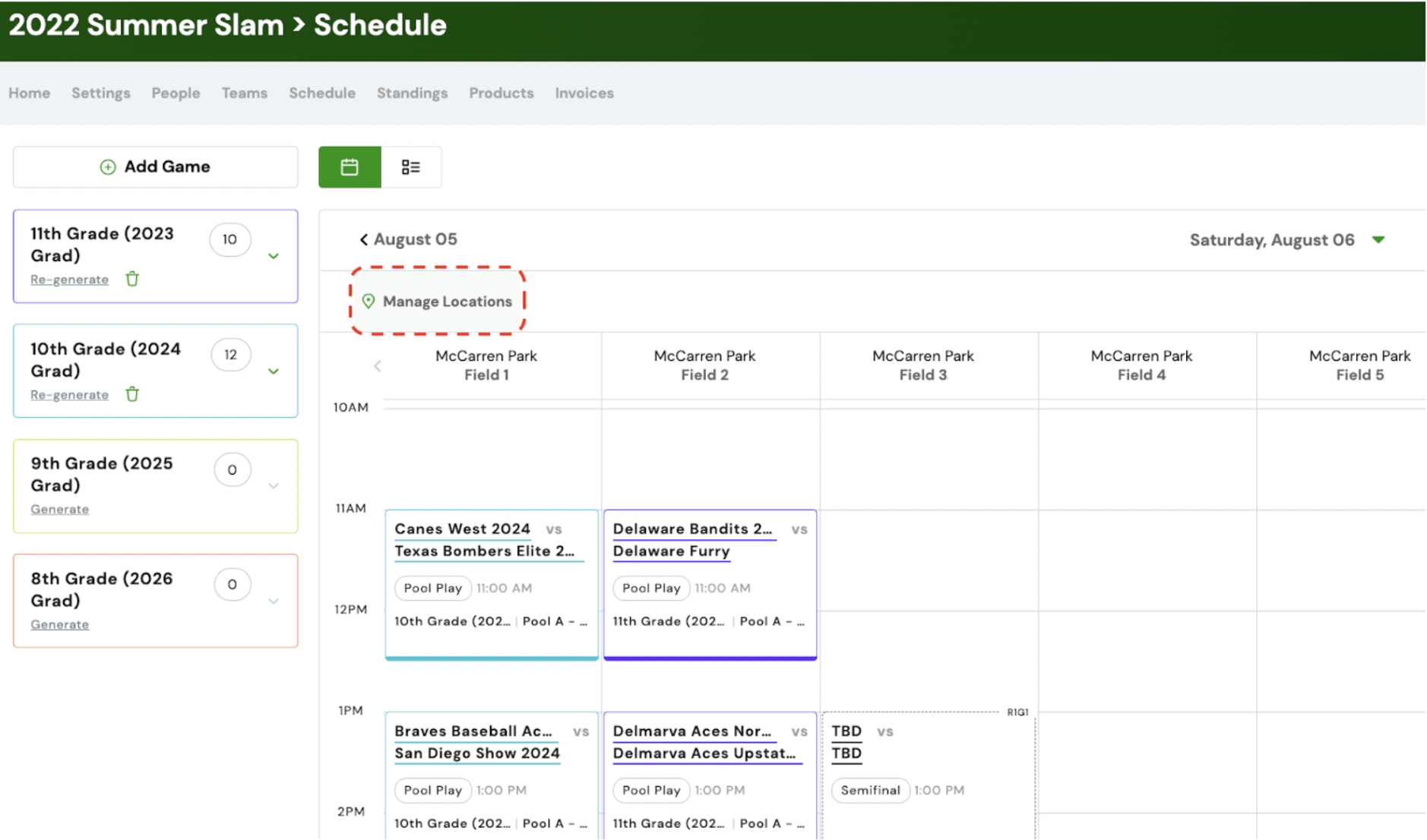 Manage Locations Selector
Select desired locations to add to the grid. You can also remove locations from the grid.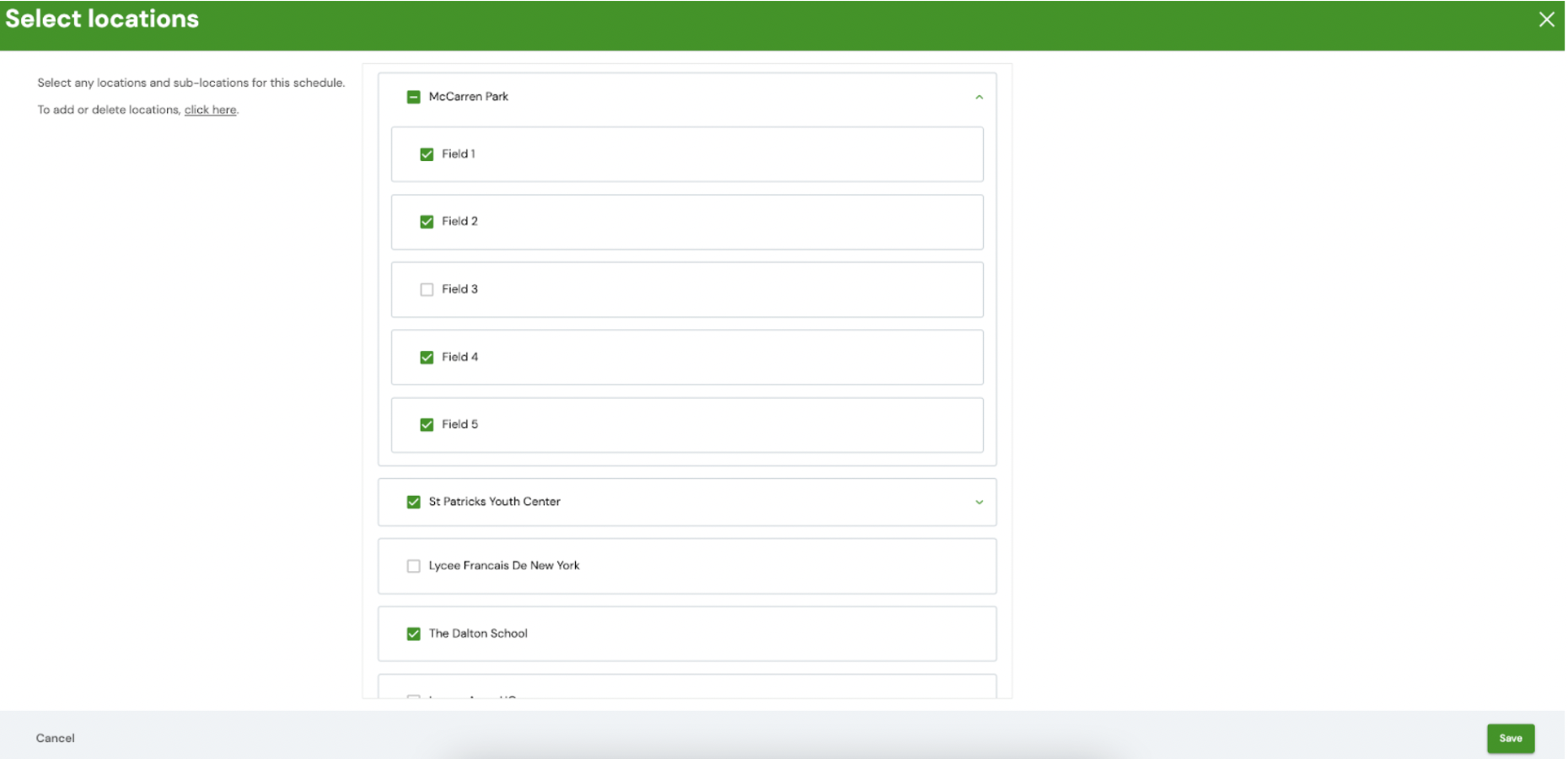 Date Navigation
Use the back and forth arrows on the grid to scroll between days and use the date picker on the grid to select a specific date.

Generating Games
Generate Games in Unscheduled Game Bank
Click the Generate link in the game bank.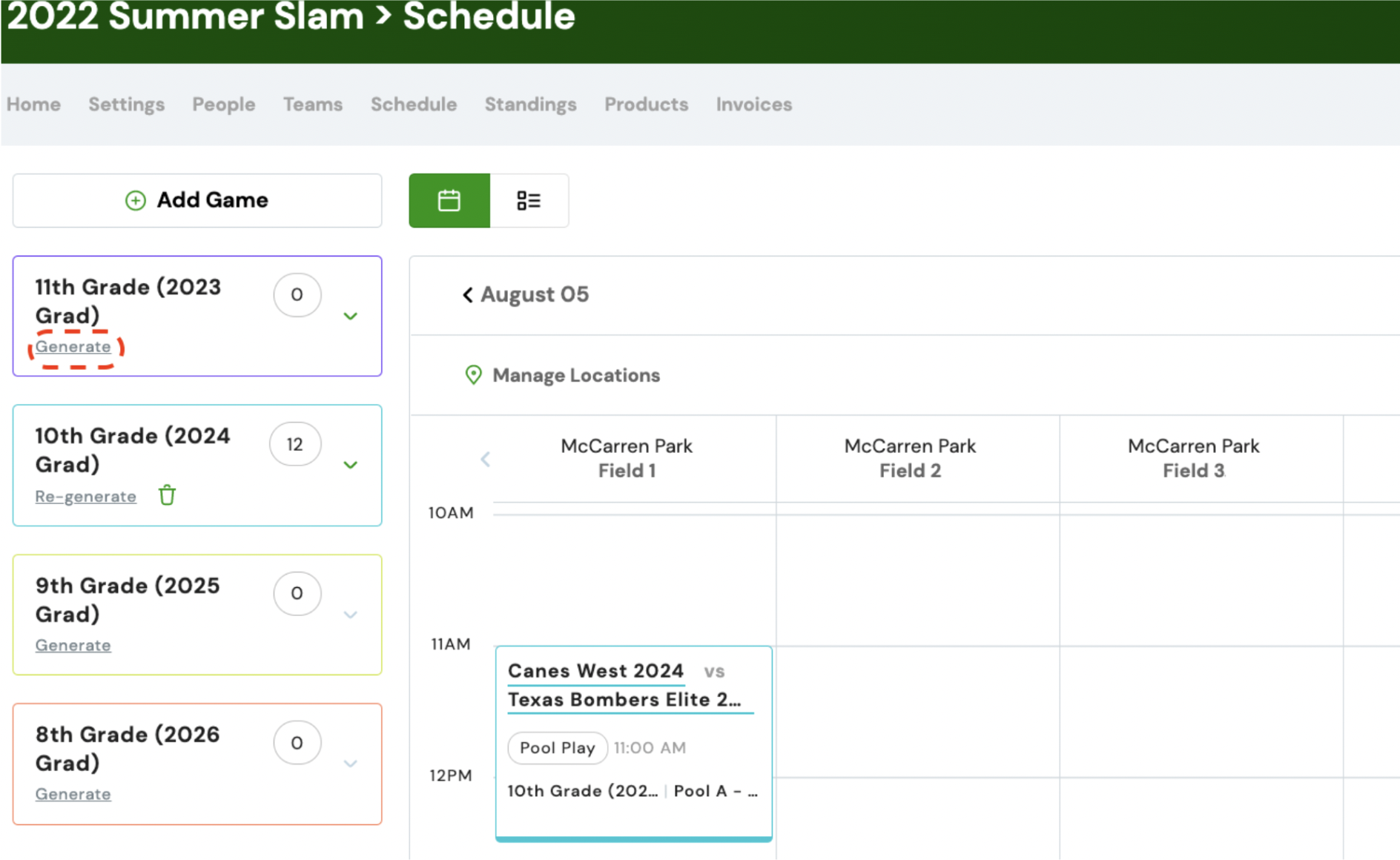 Here, you can set pool play games including a single elimination bracket.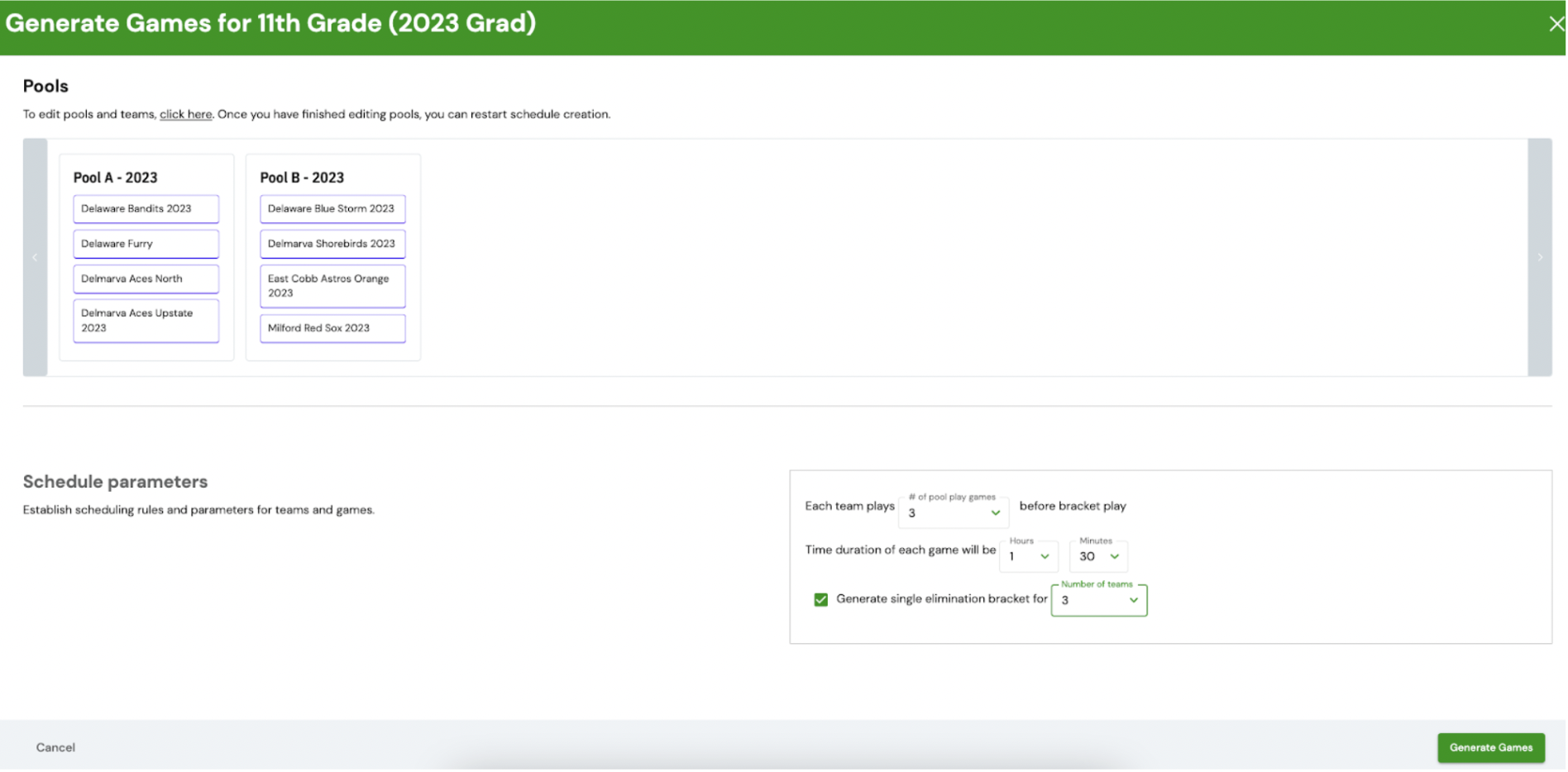 Regenerate Games
You can regenerate a new set of pool play games with a different schedule parameter inputs including a single elimination bracket after an initial set of games has already been generated. Notice the count change after games are generated, games move from unscheduled to scheduled, and when games move from scheduled back to unscheduled.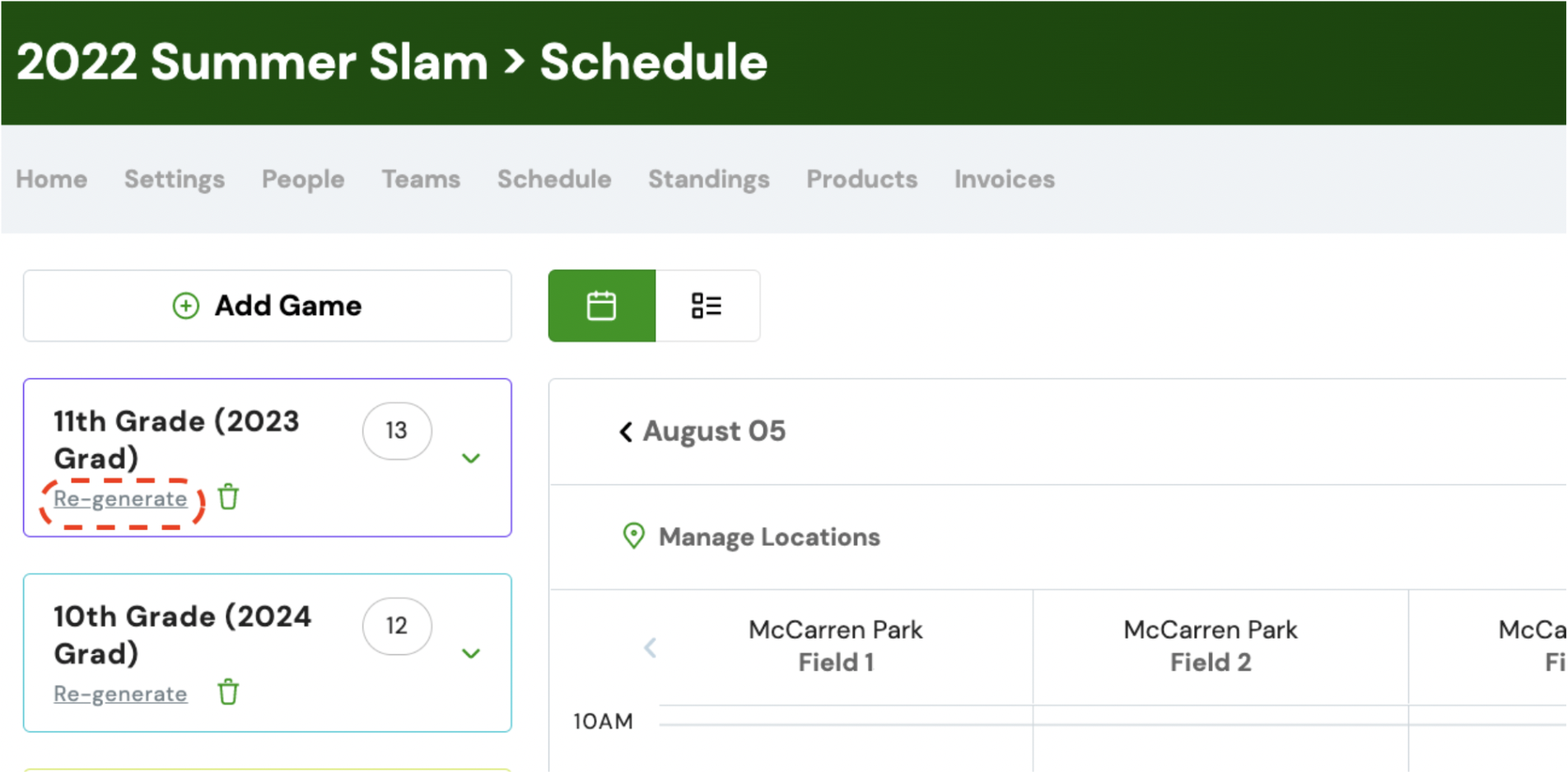 Bulk Delete Games
You can delete all games using the trash can icon.

Drag & Drop Scheduling
Schedule a Game
Drag game cards from the unscheduled bank on the left and drop them on the grid. You can also drag a game card that is scheduled on the grid to a different location and time on the grid.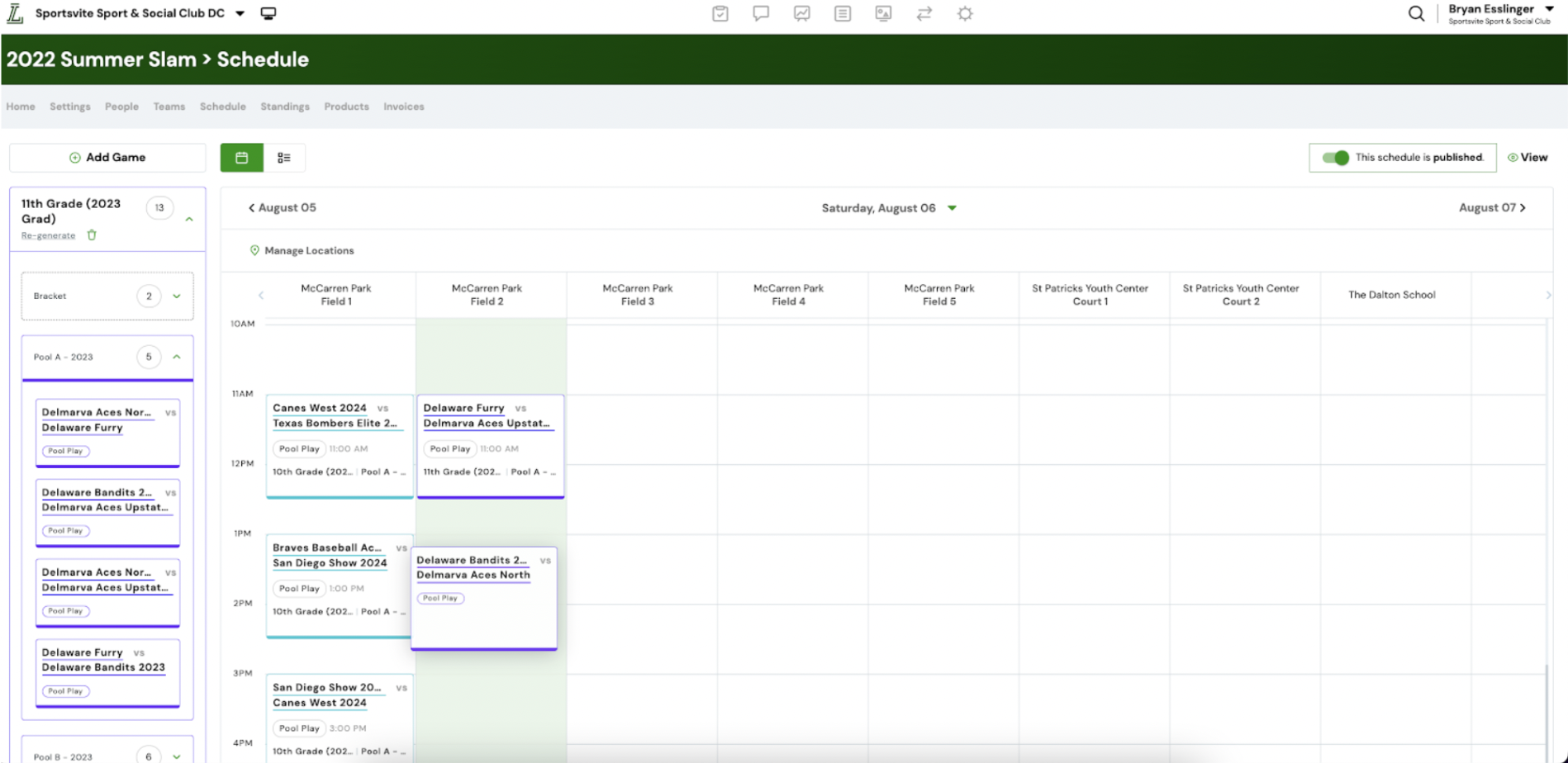 Unschedule a Game
Drag a game card that is scheduled on the grid and drop it in the unscheduled game bank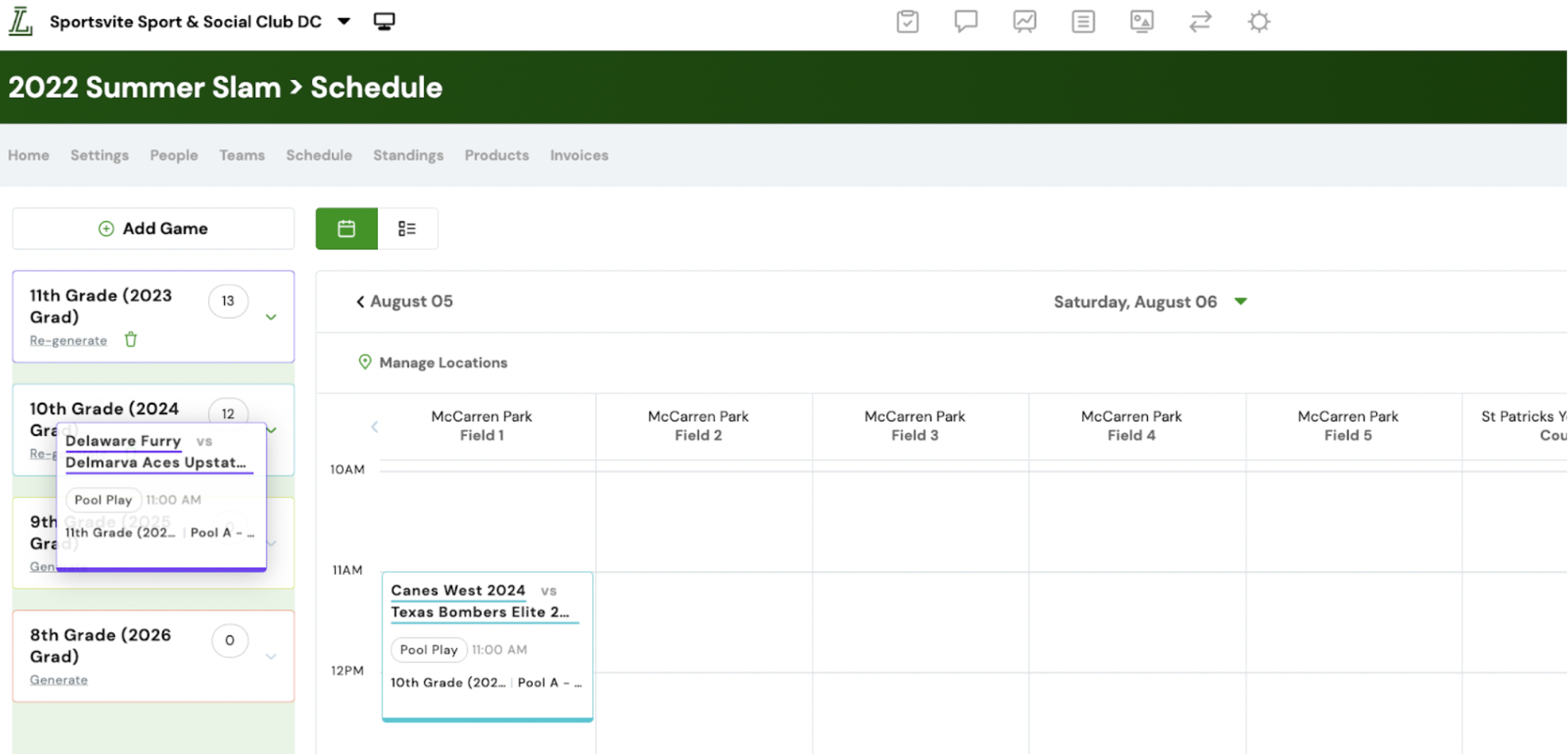 One team playing multiple games at same time prevention
If you drag a game card from the unscheduled game bank or from the grid, and drop it on top of another game card that is already saved on the grid, you will see this error appear.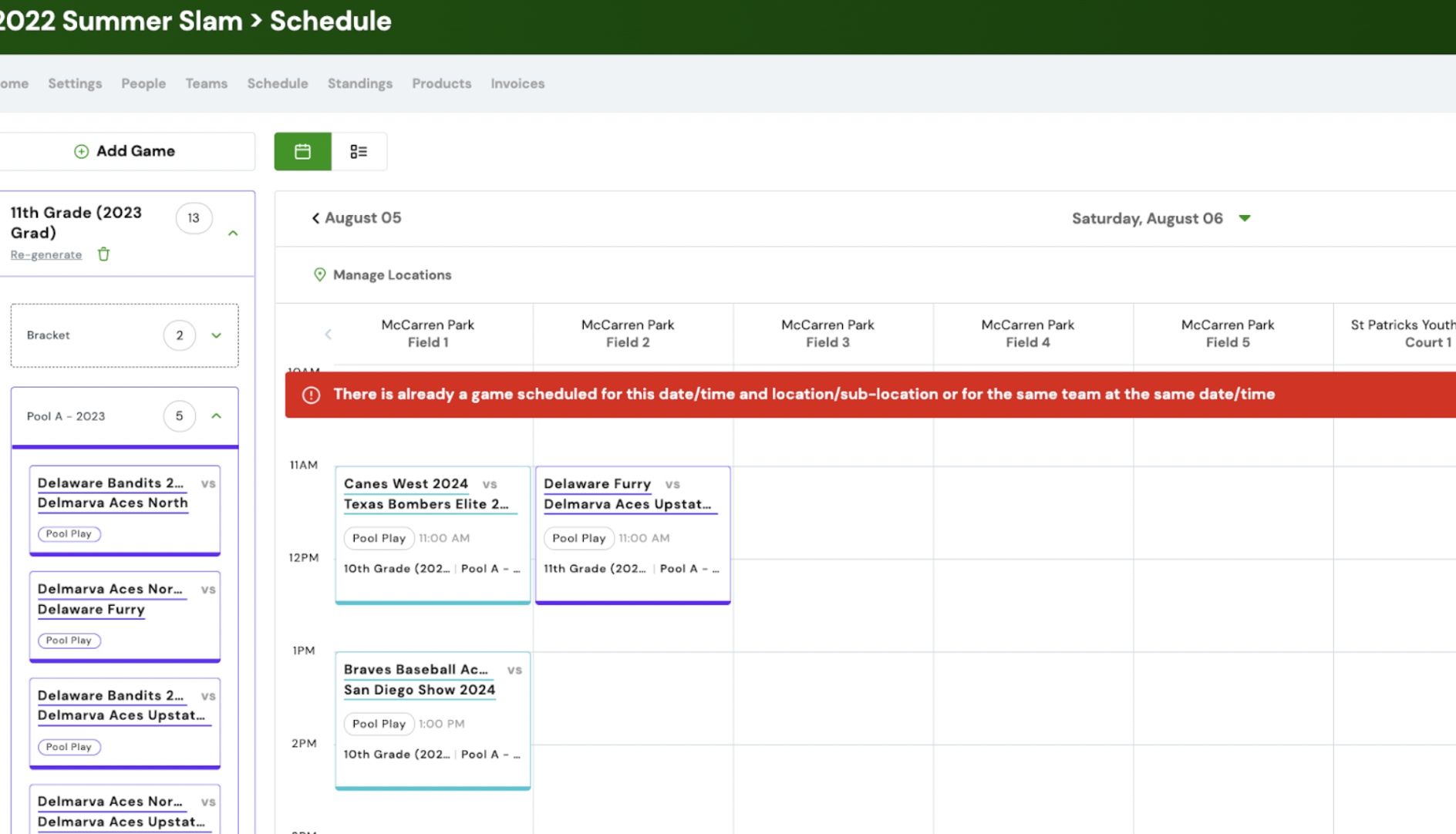 Single Game Actions
Add Game
Create a new game by clicking the Add Game button and filling in the information.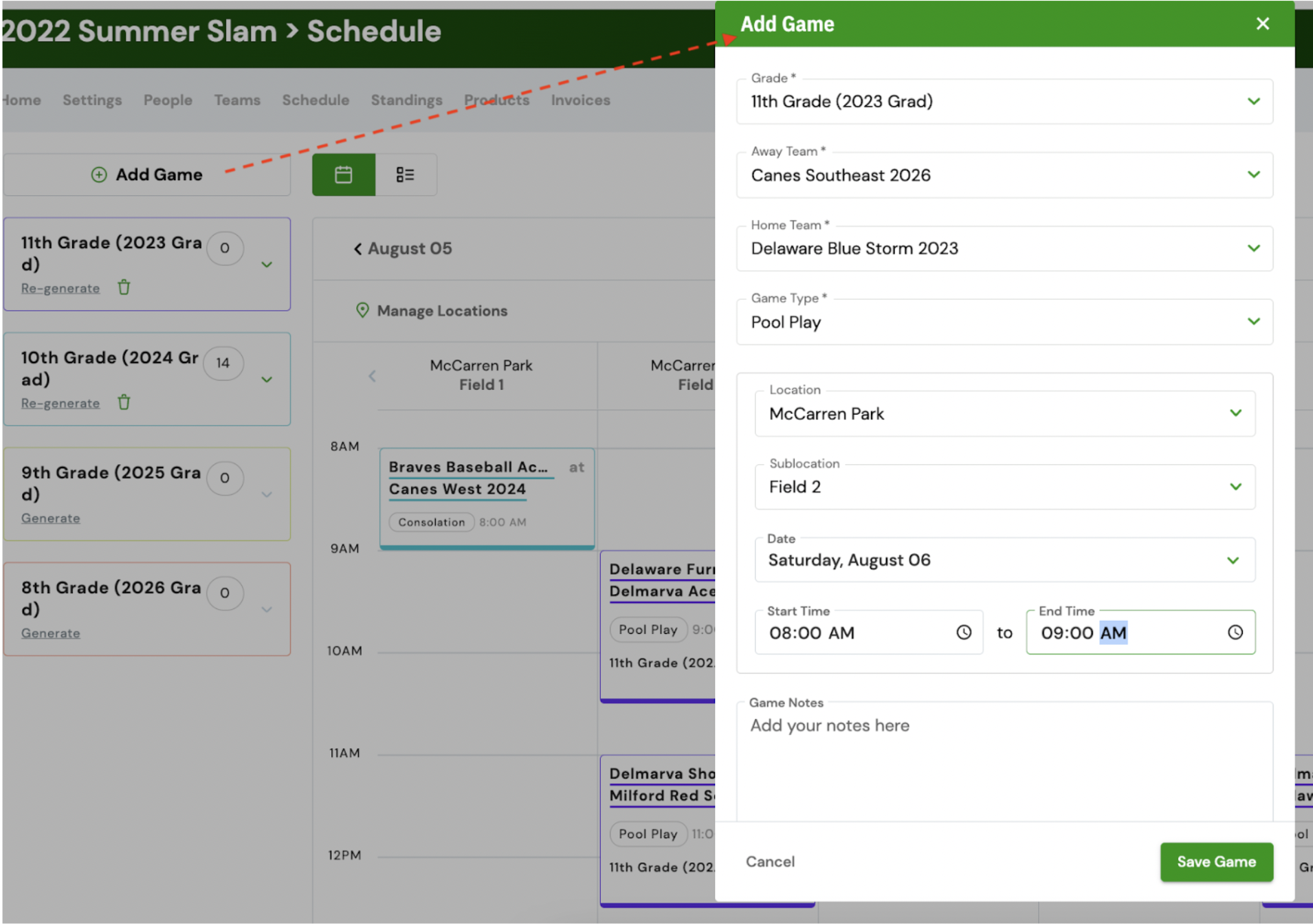 On your mobile device, you can also add a game your schedule by tapping the Schedule actions dropdown, and then tapping the Add Game option.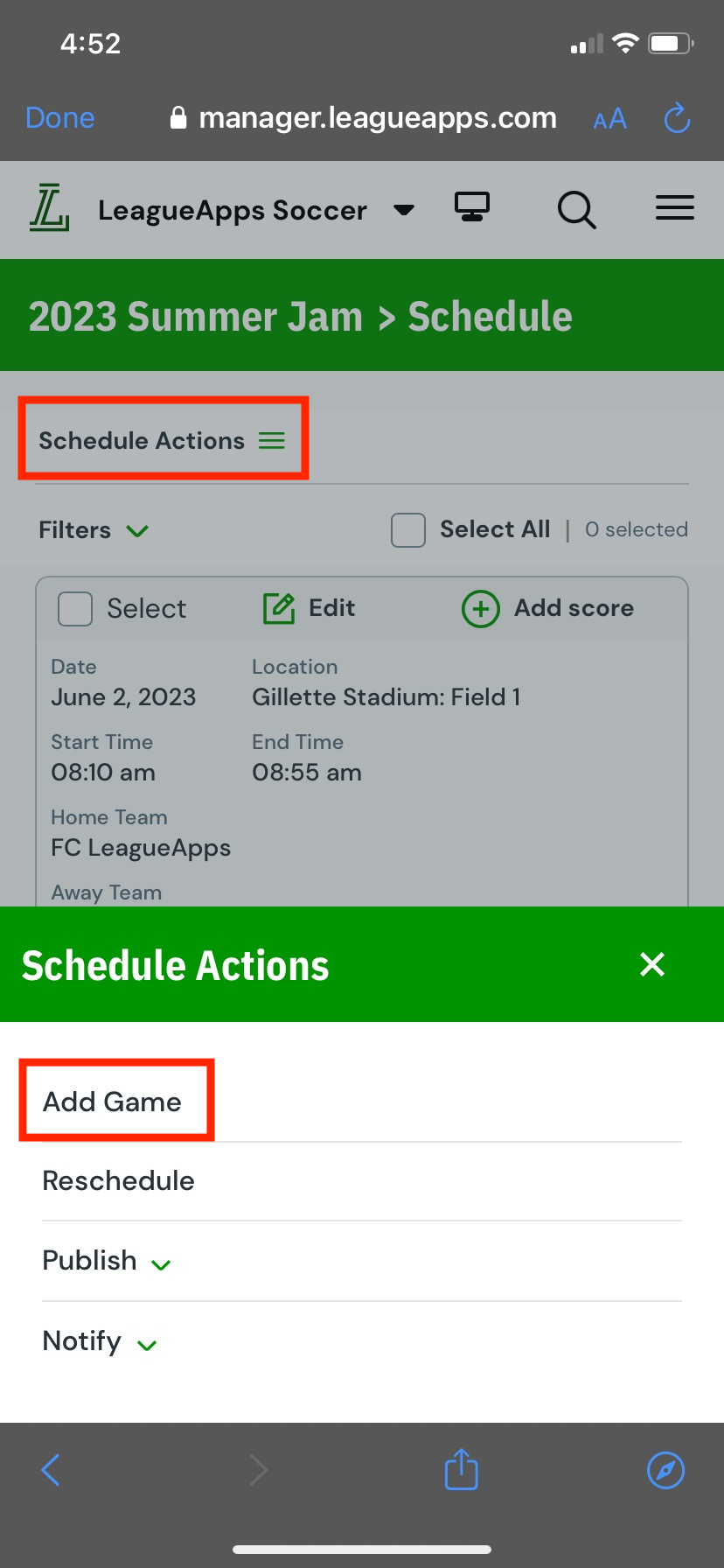 Edit Game
You can edit a game by clicking on a game card.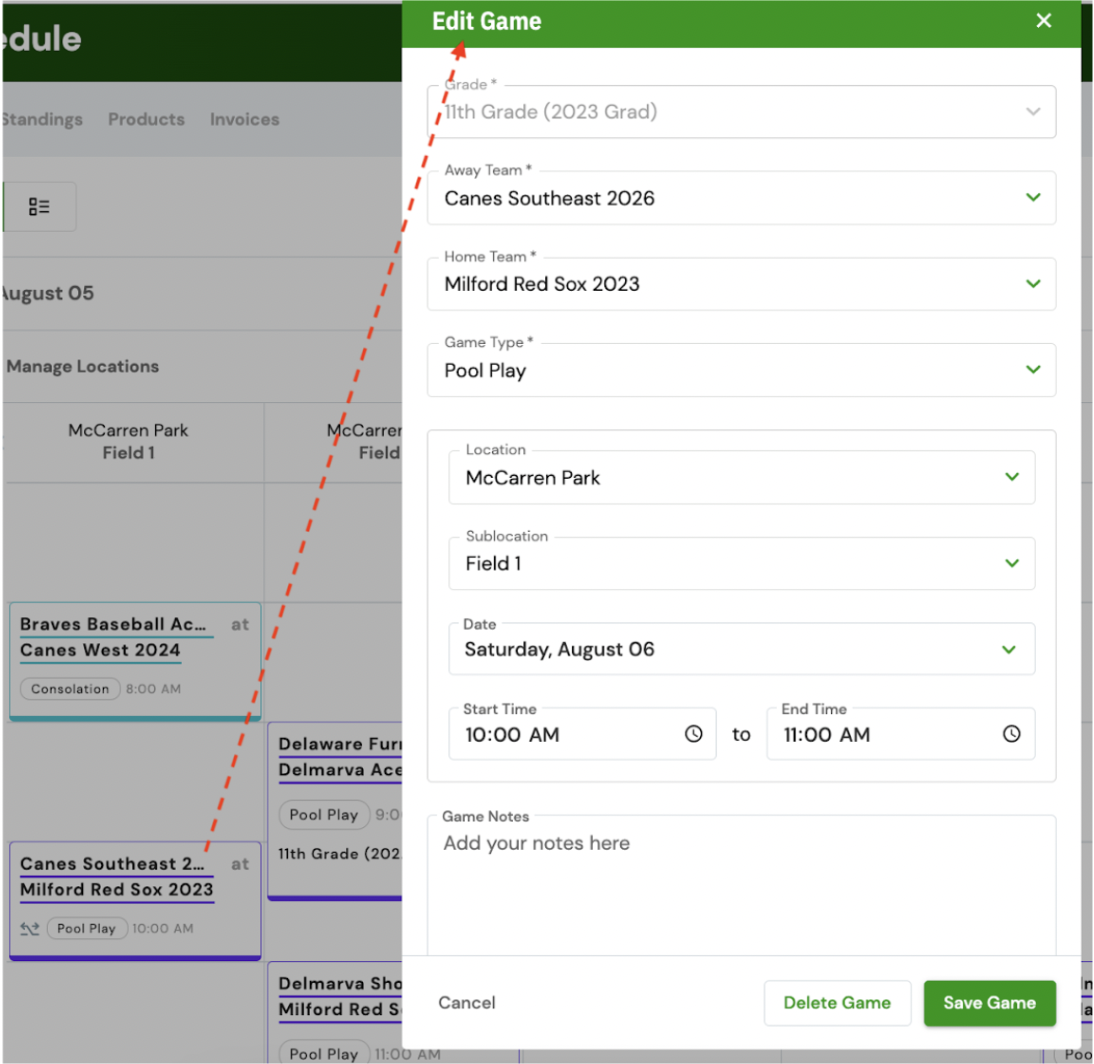 On your mobile device, you can also edit a game by tapping the Edit link on each game card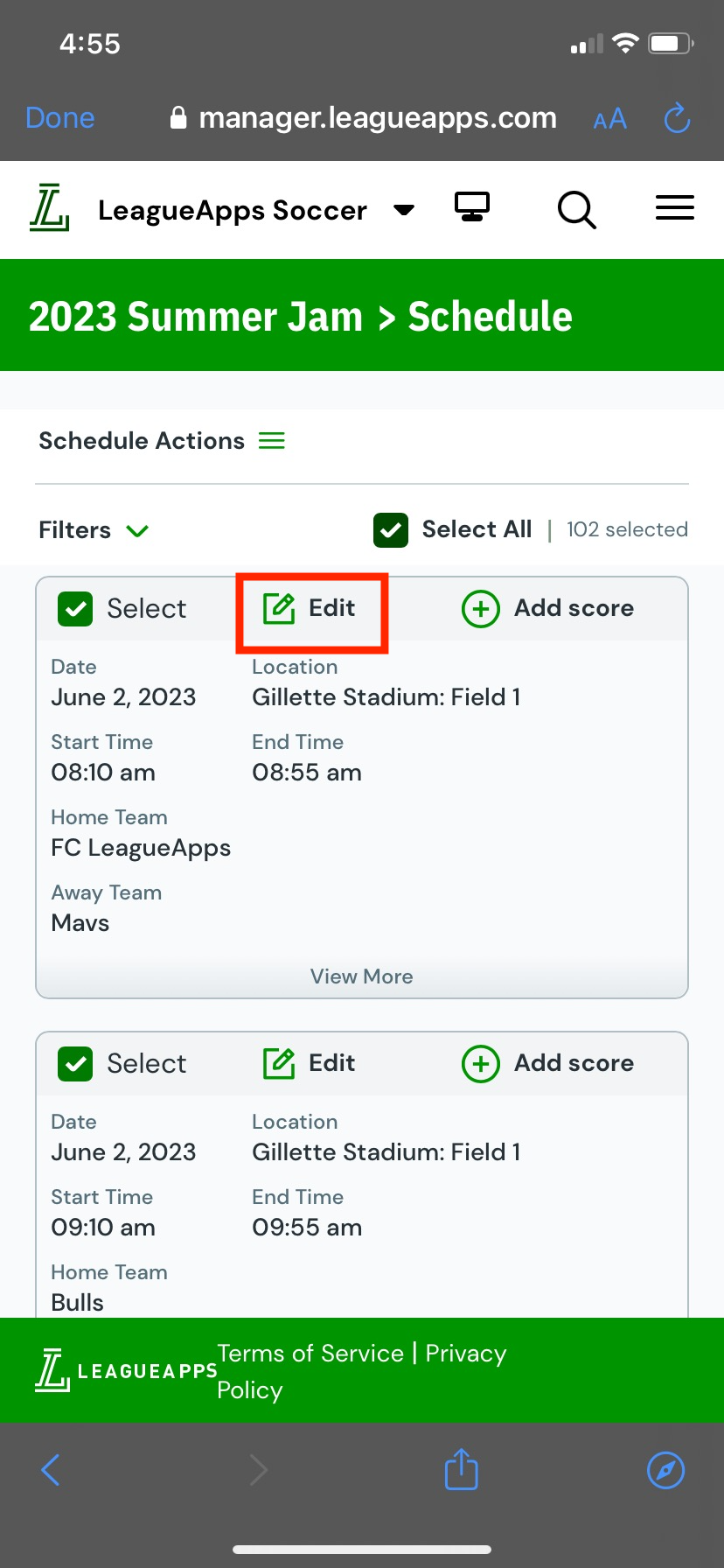 Delete Game
You can also delete a game that you created by using the Edit Game form.

Overlapping Game Prevention
If you create a new game or edit an existing game so that it overlaps with another game already scheduled on the same day, at the same location, and/or during the same time window, you will see these error messages.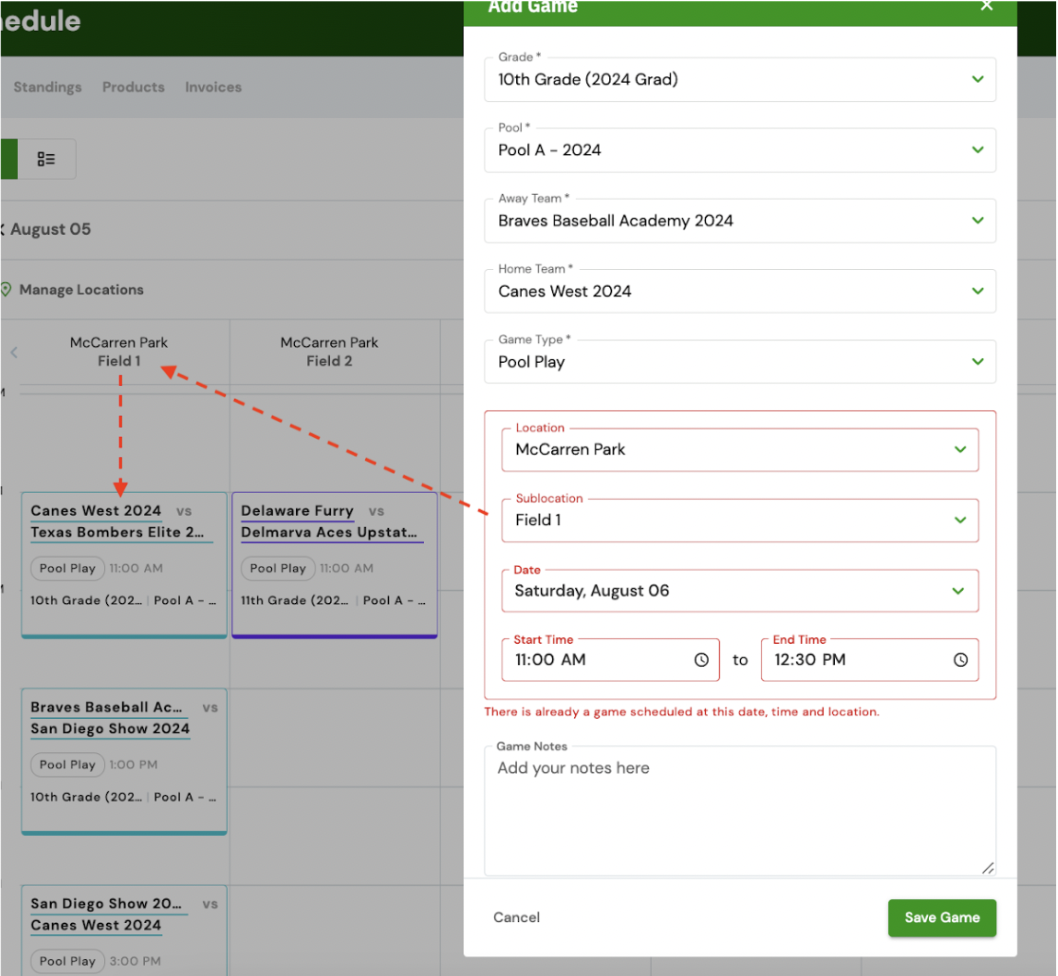 Schedule Balance Summary
The Balance summary dropdown displays the Team Head to Head Matchups, Game Start Times, Locations and Home vs Away breakdowns for the schedule.
Head to Head Matchups: which teams are matched up against each other? how many instances of each matchup are there?

Locations: how many times does each team play at each location/field/court?

Time Slots: how many times does each team play at each time slot per day?

Home and Away: how many times each team plays as the home team vs away team


Schedule Publishing
Publish Schedule
Toggle the "This schedule is unpublished" switch in order to publish a schedule.

Unpublish Schedule
Toggle the "This schedule is published" switch in order to unpublish a schedule.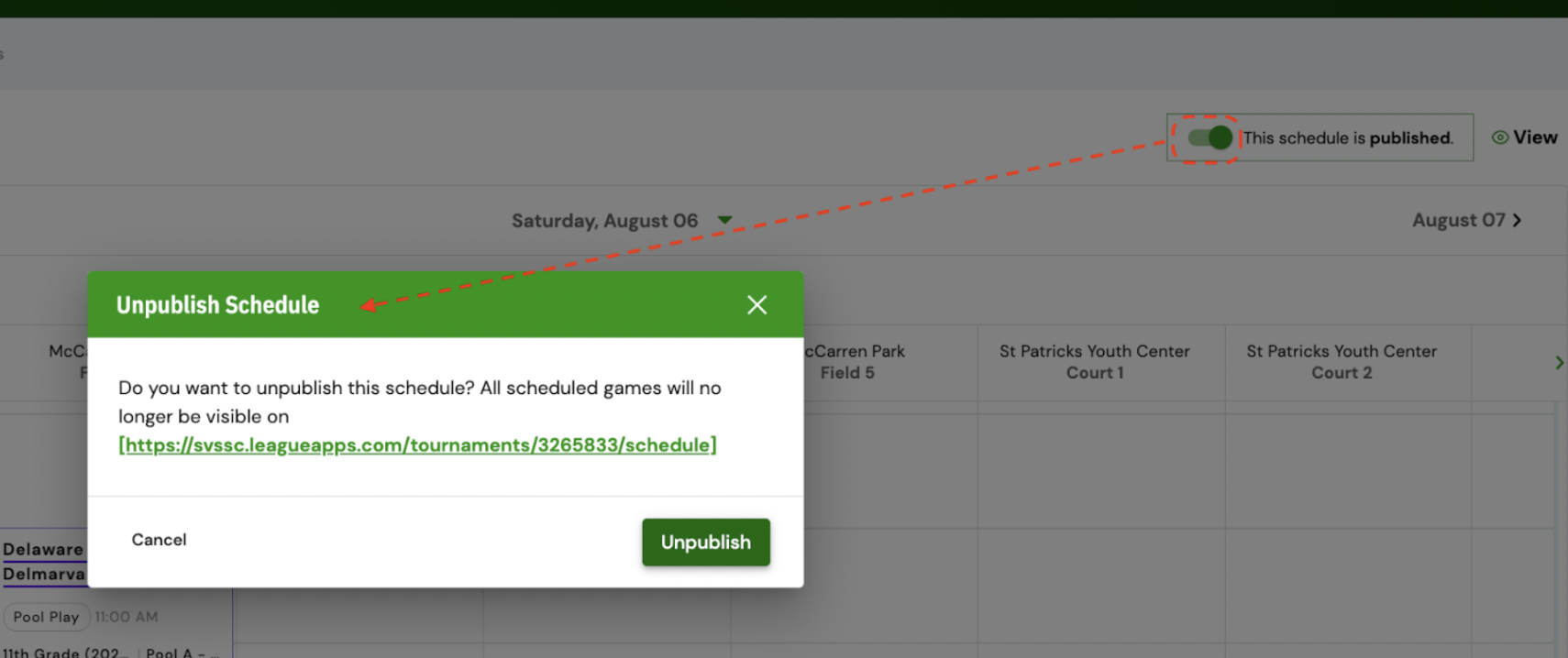 On your mobile device, you can also publish and unpublish your schedule by tapping the Schedule actions dropdown, and then tapping the Publish toggle on and off.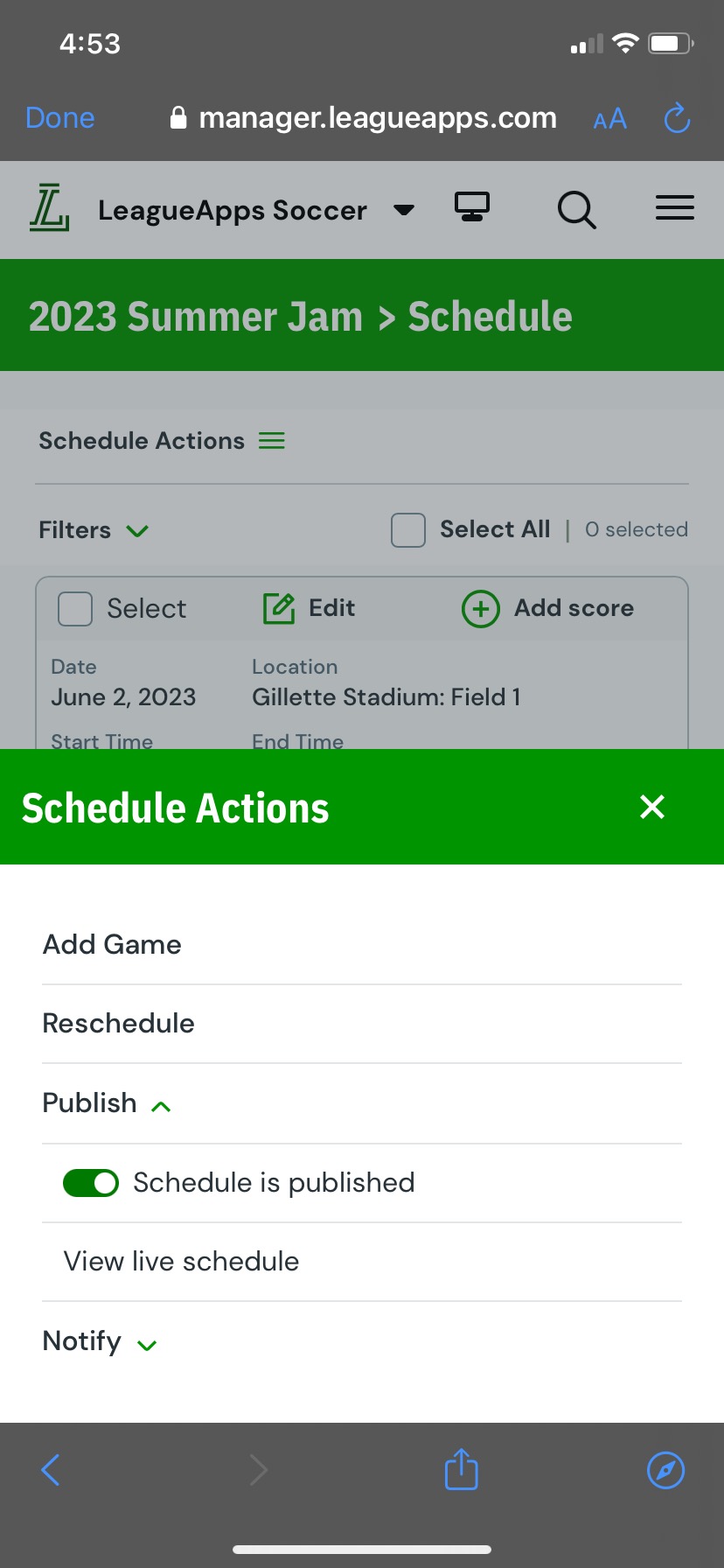 Schedule List View
The list view has been completely transformed to make it easy for you to find and edit games (both individual and bulk) as well as enter game scores. If you have notifications enabled, any game changes will automatically send notifications to participants.
List View Toggle
Grid view is selected by default in the tournament schedule page. To switch this to the list view, select the list toggle.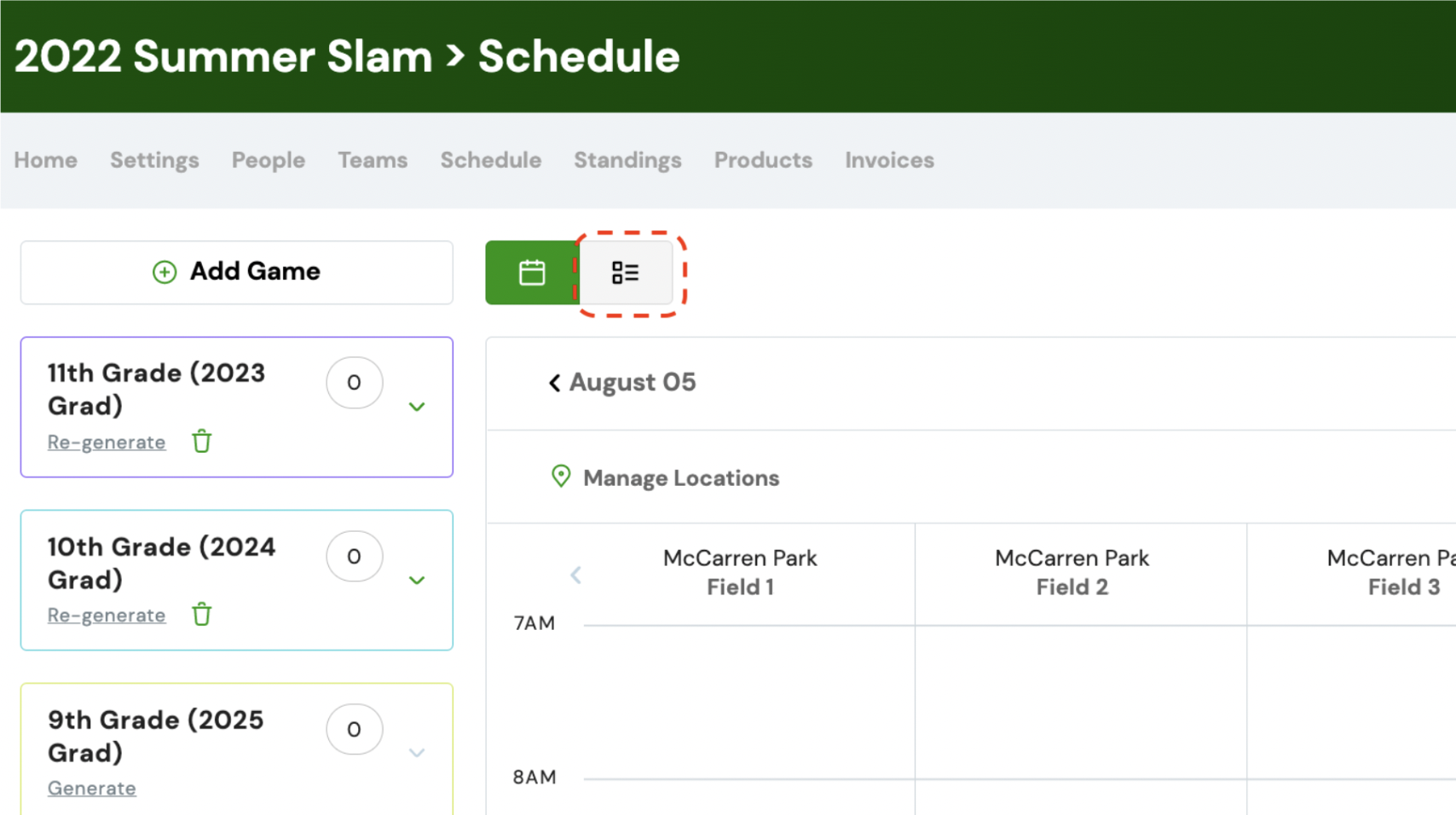 You can also view the tournament schedule list view on your mobile device by signing in to the Management Console, navigating to your tournament, and tapping Schedule.
List View Sorting & Filters
You can easily click on the column headers to sort by that column.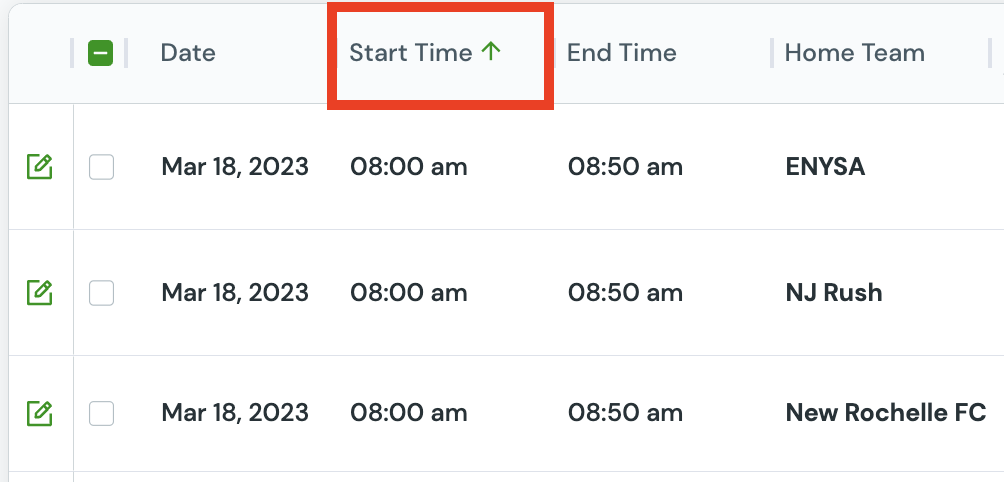 Additionally, you can choose from several filters in the Filters dropdown, especially if you're looking to find or bulk edit games.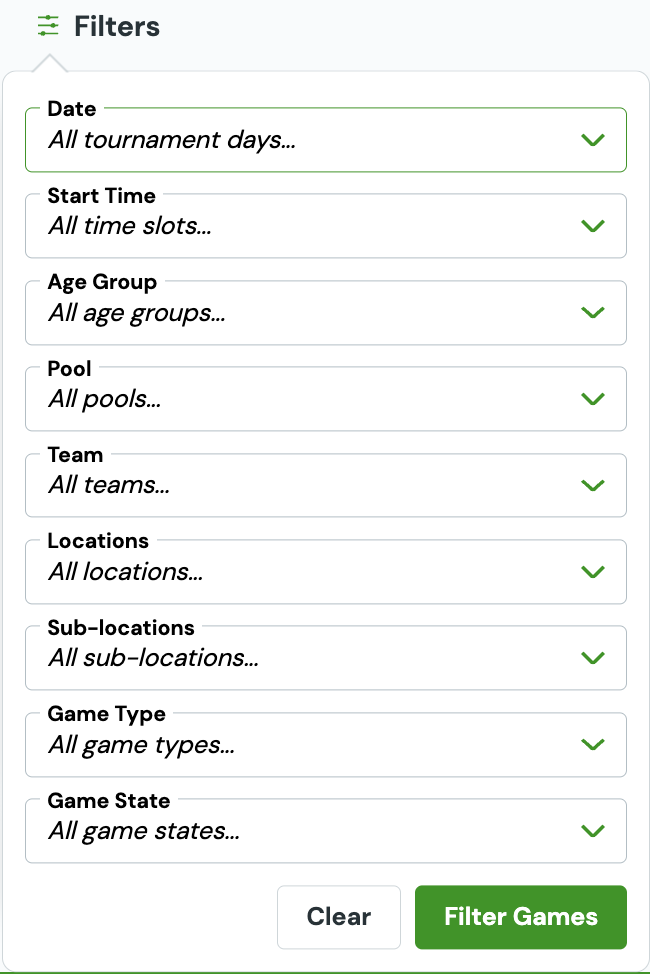 This functionality is also available via mobile web.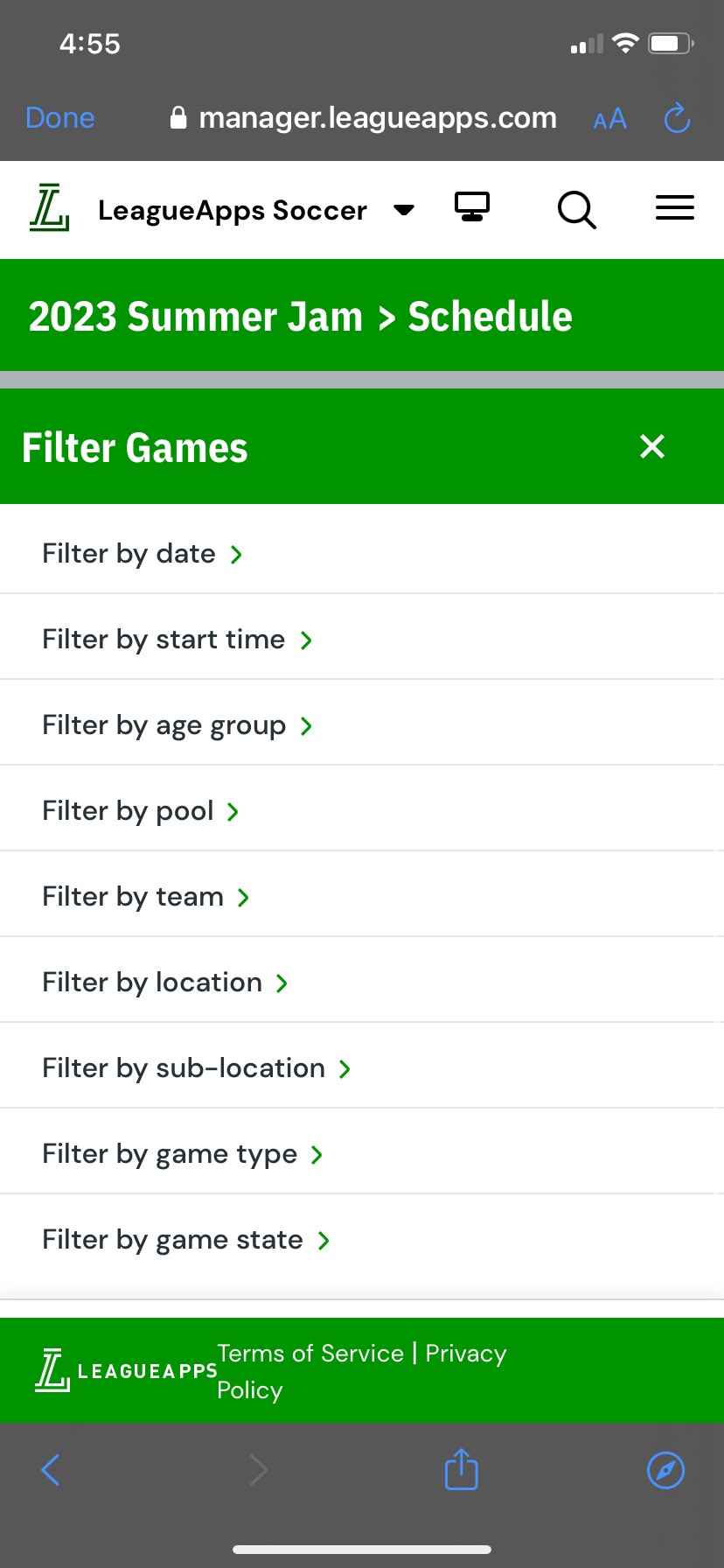 Bulk Editing
You have the ability to bulk edit multiple games for which you want to change the date, time, and location. Notifications will be sent once these changes are made and saved if your Notify toggle is turned on.
You can select all games by clicking the square above the checkbox column to select all games that you have filtered by (if applicable).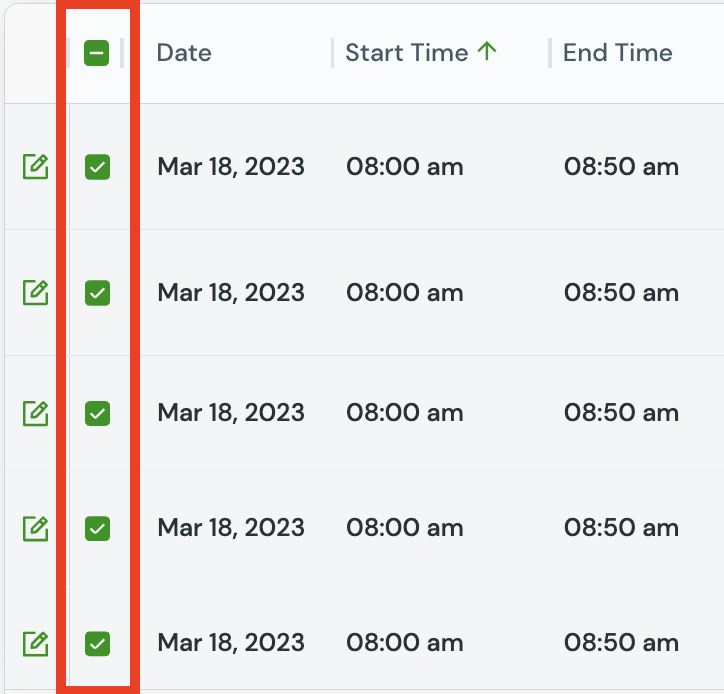 Then click the Reschedule button on the right side of the screen.

If you are on a mobile device, tap the checkboxes to select your desired games, or the Select all checkbox. Then tap the Schedule actions dropdown and tap the Reschedule option.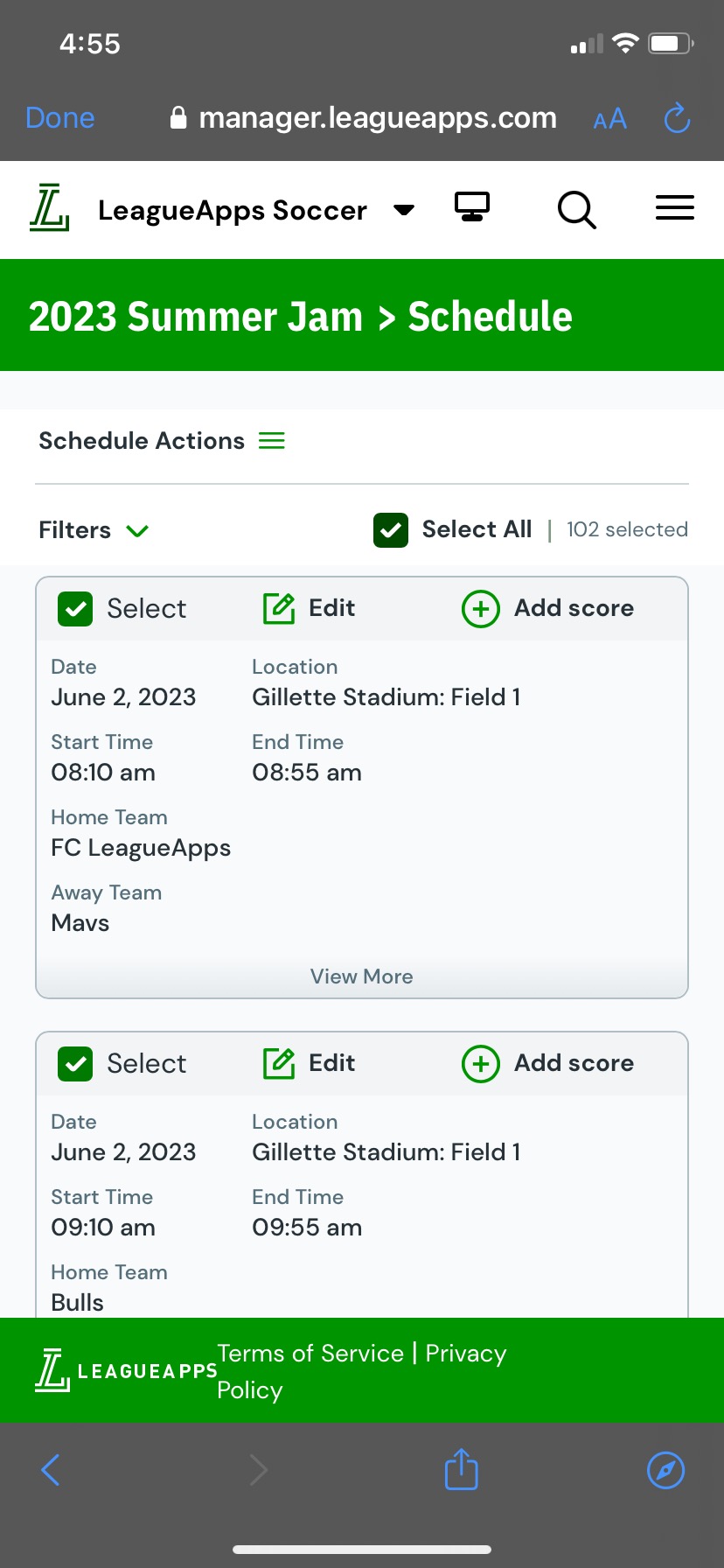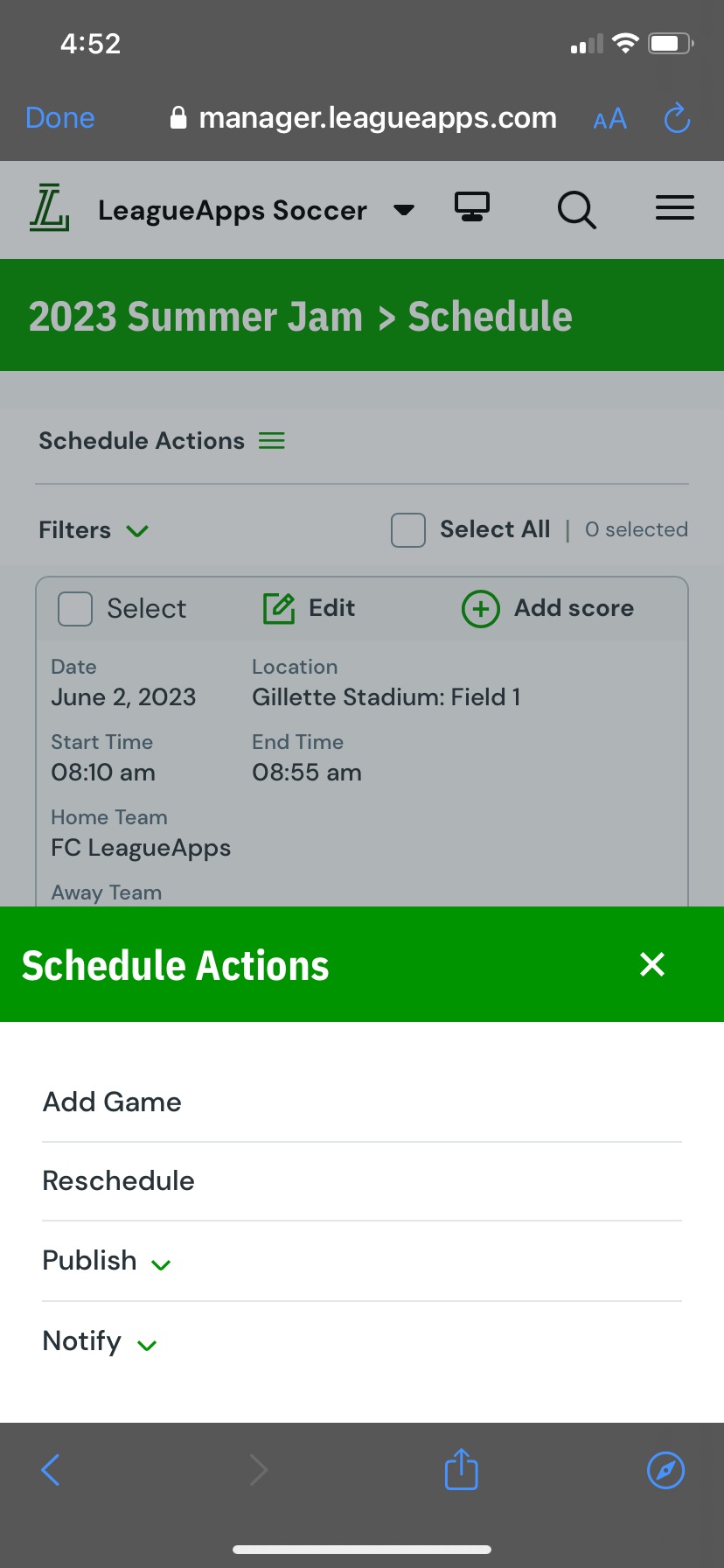 You will then be able to reschedule across all of the selected games for:
Location

Date

Start Time

End Time

Game Duration

Advance by (move all of the games up a certain number of minutes)

Delay by (move all of the games back a certain number of minutes)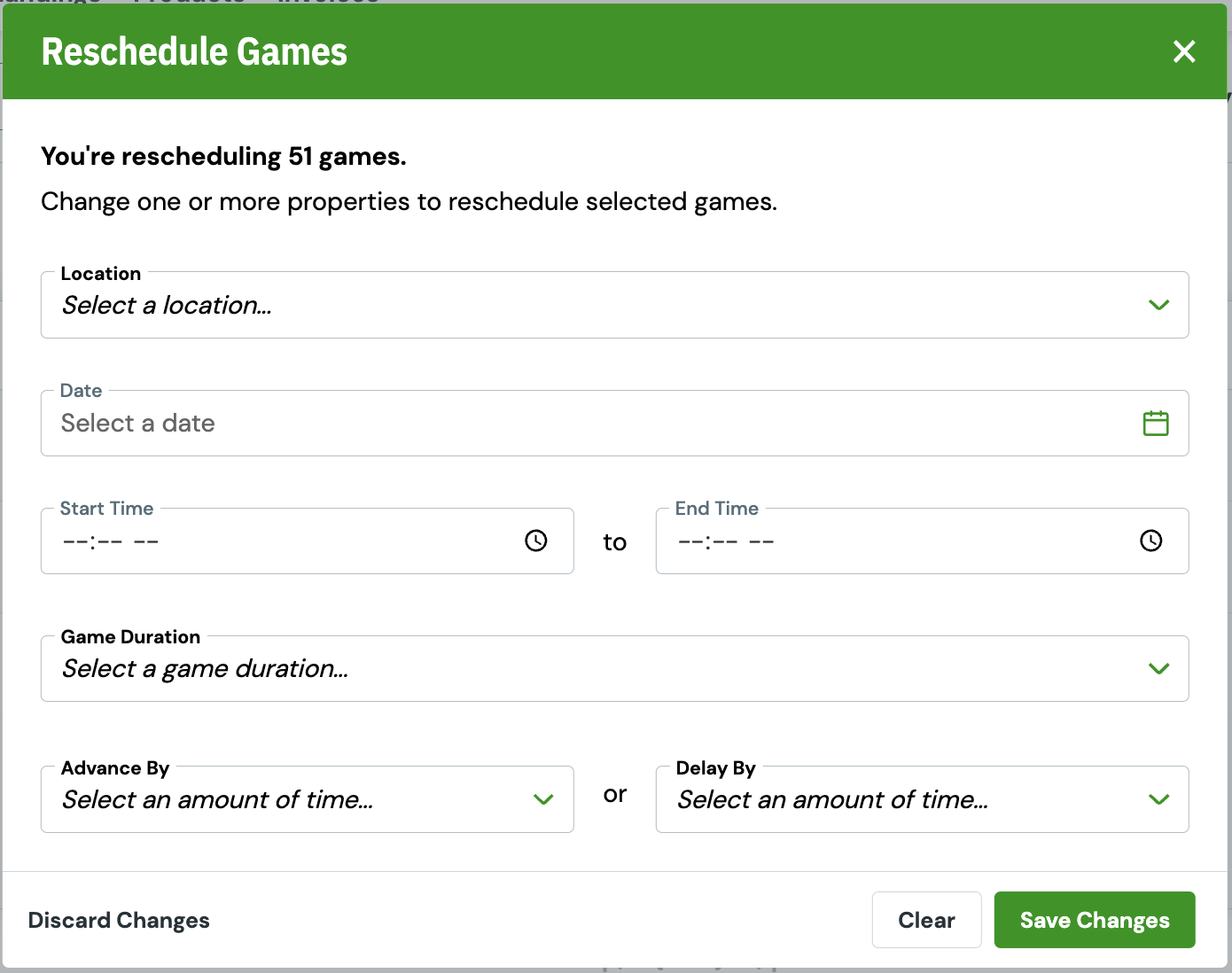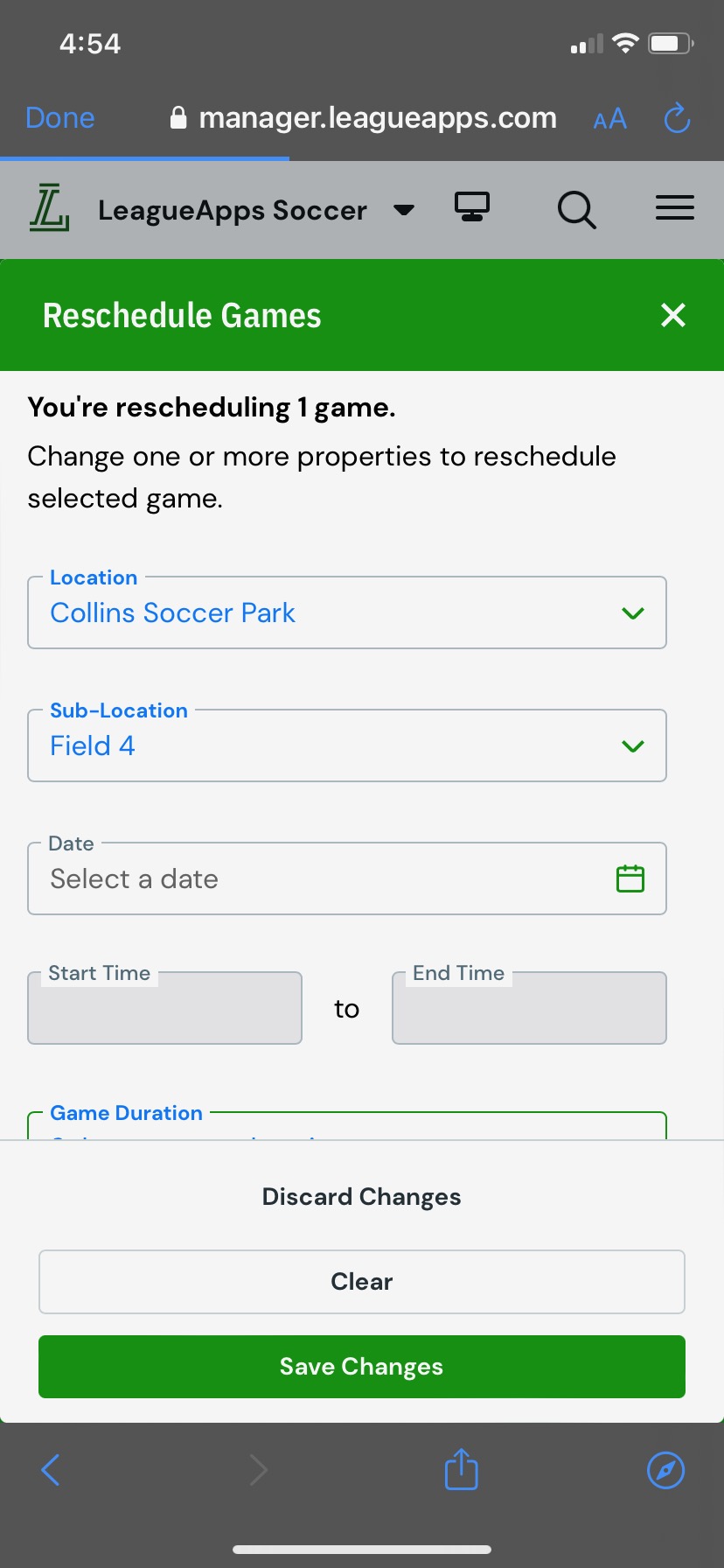 Score Entry
You can enter the tournament game scores in the list view, by clicking the "+" icon and entering the game scores.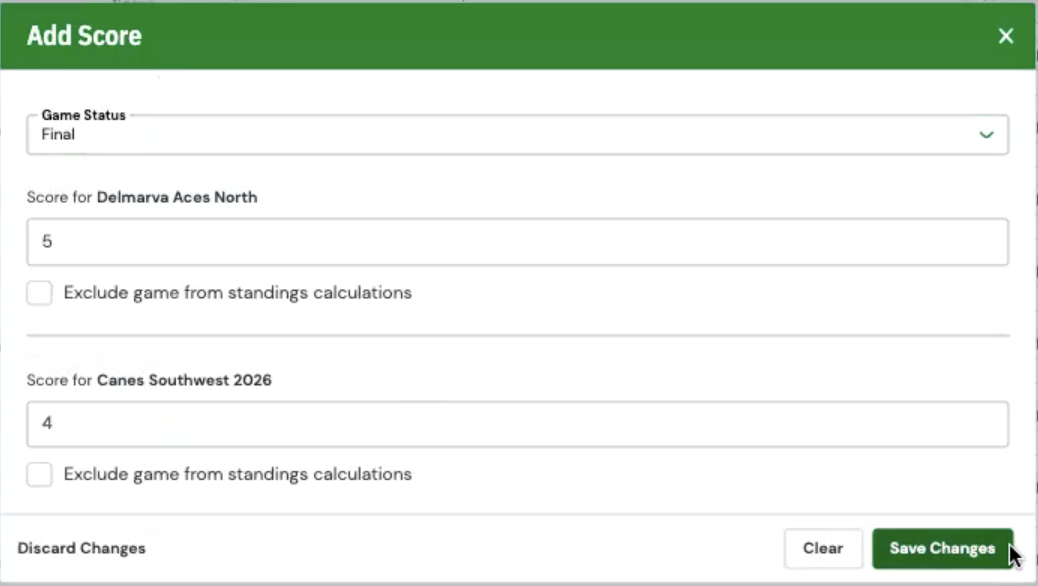 You have the option to chose Game Status as well as exclude games from team standings. If you choose Forfeit from the Game Status dropdown, you will also have the option to select if the game was forfeited by both teams.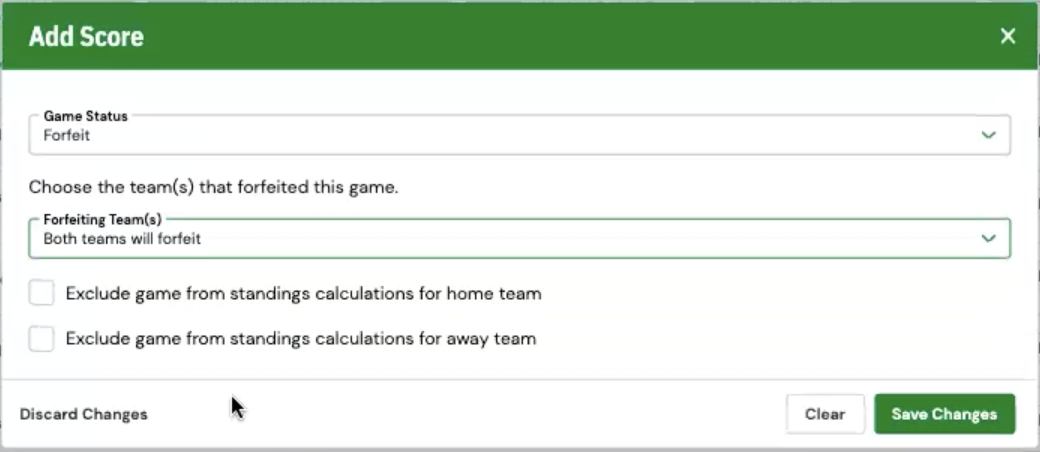 On your mobile device, you can also add scores by tapping the +Add score link on each game card.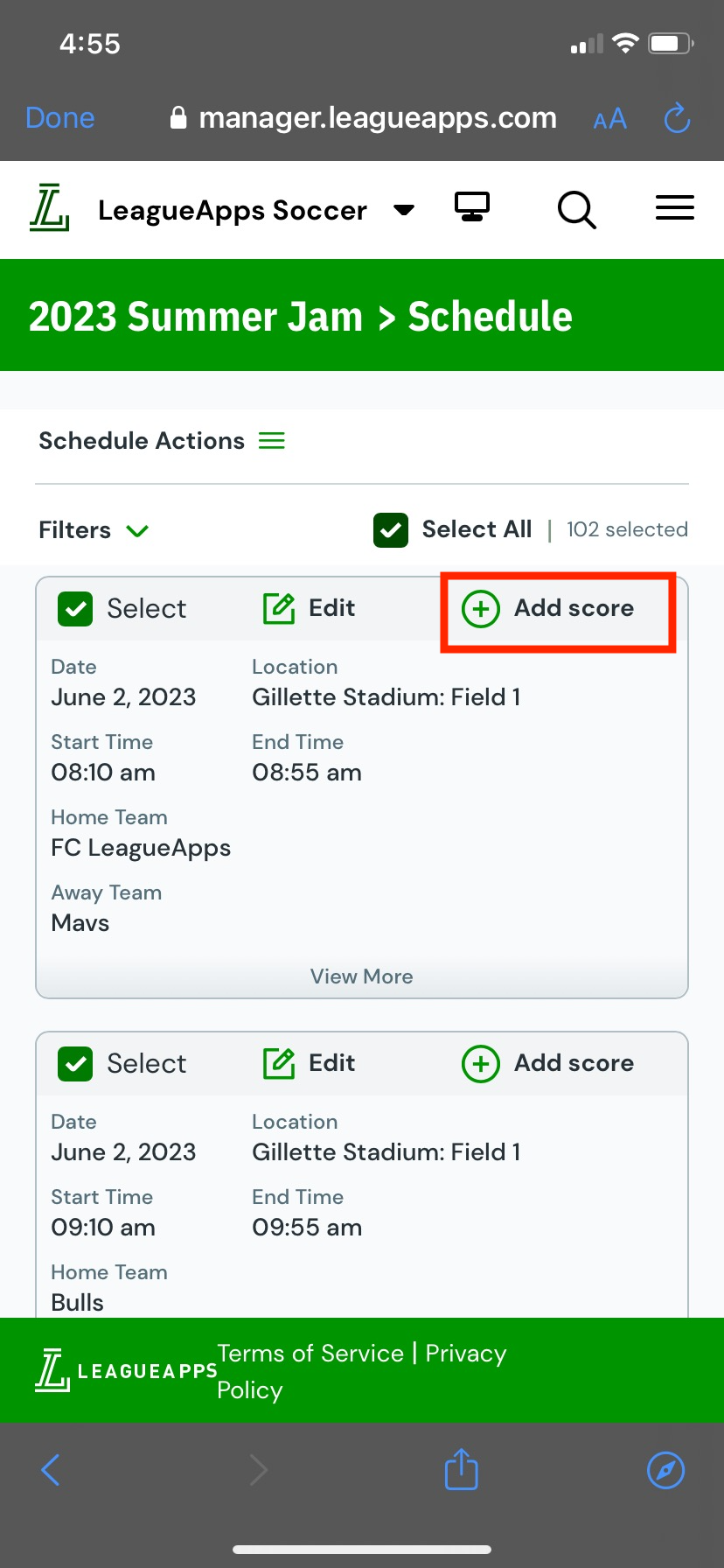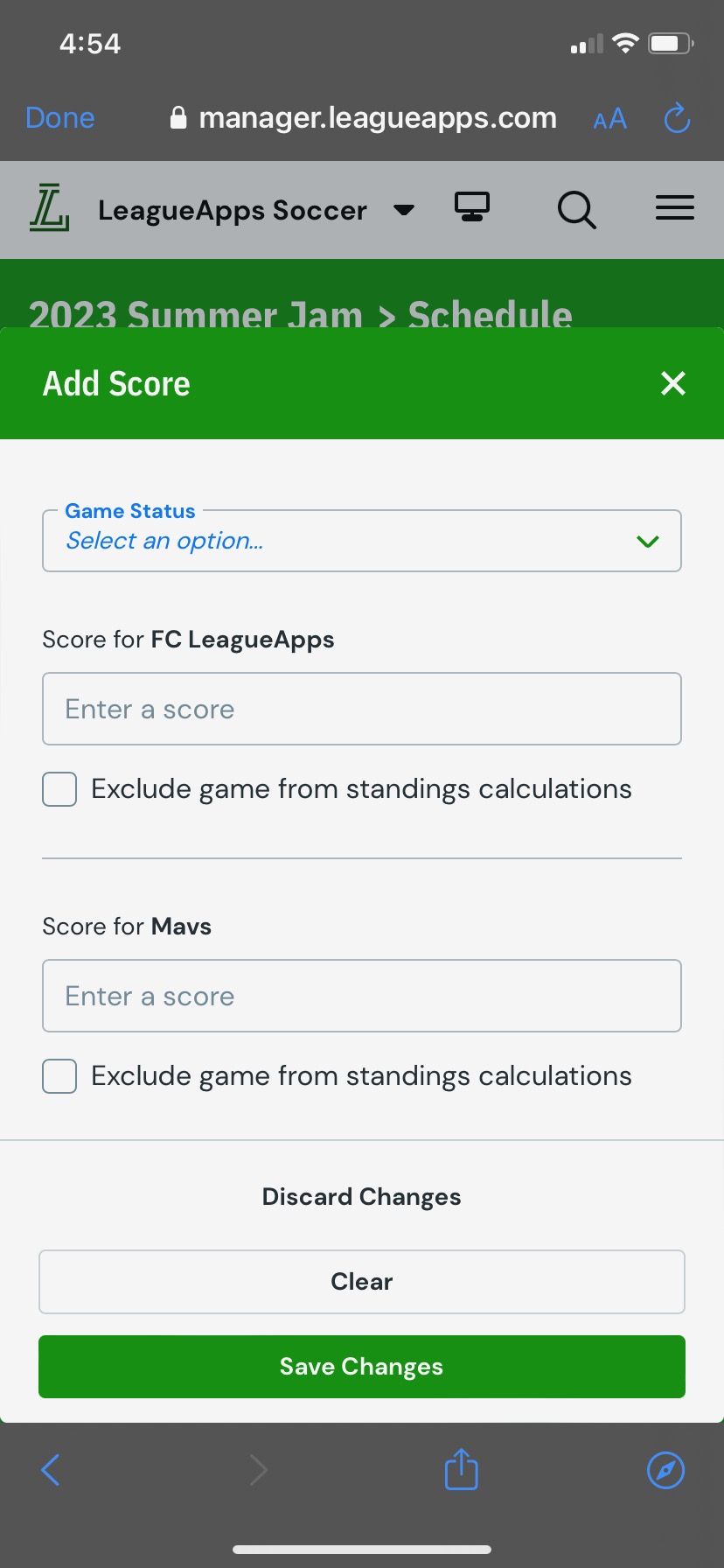 Communications
Enabling Notifications
You can enable or disable notifications for game changes by clicking on the Notify button and turning on or off the Enable notifications toggle.

On your mobile device, you can also enable or disable notifications by tapping the Schedule actions dropdown, and then tapping the Notify toggle on and off.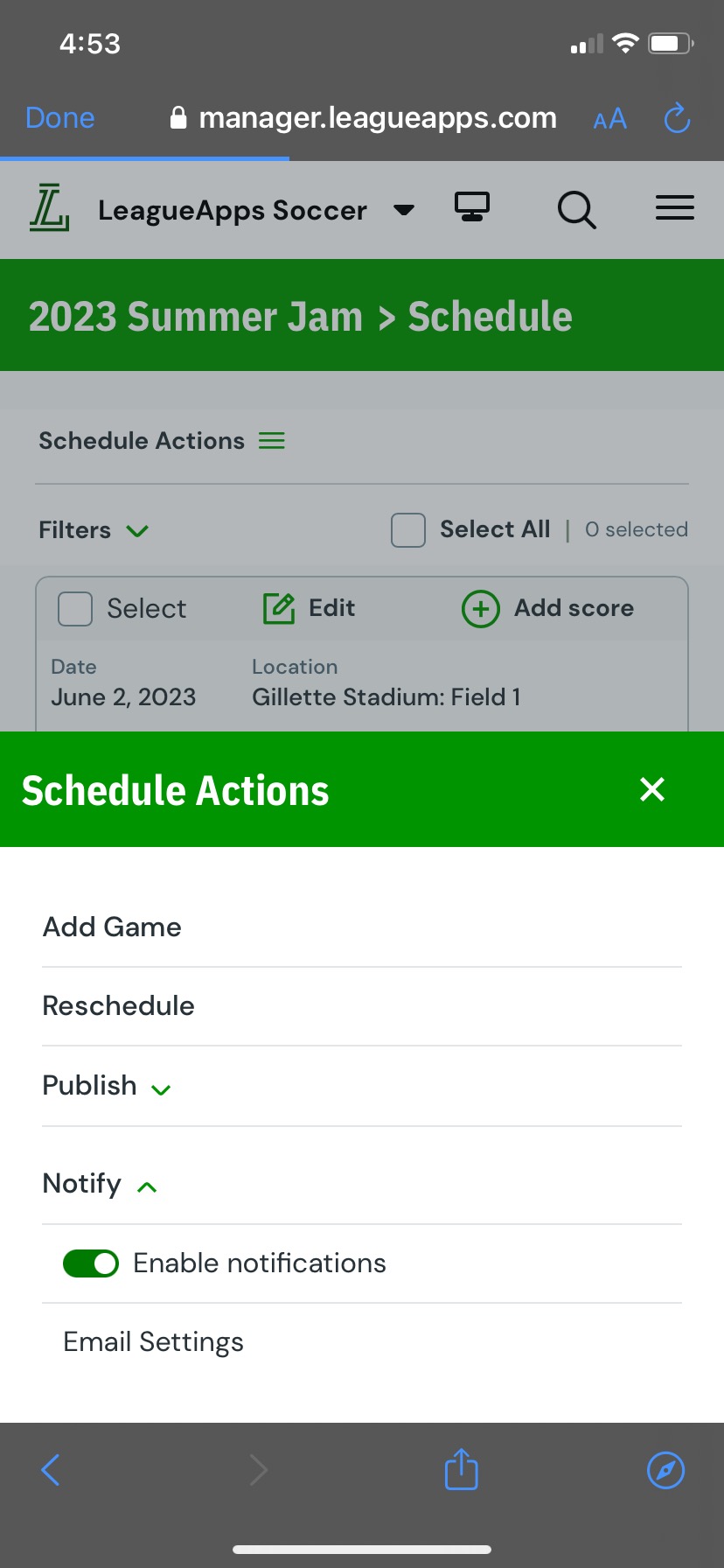 Notifications For Canceling or Rescheduling a Game
If you would like to send communications when a tournament game is canceled or rescheduled, you should first perform one of the following actions to trigger the alert to affected team members.
To Cancel: Drag the game card from scheduled to unscheduled.

To Reschedule: Drag the game card to reschedule or click on the game card to change information.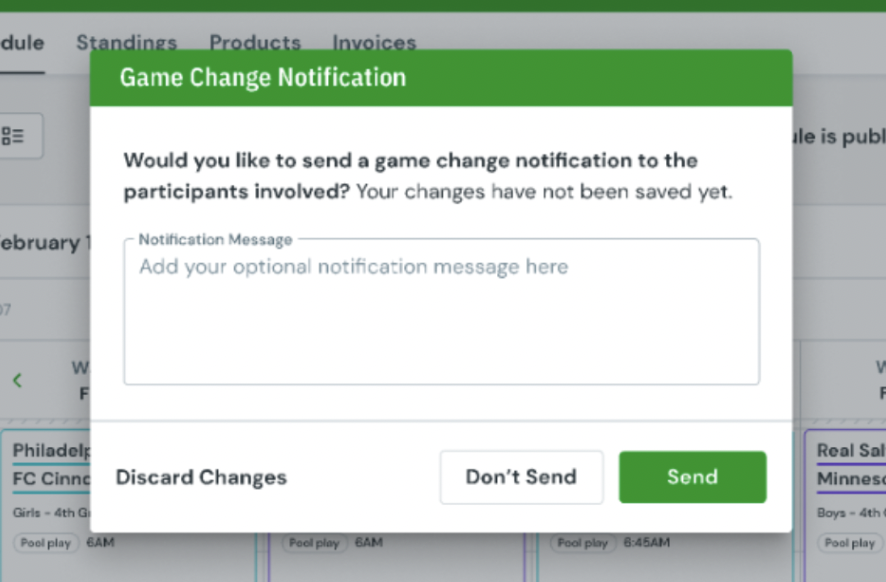 LeagueApps Mobile Apps
For any tournaments scheduled through LeagueApps, participants can view their tournament schedules, brackets, and standings in the LeagueApps Play mobile app and our branded mobile apps. (The LeagueApps Play mobile app can be downloaded on the App Store and the Google Play store.)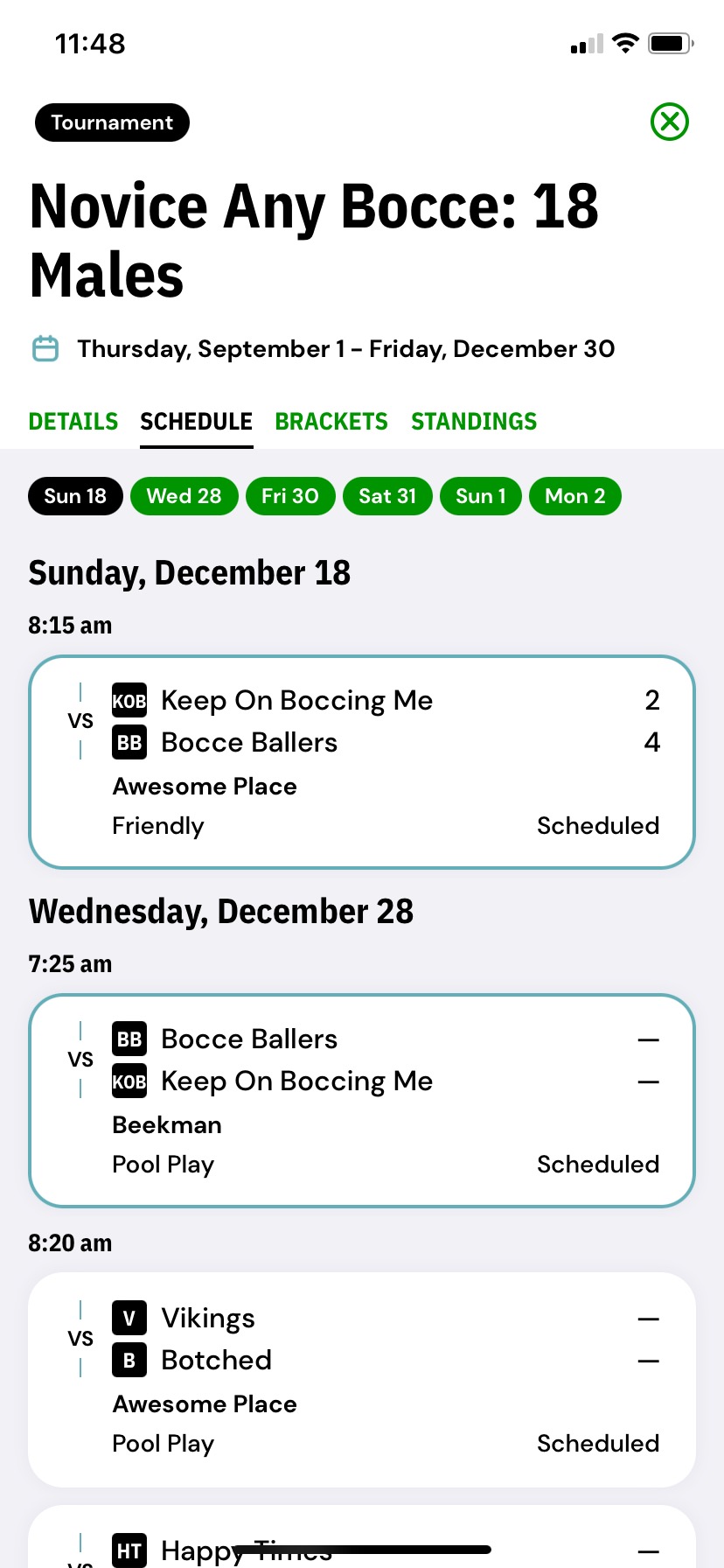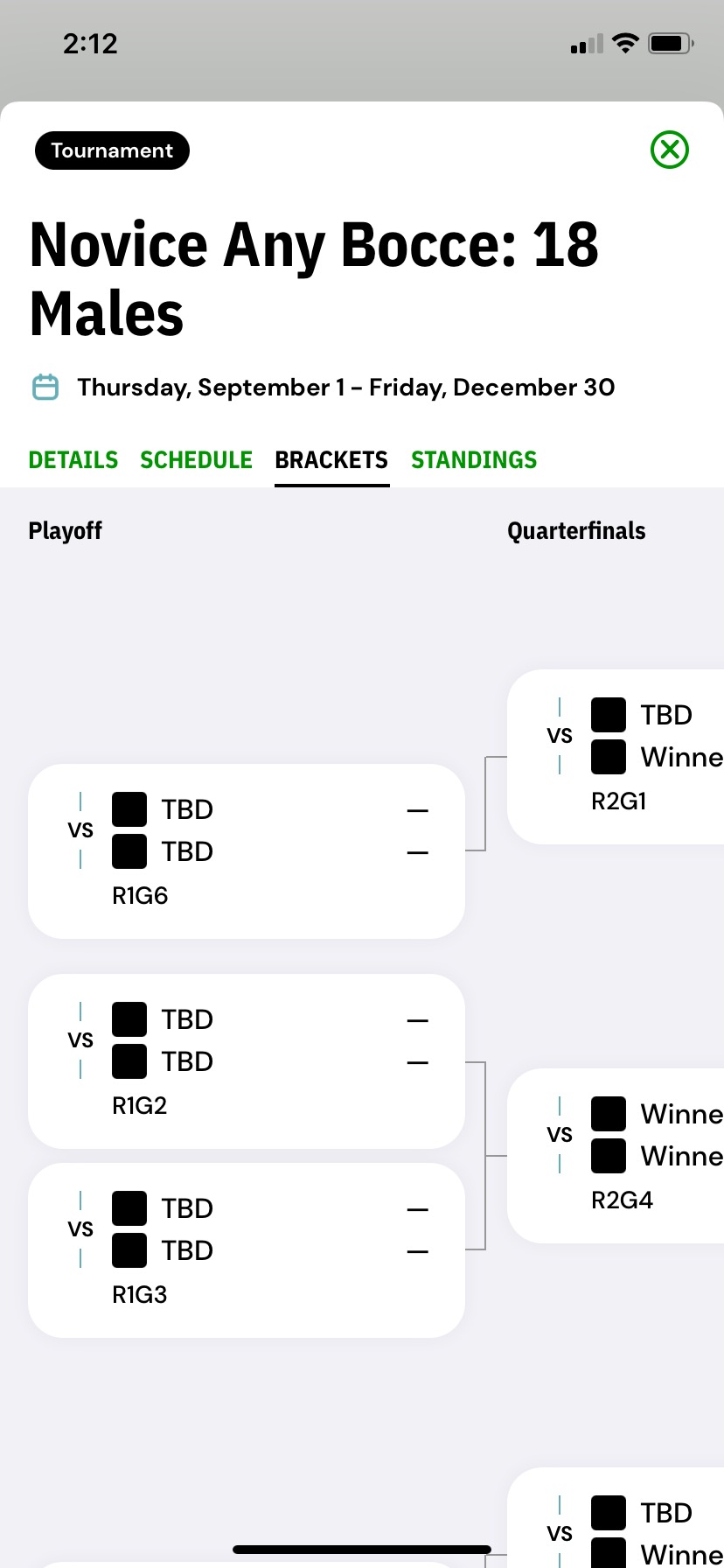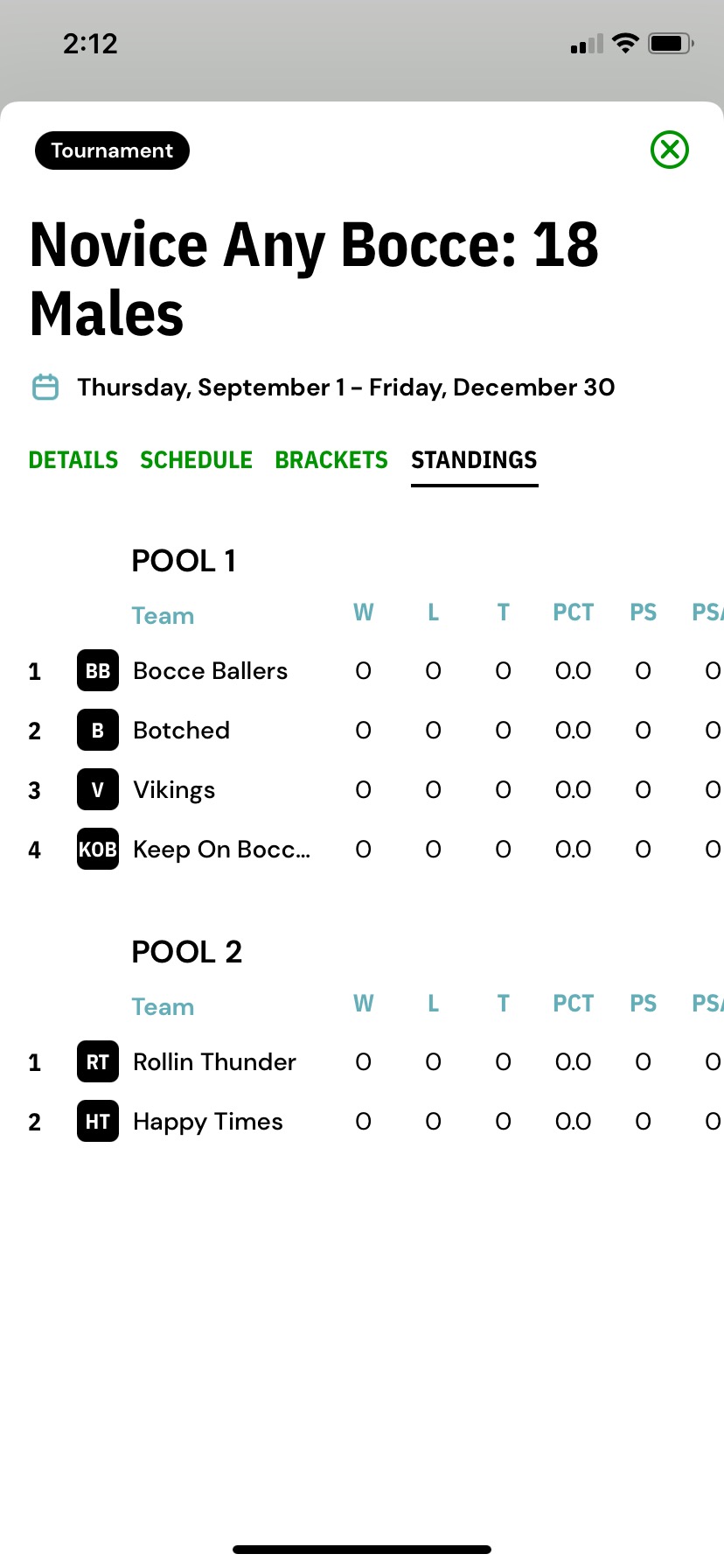 FAQs
Does this handle double booking prevention?
Yes, it does on the program-level! There is a prevention when you try to schedule a game over a game that is already scheduled at a specific time and location within that program. There is also a program-level prevention that won't allow you to schedule the same team at the same time in different locations.
Can I import my tournament schedule?
You will be able to easily create your tournament schedule directly in the LeagueApps platform, instead of importing a spreadsheet. Therefore, the 'import schedule' functionality is not currently available in this upgraded experience.
Will my coaches/parents/players be able to see tournament schedules in an app?
Yes, for any tournament schedules published through LeagueApps, your members can sign in to view the tournament schedules, details, and bracket(s).