Are you a Team Player looking for a better way to know who's showing up to this week's game? Are you a Parent that needs to set up a carpool for next weekend's tournament? You can do all of these with LeagueApps' new RSVP and Attendance features! If you're a Coach or Staff Member, view this guide.
Where Can I RSVP?
A Player, Parent or Coach can all RSVP to any game or event created in LeagueApps from five different locations:
My Schedule Page
From your dashboard click on My Schedule. From your schedule, you'll see an RSVP button for each game or event.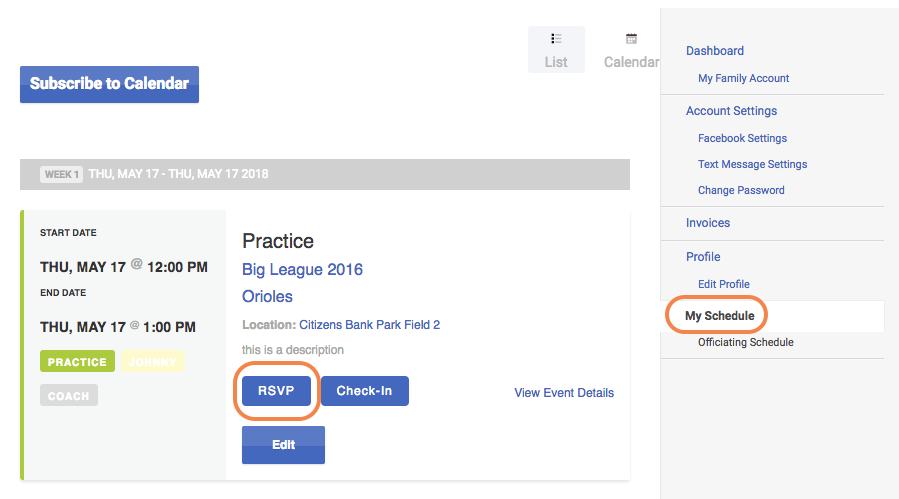 Click on the RSVP button to submit your response to that game or event.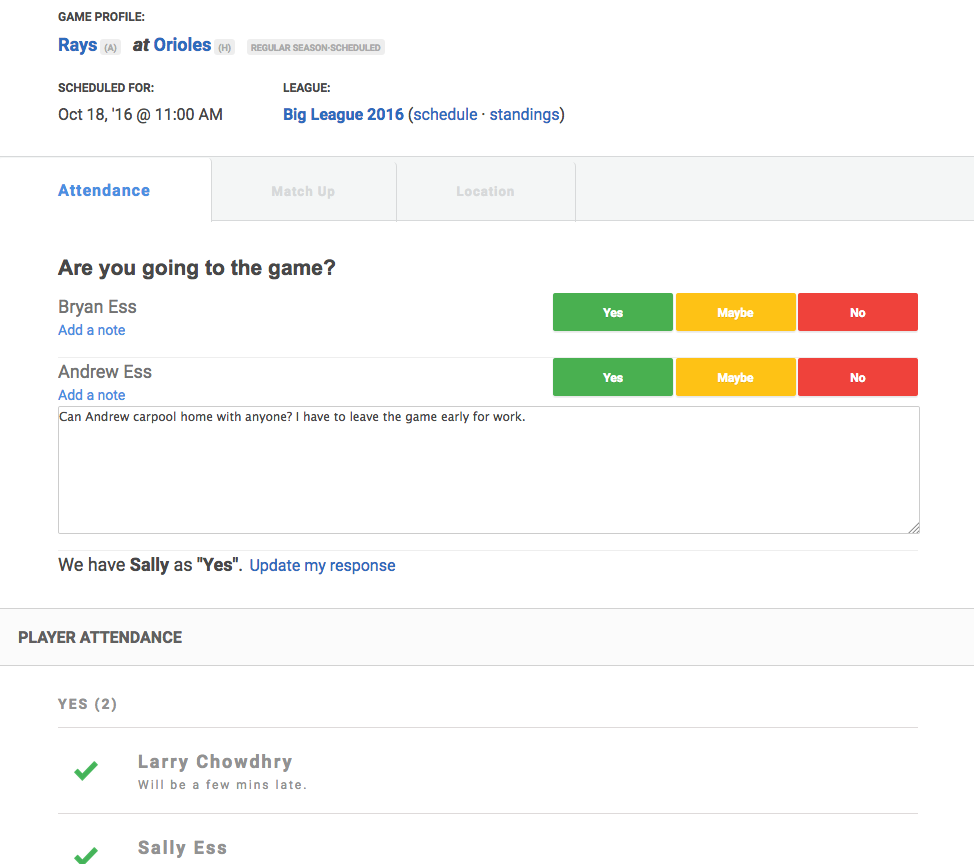 Game and Event Reminder Email
If the organization you play for uses Game or Event Reminder emails, you'll be able to RSVP directly from the email!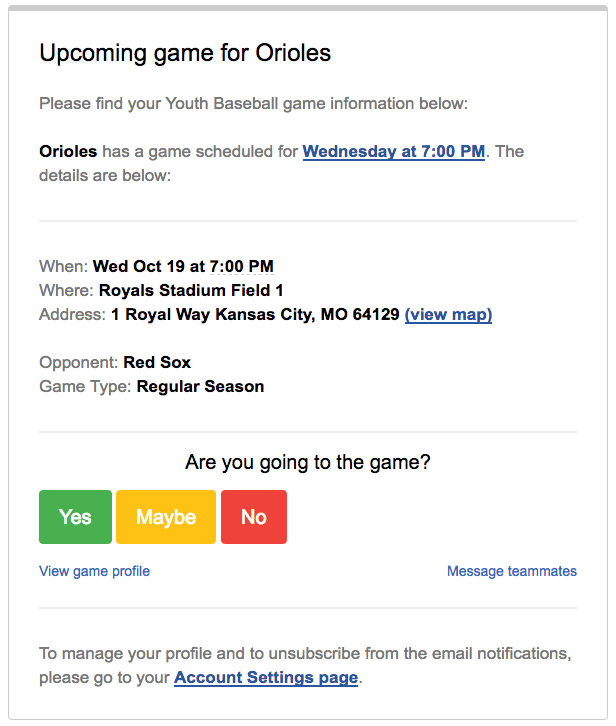 Team Schedule
From your dashboard, click on your Team's Name to go to your team page. From your team's page, you'll see your team's schedule and the RSVP button next to each game or event.

Program Schedule
From the overall schedule of the program you're participating in, you'll see the RSVP button next to every game or event that you're a part of. Click RSVP to submit your RSVP response.
LeagueApps Mobile Apps
In LeagueApps Play, or your team's branded mobile app, RSVP to share your availability for practices, games or any team events in the Schedule Calendar.
How Do I RSVP?
After clicking the RSVP button from any location listed above, you'll be able to respond Yes, Maybe, or No. In addition to your response, you can also add a note (ex: I'll be there but I'll be 10 minutes late!). If you RSVP from your Game or Event Reminder email you'll be taken to your game or event profile, and you're able to add a note to the RSVP from there if you'd like. You're also able to change your RSVP response or add a note at any time.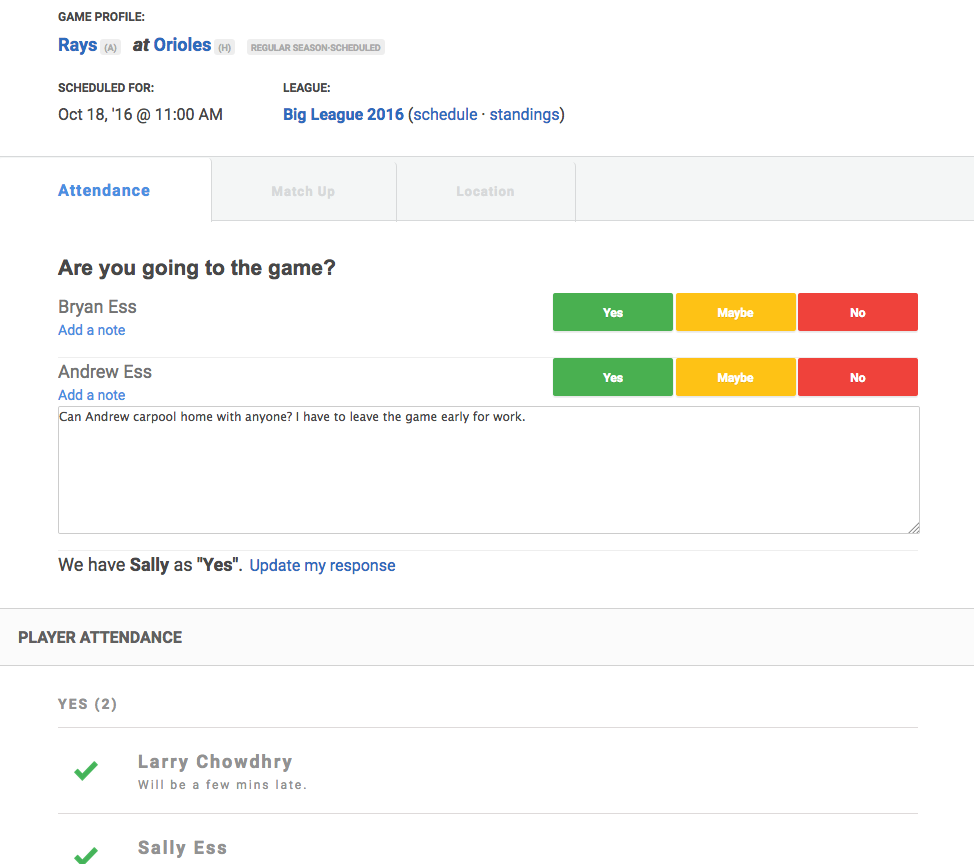 In the LeagueApps Mobile Apps, you can click the RSVP icons to submit your response for any calendar event. You can update your response by tapping your previous response at any time and view others' responses.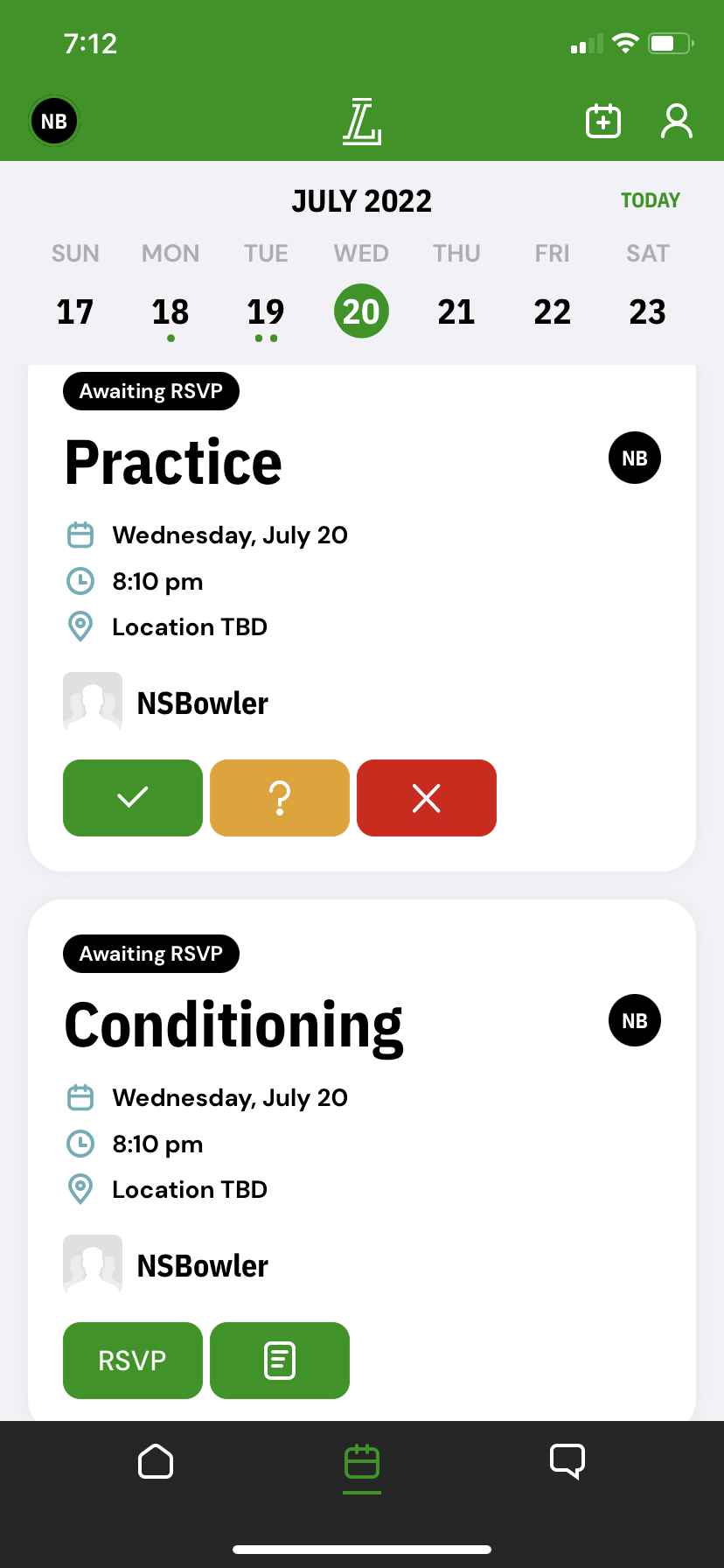 RSVP Notifications
If you are the Captain or Coach of the team, you're able to receive an RSVP Notification each time a member of your team submits a response.


Notification Settings
You can choose if you want to get these RSVP email responses or not in your team's profile.