When creating a Club, League or Tournament you will set Registration Options for the entire overarching program. Then when you add Teams to the program, each team can use the program-level settings or have custom registration settings and pricing.

These are the steps to follow when setting up a Club, League or Tournament.

1. Create a Program
Log-in to LeagueApps as an Admin
On the main Admin Dashboard under Quick Links click Create a new program
Select either Club, Tournament, or League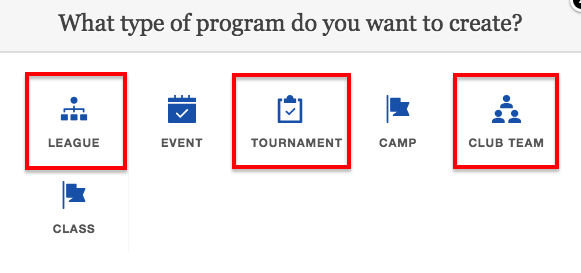 2. Program Level Registration Settings

At this point, choose the default settings that will apply to the entire program in the Edit Details and Registration Options sections.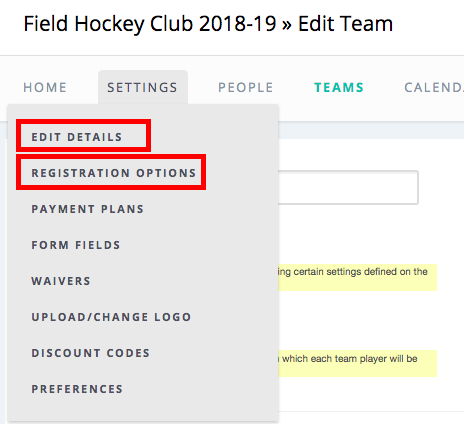 Edit Details
Fill in basic details for the program such as Program Name, Sport, Gender, Dates and a Description.
Next click Save and Edit Options
Registration Options
The settings on this page apply to all teams, with the exception of team pricing, processing fees, additional team fee, age restriction and team capacity, which can all be customized on the team-level.
Allowed Registration Types - allow players to register for teams directly, and enable staff registration if you want coaches to register to a team.
After setting your Registration Options, click Save Options & Edit Payment Plans.

3. Payment Plans
Create a Payment Plan and select settings for the specific plan
Choose to make the plan available for All Teams within the program (given all teams are the same price) or specific Select Teams (choose this if teams have different price points.)
Next, add installments that total the registration fee you want to charge
After you've created all the payment plans you need for this program, click Update Plan & Create a Team.
When you create teams in the next step, you can assign payment plans to specific teams.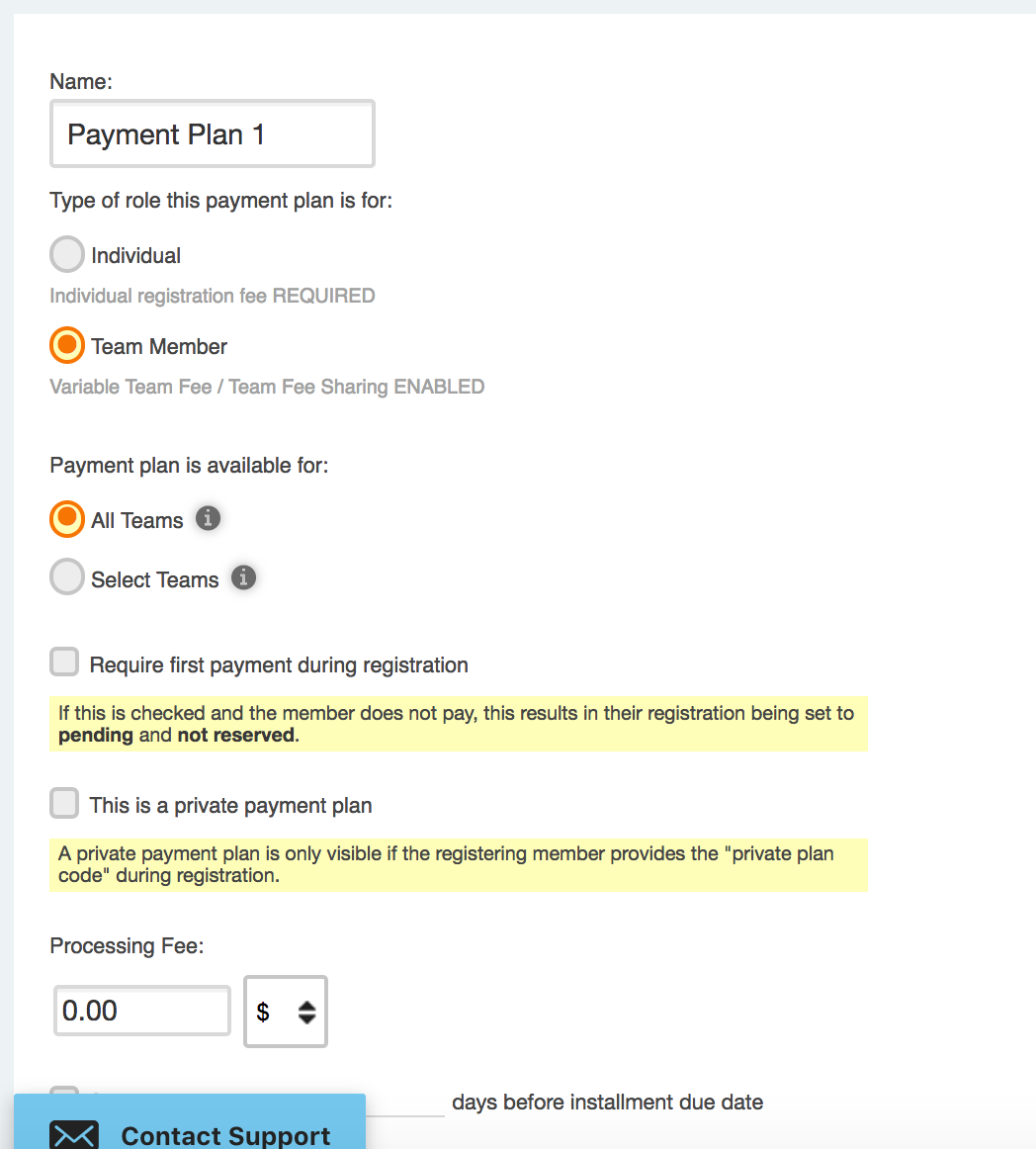 4. Create Teams
Now that your program settings are configured and payment plans are created, you can create Teams for players and staff to register. Click the +Add a Team button to create a team.

After naming the team, choose if you want to use the Program-level settings or Custom Settings & Pricing for the specific team. These are the settings that can be customized for each team you create:
Pricing & Payment Plans - create a custom price for a team with flexible payment plans.
Processing Fee - add a percentage or flat-dollar amount to each payment.
Additional Team Fee - enforce an additional fee for the team captain to pay.
Age Limit Restriction - only allow registrations for players within a certain age range.
Team Capacity Rules - control the number of players that can register to a team.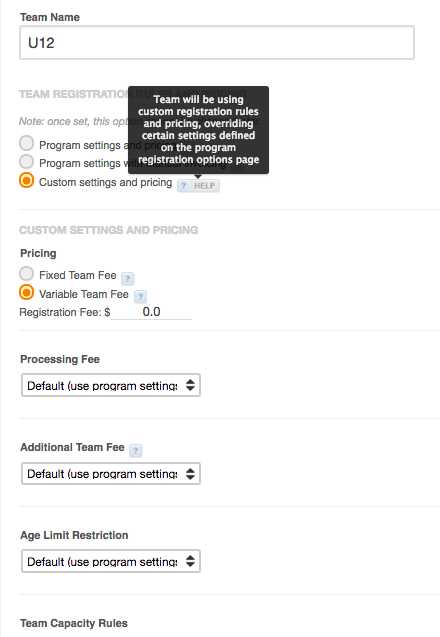 5. Assign Payment Plans to Teams
If you created Payment Plans and are using Custom Settings and Pricing for a team, you will be given the option to assign plans to specific teams that you create.
If a payment plan was set to "All Teams" you will not be able to de-select the plan for any teams within the program. If you want to remove a plan from a team, go back to the payment plan and change the setting to "Select Teams."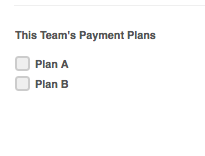 6. Set Roster Settings
To customize your teams' Rosters, go to the Teams tab on a program and click Roster Settings in the drop-down.
Here, you have the ability to customize what displays on both your printed and digital rosters.
You can include player and staff details that are collected during registration and that are on each player's member profile within LeagueApps.
You can also customize the Rosters by adding a logo or color scheme.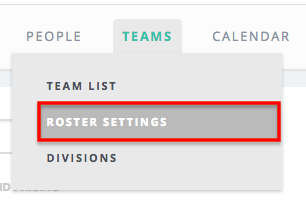 7. Create Schedule
In the Calendar (for Clubs) or Schedule (for Tournaments and Leagues) tab, you can generate or import a schedule, or create events for your teams.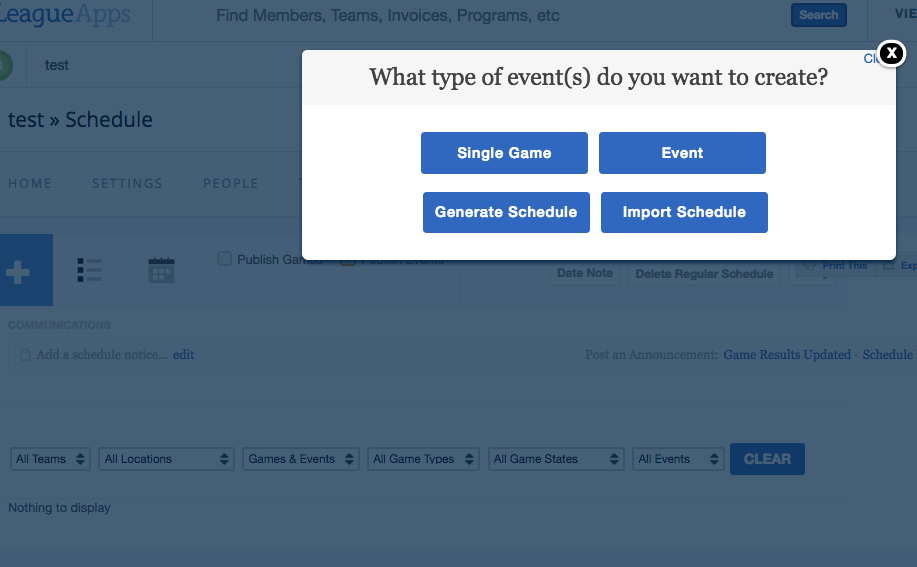 Once you have games, events, or a schedule entered into the system, your players and staff will have access to an RSVP and Check In tool for team attendance. Learn about the Attendance Report here.

8. Invite Players & Staff
Use the Invite to Join tool to add players to a program. By using this tool, a player will be sent a direct link to a team registration, so they will not have to select their team.
Go to People > Players Invites within a Program.
Invite2Join also gives insight on the statuses of players invited to a Program.

To invite Staff, hover over the People tab, and click the Staff tab
Click +Add a Program Staff Member to Add a Staff Member that is not already in the system.
FAQs
1. Can you copy teams that used Custom Team Registration settings?
-- No you cannot copy or move teams that have custom registration settings enabled.