The Class program type provides the ability to register for multiple classes all at once. For example, the Master Class may be 'Spring Stick Skills' and then the sub-classes would be 'Monday Nights', 'Tuesday Nights', etc. This program structure allows a participant to register just for Monday Nights, or they can register for all nights.
Step 1: Create a new program
On the Mangement Console Dashboard under Quick Links click 'Create a new program'


Choose Class as your program type

Step 2: Create the Master-level Class
On the first screen, enter all details for the Class. This is the master level class that all other sessions are grouped under. You will be prompted to set basic Registration Options on the Master-level but most Registration Details are set on the sub-class level.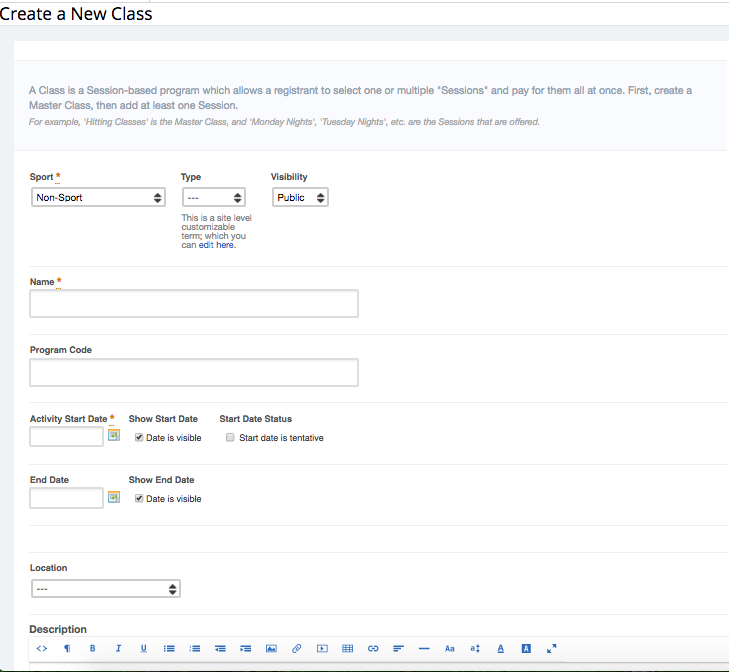 Step 3: Create sub-level Classes
You must create at least one sub-class under the Master Class. Registrants will have the ability to multi-select any classes that you create on the sub-level. When creating a sub-class, you can enter details such as Number of Classes, Instructor, Price, Capacity Limits, Schedules and much more.

You will be prompted to create the first sub-class, and then you can add additional sub-classes by clicking the 'Create Session' button. Tip: You can rename session by going to Settings > Preferences from the Master - Level Class. Example: Class, Camp, etc.



Categories

Step 4: Add Categories (Optional)
Once you have created sub-classes, you can add 'Categories' to better organize your sessions, and improve discoverability for your participants.



Click the +Add Category button on the Program Dashboard and then name the Category. Note: Categories are NOT included in Reports, so be sure to include important details in the Master or Sub Class Title.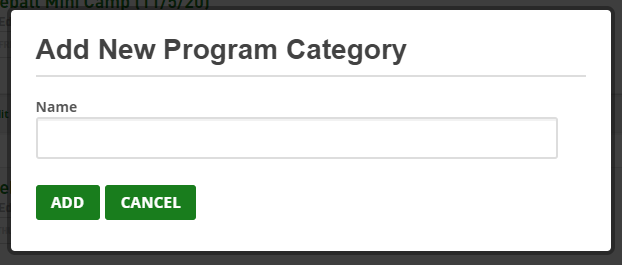 Step 5: Move Sub-Class into a Category (Optional)
To move a sub-class into a Category, click the dropdown in the top right corner of the Program Preview box. Select the desired Category.



Class Discoverability
This is what Classes will look like on your user-facing LeagueApps site. Categories allow for easier grouping and discoverability. After clicking the Register button, the user will have the ability to filter classes and select one class, or multiple classes.