Here are the most frequently asked questions about LeagueApps Gateway.
My Gateway is UNVERIFIED, what do I do?
How do I fix a failed bank transfer?
Why do you need my SSN and Tax ID?
How do I play my LeagueApps bill?
When will money be deposited into my bank account?
What payment methods can I accept?
How do I process a refund?
How do I qualify for non-profit rates?
How do I handle disputes?
How do I change my bank account?
How do I view Amount Collected and Bank Transfers?
What will a customer see on their credit card statement?
What will my organization see on our bank statements?
Do I have a Merchant Account ID Number?
You will receive an email prompting you to provide additional information to verify your account. Use the link in the email or login to your admin console and follow these directions.
- Click [Reporting] > [Gateway Dashboard]
- Click [UNVERIFIED] in the top right corner




- Click [Submit verification documents]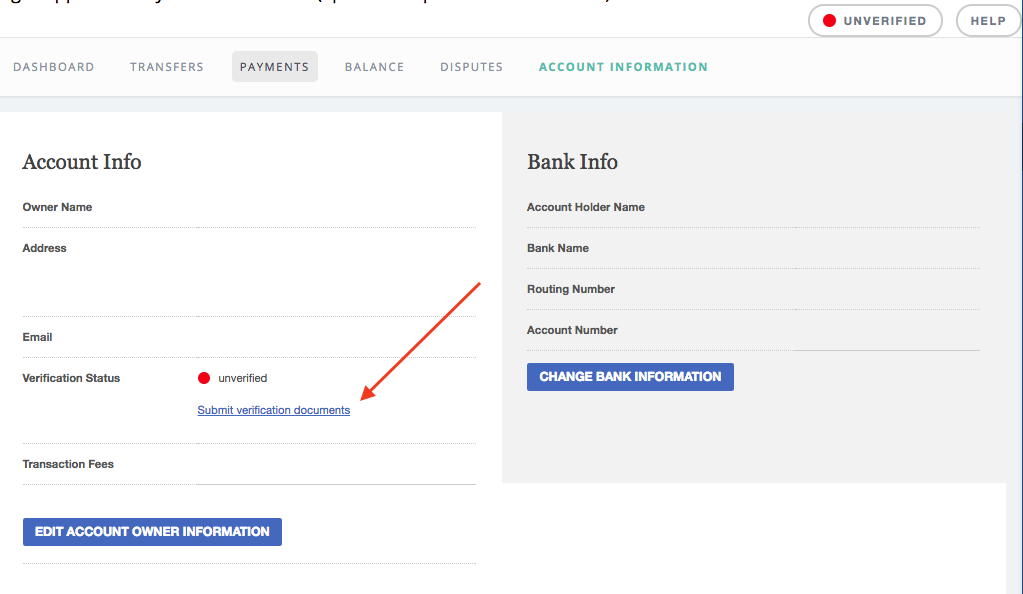 - Submit the requested information (Full SSN or File Upload of Drivers License)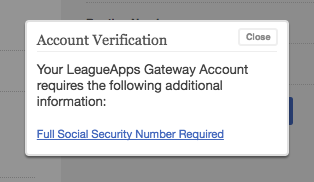 You don't have a LeagueApps bill. The credit card fees and LeagueApps fees are taken out of each payment instantly.
At this time you are able to accept payments from Visa, Mastercard and Discover cards.
Refunds are made directly in the LeagueApps console from an invoice. Generally, you have to wait 24 hours after a payment is collected to issue a refund and have up to 180 days after a payment is made to issue a refund. Refunds will automatically be deducted from your gateway balance.
If your gateway account does not have a positive balance, the refunded amount will be withdrawn from your connected bank account.
We can offer non-profit pricing, but first, we need proper 501(c)3 documentation. Your Launch Coach or Account Manager can help you get set up with the non-profit rate once you provide your official documentation.
You will be notified via email anytime a dispute occurs and all disputes can be viewed through your Gateway Dashboard. An action is required on your behalf within 10 days of a dispute to either accept or challenge the dispute. LeagueApps facilitates the submission of evidence on your behalf to the customer's bank or credit card company. The bank then makes a final decision on the dispute and you will be notified via email.
Click to read about
Dispute Categories
,
Handling Disputes
and
Dispute Statuses
.
You can update your bank account information by logging into LeagueApps, then navigating to your LeagueApps Gateway Dashboard. On the [Account Information] tab of the Dashboard, there will be a [Change Bank Information] button where you can edit your bank account.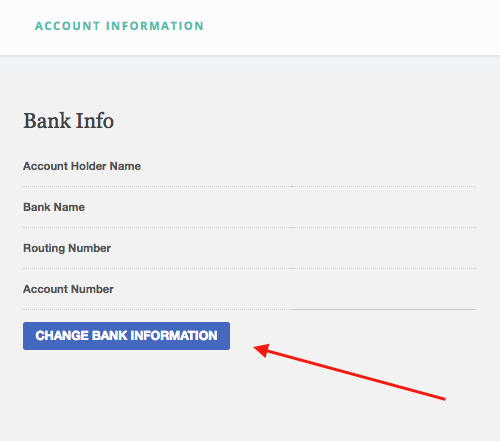 Funds will be transferred to your bank account every 2 days after the initial verification process, which can take up to 7 business days.
For example, if you process your first transaction on April 1st. All charges from April 1st to April 7th (7-day verification window) will be transferred and deposited to your bank on April 9th. Transactions from April 8th will be transferred on April 10th. Transactions from April 9th will be deposited on April 11th.
NOTE: weekends do not count towards the 2 or 7-day window, only business days (weekdays excluding national holidays where banks are closed).
Transactions are batched together for a bank transfer at 8pm EST. The 8pm cutoff cannot be changed.
LeagueApps Gateway is powered by Stripe. Stripe is a global treasury network working with a wide variety of banking partners to insure money can be paid out to users bank accounts in a timely manner. Banks have specific cutoff times for when payout submission needs to be made, if missed Stripe banking partners cannot guarantee payout processing according to the agreed time and there could be delays. Stripe has a global process of batching payments at 8pm (EST) to ensure all banks cutoff times are met and that payouts are delivered as soon as possible.
The LeagueApps Gateway Dashboard gives you access to view account information, incoming funds, bank transfers, lifetime volume, payment listings, account balance and disputes. Learn more about the Dashboard
here
.
In order for the Gateway account to be verified, a company representative's SSN and the Business' EIN are required. The company representative is not held responsible or liable for any of the account's activity/collection. Submission of a company representative's information is required to set up a gateway account and process online payments.
A credit card or bank statement will show your LeagueApps account's Site Name, and depending on the bank it may show your LeagueApps account's URL, phone number, and business address.
If you have a connected LeagueApps Gateway Account, bank deposits will be labeled as "LeagueApps Inc" and may vary slightly depending on your bank.
Failed Bank Transfers can happen for a variety of reasons. To list a few:
- Incorrect bank account number was entered
- Savings account was entered (only Checking Accounts will work)
- Your bank rejected the deposit
- There was an issue with your bank at the time of the transfer
- Your bank account will not permit withdrawals, which is necessary in order to process refunds.
Most failed transfers are reconciled by updating your bank account in LeagueApps. Login to your LeagueApps Admin Console, there will be a notification on your main dashboard. Click the notification to go to directly to your Gateway Dashboard.

Then click [Change Bank Information] and re-enter the desired checking account.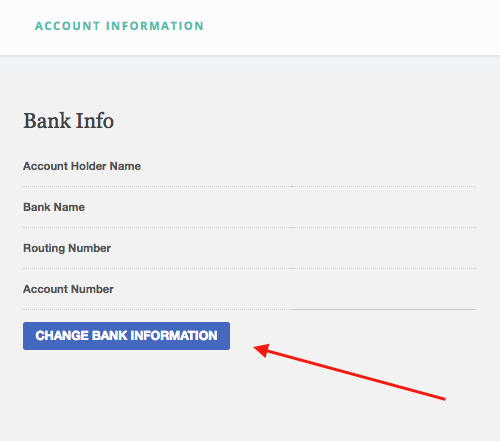 The failed transfer will automatically be reprocessed in 1-2 business days.
With LeagueApps Gateway we've simplified the complexities of payment processing, so there is no need for a Merchant Account ID. If you need this for any forms or documentation, you should be able to leave this field blank or use the email address associated with your LeagueApps Gateway account (this is the closest account identifier to a Merchant ID.)
We're always happy to help. You can email us directly at
gateway@leagueapps.com
for any specific LeagueApps Gateway questions.