Issuing credits to site members is an alternative to issuing refunds. A member can have a running total of credit to use on new registrations. You can Allow Site Credits as a Site-Level setting or Program-Level setting.
---
Site-Level Setting
Navigate to Settings > Registration Settings > Allowances for Special Discounts > Allow Site Credit (check box)




Enabling Site Credits at the Site-Level will automatically allow Site Credits for all new programs that are created.

If you do not Allow Site Credits, as a site wide setting, you can manage this setting within each program's Registration Settings.

---



Program-Level Setting
Navigate to Manage > Programs > find the program you want to setup > click 'Registration Options'




Scroll down to 'Allowances for Special Discounts' and check or un-check Allow Site Credit.

---
How to Add Credit to a Member's account
Option #1
Go to Manage > Members

Search a user's name and click the name

In the Member Details you will find a "Credits & Invoice" section.

Click the 'Add Credit' button to add or edit the Member's Credit amount.





On the member's Credit page, you can change the Amount, add a Description, and set an Expiration Date for the credit.



Option #2
Give a Member Credit through a paid invoice.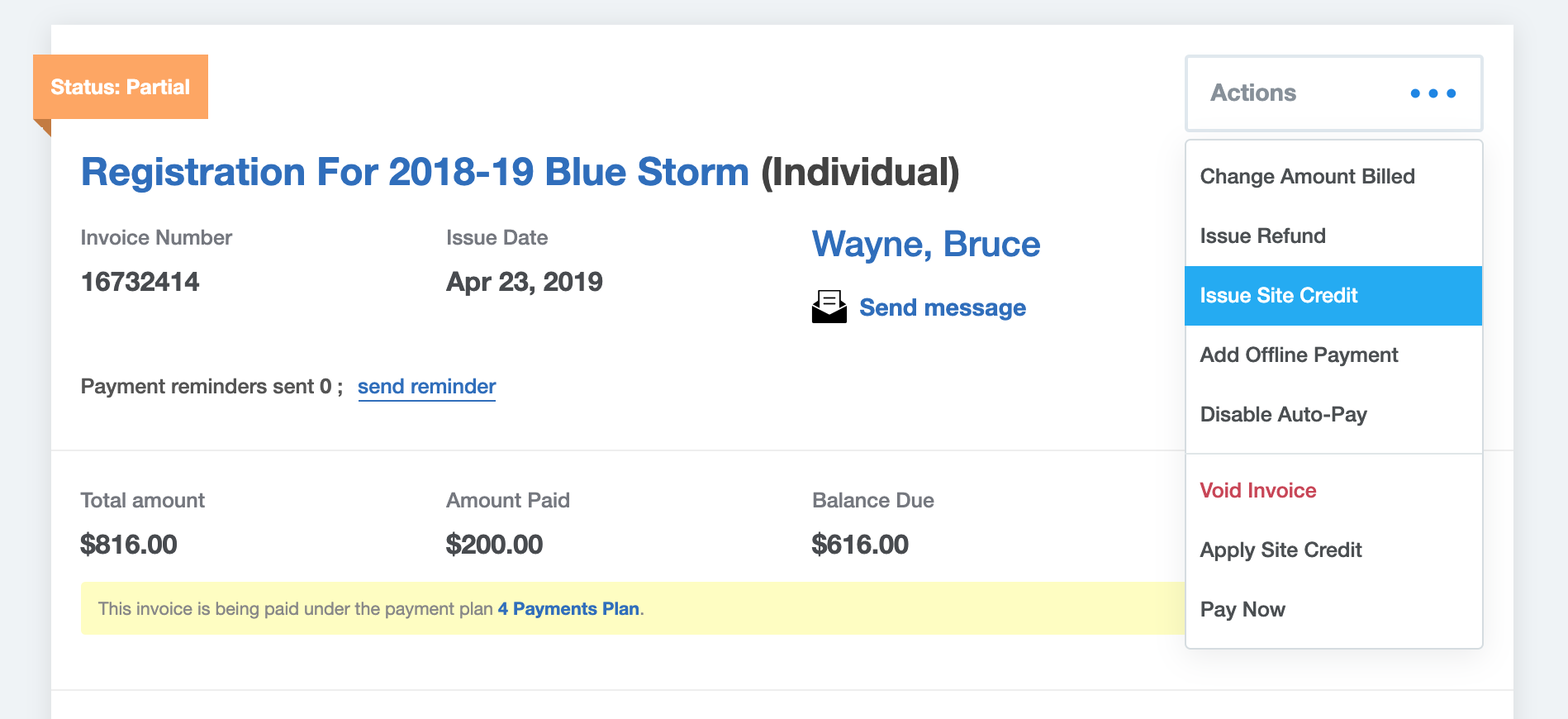 Option #3





I

ssue a credit directly after deleting a player from a program.




---
How to Manage all of your Credits
You can view, edit and export all of your existing credits under Manage > Credits.




---
What do credits look like for users?
Credits will be applied when a program is set to accept credits and a user has credits in the system. If both of these are in place, during registration a credit option will appear in place of the discount code section. The user will have the option to select "Yes, use my credit".
---



*Notes:
- A discount code can not be used along with a credit; a user can only use one or the other.


- When a program has a fixed dollar amount Processing Fee and a Member has a Credit that fully covers the program's registration fee, the Processing Fee will be waived. To turn this feature off, navigate to Settings > Site Settings >

uncheck

'Waive Processing Fee amount on fully discounted registration invoices.'


The paid invoice will show that a credit was used.