As people register for your programs, you have the ability to move them around as needed. To access this feature, go into any program in your Manager Console, and click on the "Players" tab of the program's context menu. The following move operations are supported:

Move free-agent to a team
Move a team player to free-agents list
Make a player a team captain
Move a player from one program to another
Move an entire team from one program to another
Remove a player from a program (NOTE: this will issue a refund to the player)

As you move players around, their invoices may be modified to account for price variations of the different registration roles. In some cases, a new invoice may be automatically created if the player did not already have one for some reason (e.g., if they had registered as a team player on a team being paid all by the captain).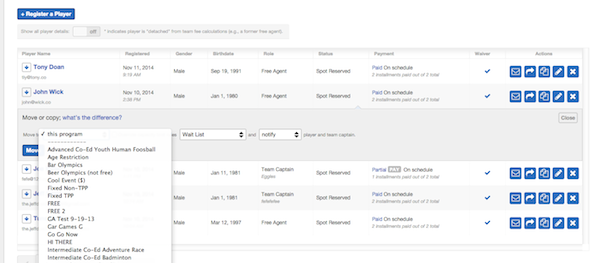 NOTICE: There is one particular registration setting that is relevant to moving players. The option Free Agents who join teams will be considered to be 'detached' from the team for payment purposes" determines if a free-agent moved onto a team does or does not count toward the team's overall fee.

When you move a player, they cannot specify payment plan options. When you copy a player, they can choose the payment plan to apply for the to-be copied/registered player.
Moving Players from Site to Site
You can move players from one site to another within your LeagueApps account. This can be useful if you create a new site and want to transfer players from your first site. In the "Reports" tab of your new site, click on "Membership > Add Site Member". As you begin to type the player's username, a message will appear that says "Member Already Exists" and ask if you want to copy this user to the site. Once you accept this option, the user will become a member on the new site.