Member profile fields are information provided by your site members when creating their accounts. Your users are only asked these questions once during their initial account creation. For information specific to a program or information that can change from season to season, we highly recommend that you use Custom Registration Form Fields.


Member Profile Settings
Custom Member Profile Fields
Advanced Settings
Profile Pictures


Member Profile Settings
To view your Member Profile settings, go to Settings > Member Profile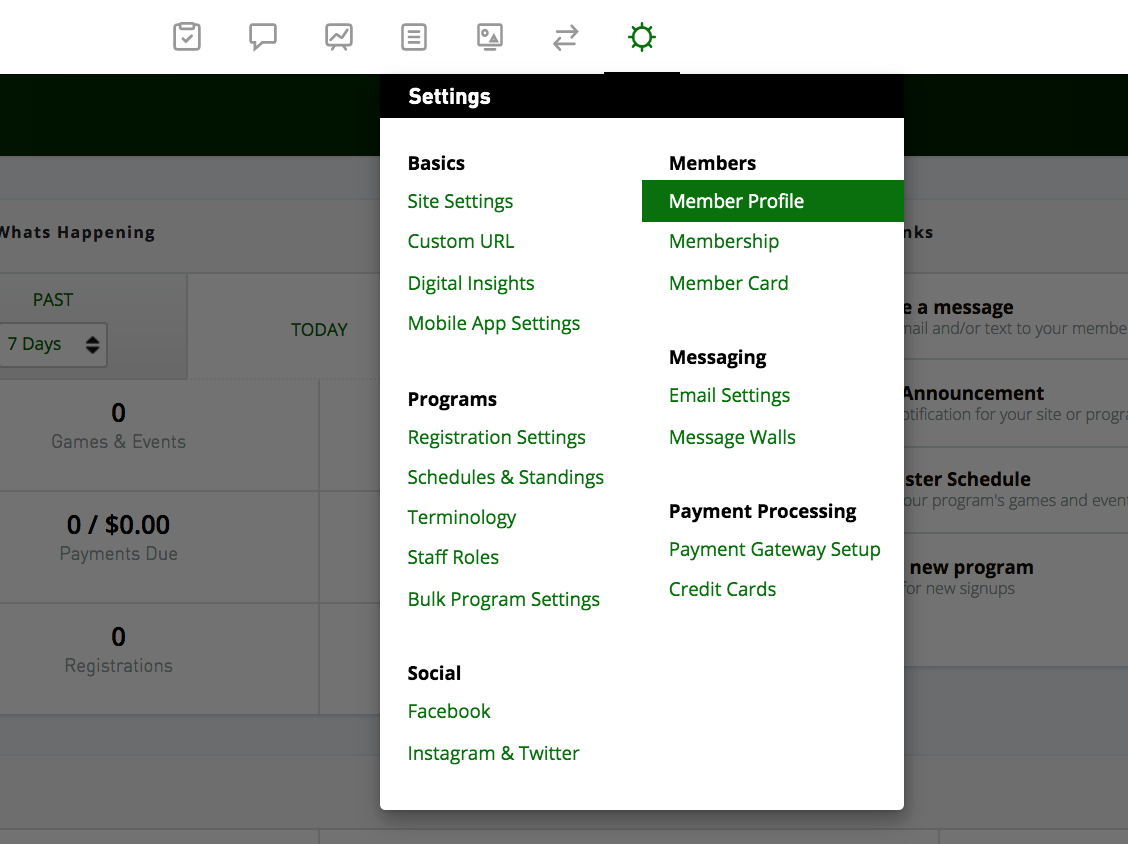 Standard Member Profile Fields
Username

Password

First Name

Last Name

Email Address

Address

City

State

Postal Code

Basic Field Settings
The following settings can be turned ON or OFF:
Require Member Address

Require Parent Birth Date

Require Child Birth Date

Allow Child Member Emails

Collect / Require Parent/Adult Mobile Number During Registration

For more information about text message activation, click here

Collect Child Mobile Number When Collecting During Registration (not allowed for children younger than 13)

Prompt members to fill in any empty required fields when they login

Hide member names on all publicly accessible web pages.

Show member profile only to logged in members

Collect / Require Parent/Adult Secondary Email Address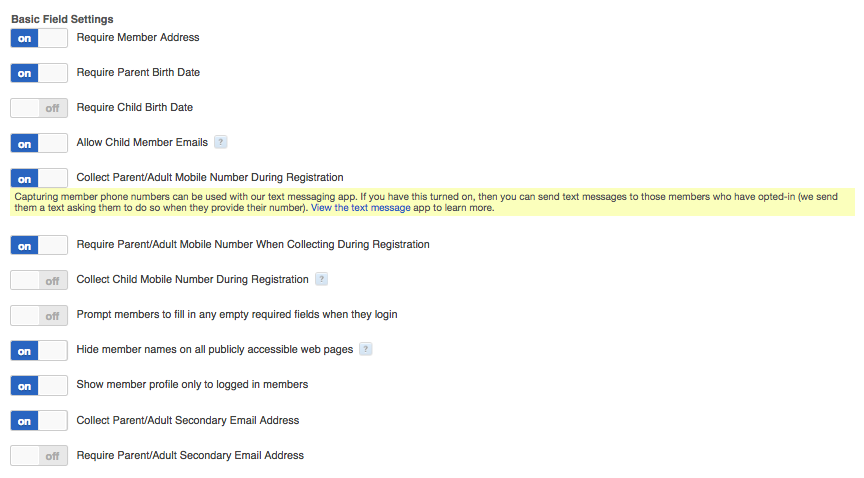 Custom Member Profile Fields
In addition to your standard member profile fields, you can customize new profile questions. To add custom Member Profile fields:
Click + Add a Form Field

Fill out the Custom Member Profile Field

Click Add Property to save the new form field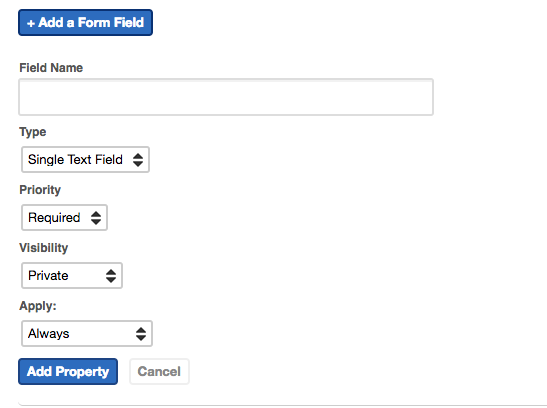 Field Name: this is the title of the field or the question you want to ask

Type: there are multiple types of Form Fields that you can create:
Single Text: useful for custom short answers (ex: Current School)
Paragraph Text: useful for custom mid-long answers (ex: Medical Conditions, Comments/questions)
Numeric: use for a numeric answer (ex: Jersey Number)
Dropdown: use for predefined answers (ex: Jersey Size). If you select Drop Down, click 'add property' and then enter each pre-defined answer.

​

A dropdown form field will display two boxes: response and value.

A predetermined response is required, while a value is optional. If a value is provided, the value will show on a report, instead of the response.

Multiple Checkbox: great for collecting multiple selections for one question

​

Creating a multiple checkbox form field will provide options for response and value (see dropdown form field above)

File Upload: If you would like to collect documents such as birth certificates, medical forms, etc. from members

Priority: set the form field to 'Required' or 'Optional'.

Visibility
Public: all site visitors can view the response
Protected: only logged in members can view the response
Private: only admins can view the response (in addition to the specific site member)
Admin Only: only administrators can respond to this form field

Apply: choose if you want the form field to apply 'Always', 'Only for Children' or 'Only for Parents'.


Advanced Custom Field Settings
As an Org Account Owner or Org Account Admin, you can lock a Custom Form Field to prevent other Admins from deleting or editing the field. Simply click the lock icon in the Action column to the locked or unlocked state.

An Org Account Owner or Org Account Admin can also enable a site setting (Settings > Site Settings) that enforces Admins to fill in all required fields when manually creating a new Member Profile. If this setting is not turned on, Admins have the ability to skip required custom fields when completing a Member Profile.

Profile Pictures
If you want to allow parents to upload profile pictures for kids, it is a site-level setting (Settings > Site Settings)

Members can upload a Profile picture when creating their Member Profile or add a picture later on, by editing their Member Profile.





Admins can upload profile pictures to a site member's profile. From the member details page, click Edit Member Profile > Choose File > Upload.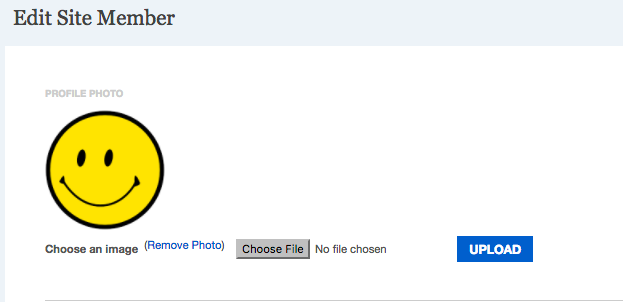 Profile Pictures are visible on the Member Profile, and based on settings, the Team Roster and Printable Roster.


Privacy Control
LeagueApps uses TLS 1.2 to encrypt site access to member account areas. We also offer advanced privacy controls so that Admins can configure a site or program to the desired level or privacy for member information. Click here to learn about Customizing Your Privacy Settings.