LeagueApps allows you to incorporate a waiver or multiple waivers into the online registration process. With a waiver enabled, a registrant will need to digitally acknowledge and sign the waiver in order to complete their registration. Each signed waiver can be individually downloaded through the LeagueApps Admin Console.
Enable a default waiver in your default registration settings, which will be used whenever you create a NEW program. You can add as many additional waivers as you need to your default waivers.

To add or edit default waivers:
Go to Settings > Registration Settings
Select the Waivers tab
​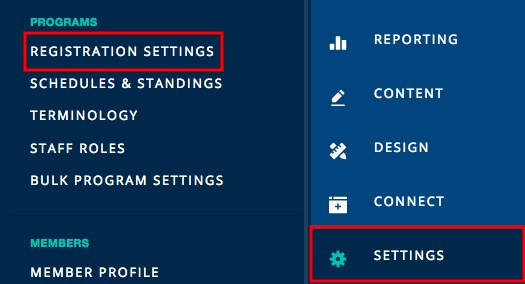 Select

Enable Main Waiver

and

customize your waiver content (HTML is supported in this box).

To save any changes to your waiver content, select

Save Main Waiver.

Each waiver may be selected to apply only for adults (i.e. Coaches or Volunteers), only for children, or both!

You may add additional waivers by selecting + Add Another Waiver. These waivers will be automatically applied to NEW programs. For existing programs or copied programs without these waivers enabled, they can be enabled for each program (see below).


To set a waiver for a specific program, go to any program in your admin console and click Settings > Waivers. By modifying the waiver for a particular program, you are overriding the waiver content in the default settings.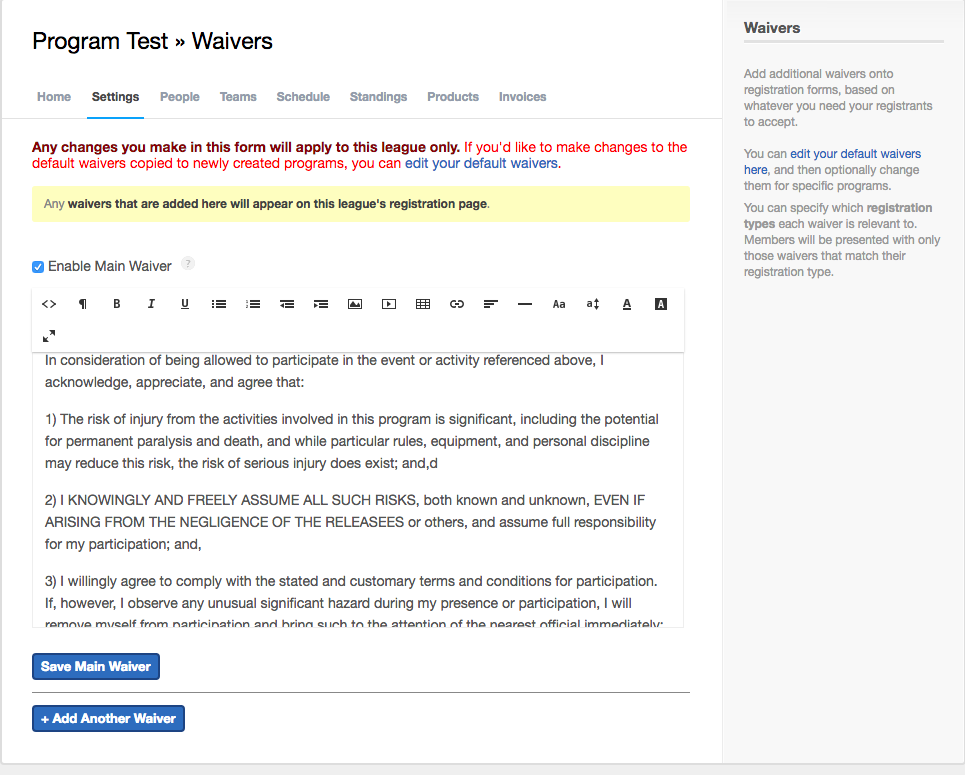 Click here for more on Registration Options Explained.

Accepting and Tracking Waivers
Once you have set your waiver, your players can choose to accept the waiver when signing up for a program. If a player does not accept the waiver, he/she will see a reminder right in their Member Dashboard.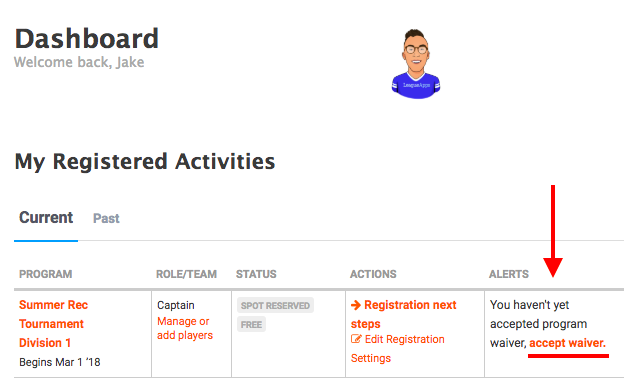 As an admin, track who has accepted the waiver in each program by going to a program's player listing ("Manage > select program > Players"). Here you can send an individual message to any player who hasn't accepted the waiver and prompt them to accept.



Copying or moving players with signed waivers
When copying or moving a participant with a signed waiver between two programs, their waiver will remain signed in the new program IF the waiver content matches exactly between the two programs.
If the waiver content does NOT match, the participant will have an unsigned waiver in the new program

After copying/moving the participant, the date, program name, and IP address from the initial date of signing will remain on the waiver
Main article:
Copy and Move participants or teams


Terms & Conditions
Find the default Terms & Conditions page in the Content tab in your admin console. Here you can set your site's Terms & Conditions. You can choose link to this page from the main menu, as well as customize the content. When finished, click Update.

A link to this page will be found at the bottom of the member registration and program registration forms.
Learn More
Program Details
Registration Form Fields
Copy and Move participants or teams
If you have any further questions, please use our Support channels:
- Email:
support@leagueapps.com
- Voicemail:
1-888-208-0210
- Live Chat (if available)
Play Forever!