To ensure that your coaches, parents and players are seeing all of the information they need in their team mobile app, here is a guide to turning on the correct program settings.
Note: there must be teams included in your program, and the mobile app user needs to be registered with an active program/team in order to see their app populated with team information.
When enabled/disabled, the settings below will update both the mobile app and the Member Portal (when applicable).
Settings to Update:
1. Custom Locations & Chat Messaging
If you would like to turn on chat messaging and/or allow your staff members to add custom locations to their events, please contact your LeagueApps account or support team to turn on these settings for your organization.
2. Adding & Editing Scores
LeagueApps allows you to delegate scorekeeping permissions to designated staff roles and team captains, so that they can add and edit game scores directly in the mobile app. View how to set these up here.
3. Team Settings: Preferences
Navigate to desired program > desired team > Settings > Preferences
1. Scroll to the Schedules and Standings Related Preferences and checkoff the following team preferences if you want them to display in the mobile app.
Use Schedule:

if this checkbox is turned off, users won't be able to view the Schedule in the mobile app nor any of the options below

Allow staff to add/edit events: If a staff/coach is logged into the mobile app, you can give them the ability to control their own team's calendar i.e. add and edit practices, games, and events. Note: This also affects them being able to control the calendar from the Member Portal as well - click to learn how to add and import schedules
Use Standings - would turn on or off the Standings tab in the app
Enable RSVP - if you want parents to be able to RSVP in the app
Enable Check-In - Coaches/Staff can take attendance in the app



2. Scroll to the Game/Event Reminder Email section and select the Send Reminders checkbox if you'd like to send push notifications in the mobile app.
You can also select how many days beforehand you want these notifications to go out.

Push notifications are an event (i.e. practice, game, etc.) is changed, canceled, or uncanceled.

Push notifications are NOT sent when you create or delete an event.

3. Scroll to the Team Details Visibility section and ensure that this checkbox is unchecked if you want your members to view team information in their mobile app

4. Click the Save Preferences button at the bottom of the page

4. Team Settings: Rosters
Navigate to desired program > desired team > Settings > Form Fields
1. Determine which informational form fields you want to be available in the rosters for coaches and parents to view in the mobile app.
2. Select the Team Player checkbox if you want those form fields to show in the team roster section of the mobile app.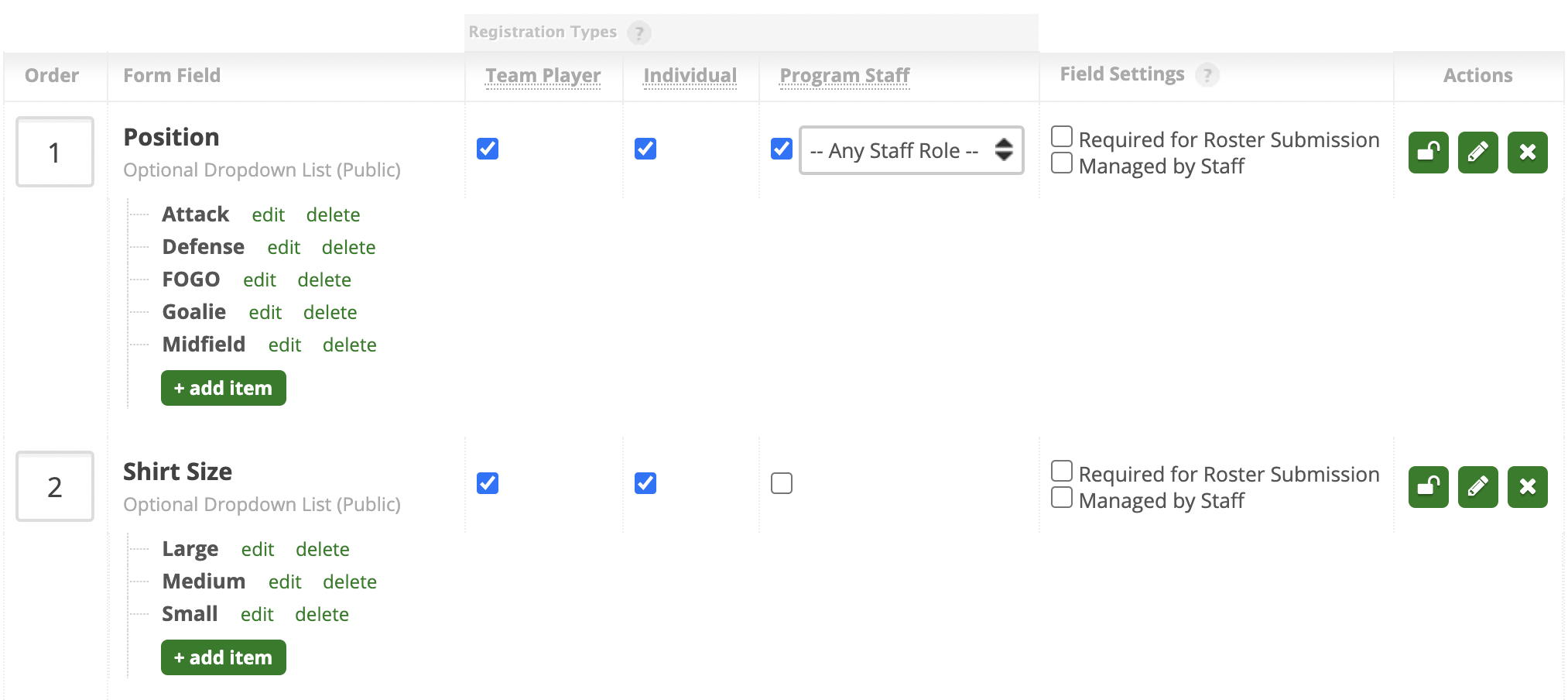 Navigate to desired program > desired team > Teams > Roster Settings
1. Scroll to the Staff Info section to select who can see specific staff information on your roster in the mobile app.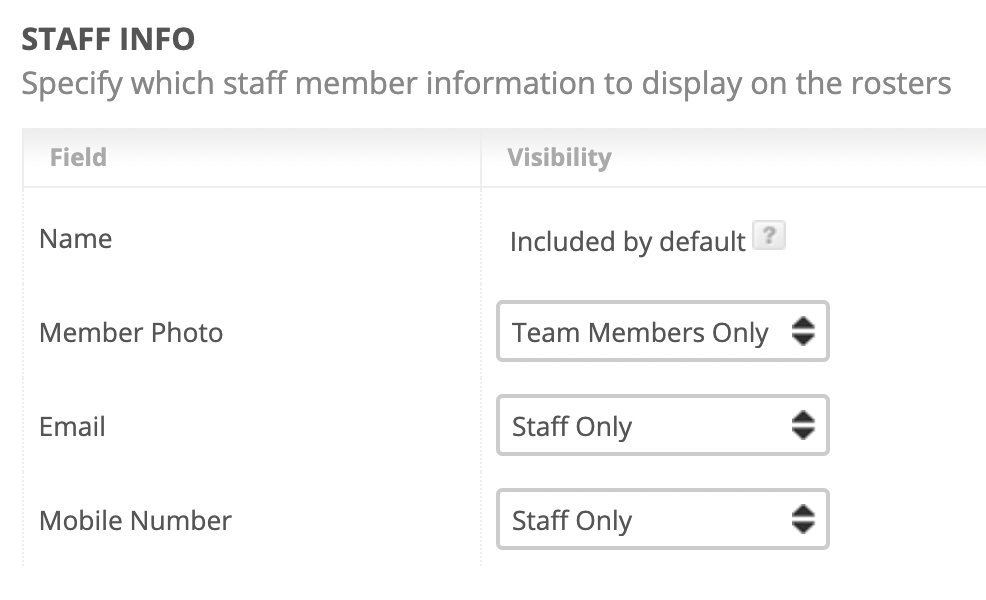 2. Scroll to the Player Info section to select who can see specific player information on your roster in the mobile app.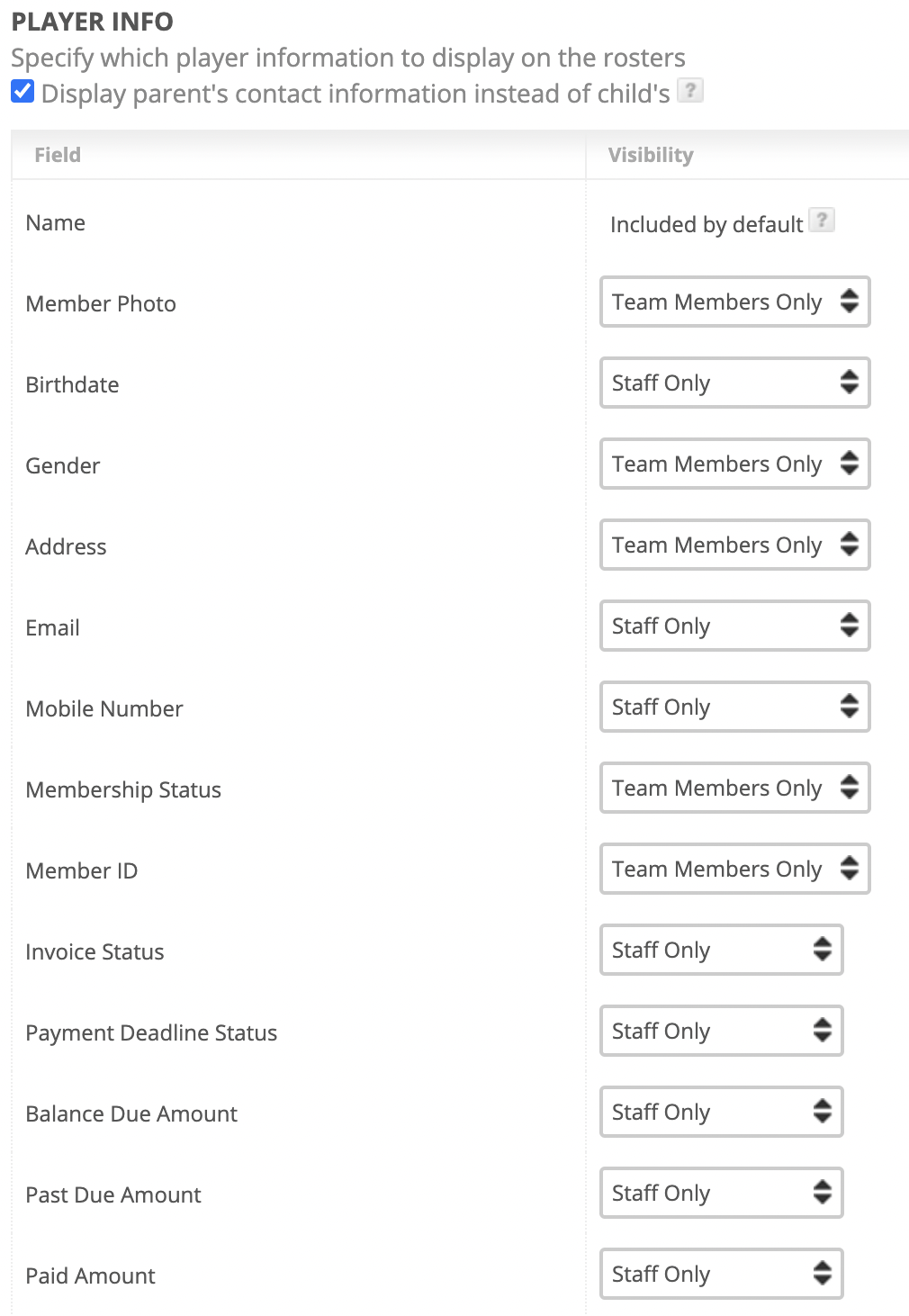 Note: Invoice + Financial Information
You can allow your Staff to track payments and invoices for your members for your players directly in the mobile app by selecting Staff Only (see bottom 5 fields above).

If you want to be the only one who can view this information directly in the app, choose "Primary Staff Only" from the dropdown.

You need to be registered onto the team as well. To add yourself as Primary Staff on this team, navigate to the People > Staff tab, and click the star icon to the right of your name in the Actions column.


If your name is not listed, click the Add Program Staff, complete the form, and then click the star icon in the staff list.

3. Scroll to the Custom Registration Form Fields section to add custom form fields to the roster, and choose if Staff and Team Members can view these fields from the Visibility dropdown. Click the Include in Website Roster checkbox to include the field.

4. Click Save Roster Settings button
Once you have saved your settings, the mobile app and Member Portal will immediately and automatically update to reflect your selections.