If your organization utilizes LeagueApps Gateway, this means you can accept credit and debit card payments as well as ACH payments. These payments, however, do work different than credit/debit card payments, so it will be important for you to know the differences.
How It Works
In order for a user to make a bank payment, they need to be the owner of the bank account. For us to verify ownership, we integrate with online banking platforms and prompt the user to select their bank, log in with their online banking credentials and then select an account to pay from. This process is facilitated by a third party company Plaid, an industry leader in this service.
When users reach the payments page, they will now have two options to select from for their Payment Method. If a user selects Bank Account, they will be prompted to select their bank and login using their online bank credentials.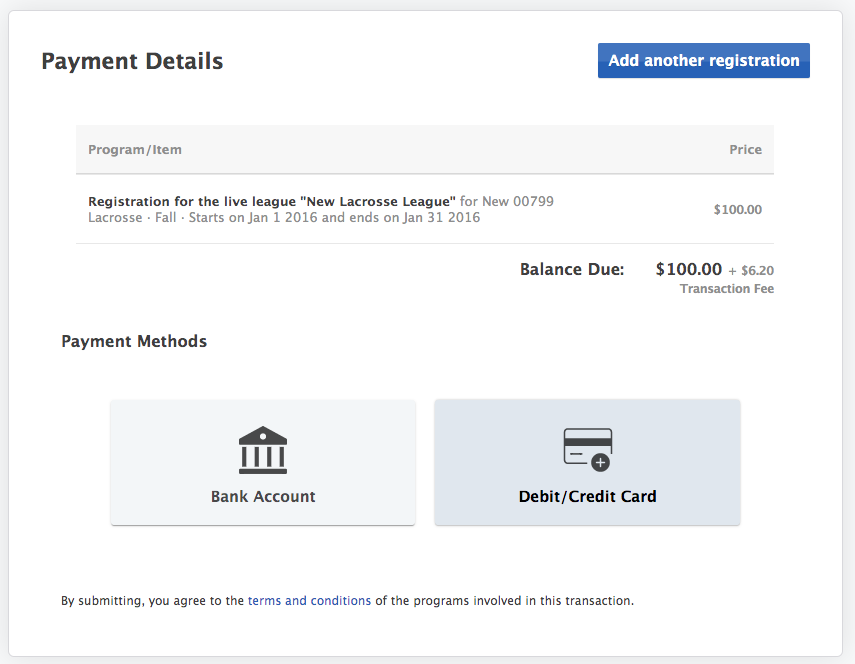 A bank account can be stored on the user's account, and used for faster checkout on subsequent registrations and for AutoBilling on payment plans. Users can access their Member Dashboard to manage or remove their stored payment settings.
Reporting
When viewing financial reports, there will be new columns for the payment method that let you know if the payment was made by a bank account or credit card. This new field will be available on the Transaction Reports and League Apps Gateway Reports.





The payment method also displays in the Transaction History section of an invoice.



Outstanding Balances
If a user has a linked bank account, LeagueApps Admins can make manual payments to an outstanding invoice from the LeagueApps management console, by accessing the invoice and choosing the action of Pay Now.
⚠️ You must always select the payment method on the Pay Now screen before the Pay button becomes active.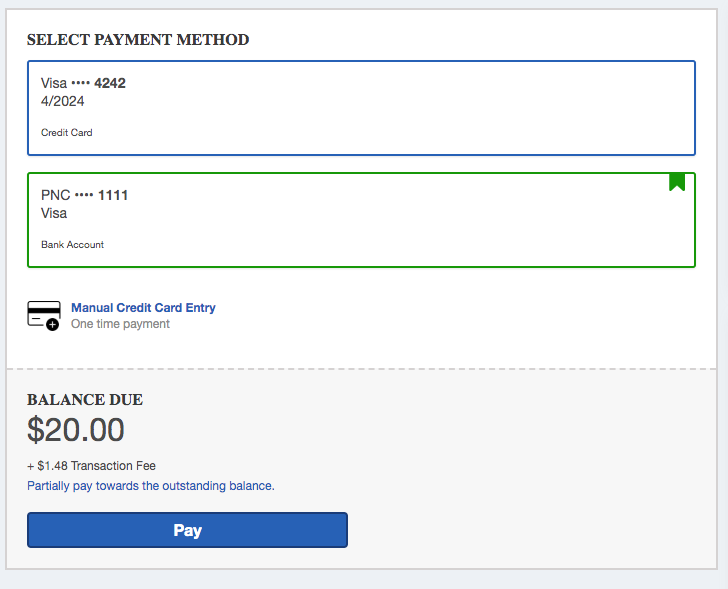 Frequently Asked Questions
How long does it take for Bank Payments to process?
It typically takes 5 business days for a Bank payment to clear and then 1-2 days to be transferred from your gateway to your bank account. The exact time varies from bank to bank.
What happens if a Bank Payment fails?
An attempted payment can fail if there are not enough funds in the linked bank account. The same amount of time is required to know if a payment will not go through. If this happens the customer and the LeagueApps admin will get an email letting them know the payment failed.  The user can either reauthorize a bank payment or make a payment with a credit card. If the user does not pay, the LeagueApps admin will need to communicate directly with the customer on how to proceed or remove the registrant from the program.  Click here to learn more about bank payment failures.
Can I Refund Bank Payments?
Yes, with some important things to know:
When a Bank Account payment refund is initiated, it will be reflected immediately on the invoice, but the actual refund may take up to 7 days to process.
Refunds on Bank Account payments cannot be initiated until the bank payment has cleared. Note: this is different from credit and debit cards' refunds where the success of the payment is captured in real-time and therefore can be refunded immediately.
Refunds on Bank Account payments are available for 180 days after the payment is initiated. Note: This is different from the 365 day refund period for credit cards.
How Many Banks Are Supported?
LeagueApps integrates with a platform called Plaid, which integrates with 90% of the banks, credit unions, and financial institutions in the US. If customers cannot find their bank in the search results, they will be prompted to pay with a credit card.
Certain banks will require users to log in to the bank's website in order to authorize third-party payments. 
How do Payment Disputes work with bank payments?
Disputes for bank payments are very rare. Unlike credit cards, there is no process where your business can challenge the dispute. If a dispute is made by a customer that paid via a bank account, the dispute is automatically resolved in the customer's favor and the money is refunded to the customer. There is a $15 fee charged to the payment gateway account as a dispute handling fee. LeagueApps does not have control over the dispute process, it is handled by the customer's bank.
How will the user's bank statement look?
Each financial institution interprets a bank payment a little differently. The bank statement will likely start with LeagueApps Inc followed by the first few letters of your LeagueApps Site Name. Some banks will show LeagueApps Inc, and then show additional information after you expand to view more details.