The Transactions reporting section is broken into three different sections depending on what kind of detail you're looking for:
These reports will help track the transactions you process through LeagueApps as well as generate financial reports.
If you have multiple sites on your account, learn how to pull organization-wide, cross site reports here.
Step 1: Locate The Report
From your LeagueApps Management Console, place your mouse over Reporting
Then click Transactions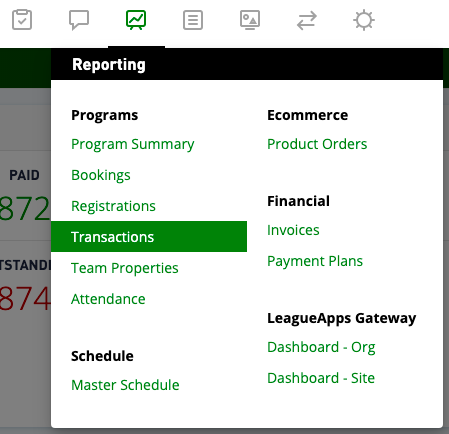 Step 2: Choose your report
There are three versions of transactions reports, and each report allows you to filter data to your specific needs.

Select the Show Filters button to filter a report by:
Date
Transaction Type
Transaction Result
Program Type
Program State
Sport
League Season
Program Name
Member Search Type
Member Search Input
Transaction ID
Gateway Transaction ID
Transactions
The Transactions Report shows all attempted transactions made on the site. This includes successful and failed registrations, refunds, and product purchases.

The Transaction Report has the following data:


NOTE: You can run this LeagueApps Gateway Dashboard report to see the following:
The payment method used for a given refund
The date that the funds from incoming payments will be available for deposit to your connected bank account
Transaction Detail
The Transaction Details Report is a more detailed look at the Transactions tab. It is similar to the Transactions report, however, all successful invoices are shown in an expanded view. This is useful when dealing with container invoices. A container invoice is generated when a user makes multiple purchases in one check out (ex. registering multiple children or teams at once, registering for a program and buying a product). The Transaction Details shows these container invoices separated into individual purchases.
The Transaction Detail report also shows the Total Amount Due and Outstanding Amount.
For accounts using LeagueApps Gateway, this reporting now includes Bank Transfer ID and Bank Transfer Date in the export, which makes this report extremely valuable for accounting reconciliation.
NOTE: If products were purchased during the registration of a program, the product name purchased during registration will appear in the export. Also if refunds were given to an invoice, the amount refunded will appear as a negative amount in the export.

The Transaction Detail report has the following data: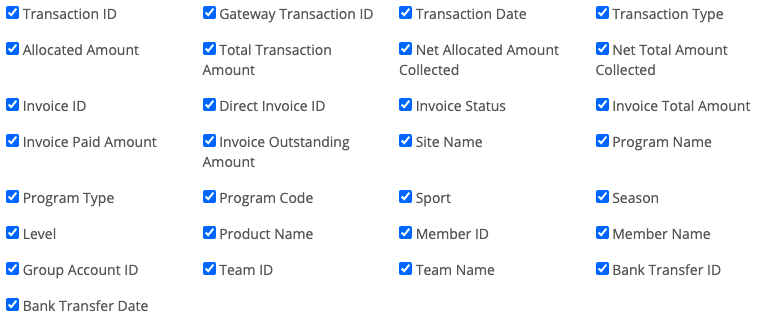 Allocated Amount - Total amount (including fees) per invoice included in the transaction
Total Transaction Amount - Total amount paid including fees.
Net Allocated Amount Collected - Net amount collected per invoice included in the transaction
Net Total Amount Collected - Sum of the Net allocated amount
Transaction Summary
The Transaction Summary Report provides a high-level summary of each program's successful registration transactions. This report is an excellent way to quickly view the income of each program. You are able to see all programs and sub-programs listed in chronological order.

​The Transaction Summary report has the following data:




NOTE: You can use the Export to CSV option to download any report and include specific information as an Excel File.