LeagueApps allows you to pull reports to view every product order purchased on your site. This can be helpful when tracking and fulfilling your members' product orders.
Step 1: Locate the report
From your LeagueApps Management Console, place your mouse over Reporting
Then click Product Orders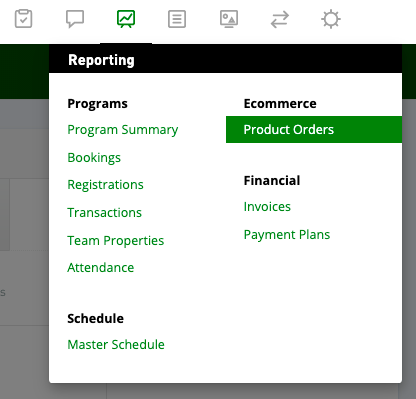 Step 2: Set Filters & Save Reports
Click the Show Filters button on the right
You can filter your report by the following criteria:

Order date
Product
Shipping requirement
Order Status
Where the product was purchased
Purchaser
Sport
Season
Program State
Program Name

You can also sort the report by:

Order date
Product Name
Purchaser Last Name

Once your filters are set, click Run Report
If this is a report you will be running often, you save the report by clicking the Create New Saved Report button. You can access saved reports via the My Saved Reports drop-down menu.

Step 3: Report info
Once you have run the report, a great deal of information will be displayed for you on screen.

Name of product purchase

Click the Details link to further order information
Order status

Open/New: Product is created and has not been purchased.
Open/Paid: Product items have been purchased.
Closed: Product items have sold out, based on inventory.
Cancelled: Product has been deleted from the site.

Order date
Step 4: Export info
⚠️ The export function on this report is limited to 500 or fewer records. If the Export To CSV button is missing, reduce the number of records by using the filters in Step 2.
To export your report data, click the Export To CSV button in the top, right-hand corner
Select the data points you want to export
Then click Export