LeagueApps allows you to pull reports to view every product order purchased on your site. This can be helpful when tracking and fulfilling your members' product orders.
Step 1: Locate the report
From your LeagueApps Management Console, place your mouse over Reporting
Then click Product Orders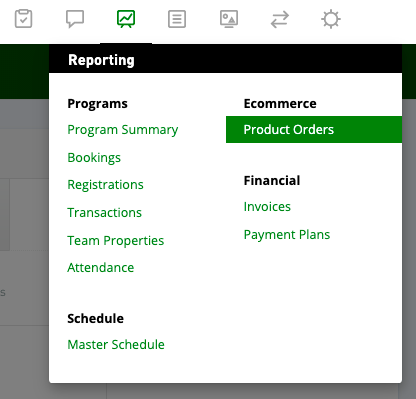 Step 2: Set Filters & Save Reports
Click the Show Filters button on the right
You can filter your report by the following criteria:

Order date
Product
Shipping requirement
Order Status
Where the product was purchased
Purchaser
Sport
Season
Program State
Program Name

You can also sort the report by:

Order date
Product Name
Purchaser Last Name

Once your filters are set, click Run Report
If this is a report you will be running often, you save the report by clicking the Create New Saved Report button. You can access saved reports via the My Saved Reports drop-down menu.

Step 3: Report info
Once you have run the report, a great deal of information will be displayed for you on screen.

Name of product purchase

Click the Details link to further order information
Order status

Open/New: Product is created and has not been purchased.
Open/Paid: Product items have been purchased.
Closed: Product items have sold out, based on inventory.
Cancelled: Product has been deleted from the site.

Order date
Step 4: Export info
To export your report data, click the Export To CSV button in the top, right-hand corner
Select the data points you want to export
Then click Export