Do you need to renew a program from a previous season, or duplicate a program to kick start another? Use Copy this Program on the program dashboard to copy an existing program. The new program will have a different program ID, and will copy over all Details, Registration Options, and most settings from the previous program.
⚠️ Copying a sub-program will create a new sub-program within the same grouped-program.

⚠️ Copying a grouped-program will copy all sub-programs within the grouped-program.

⚠️ Copying a program will not carry over registrants, invoices, teams, or calendar events. In addition, roster settings will reset.
Locating past programs
Go to Manage and click on All Programs
Use the filters to change your search results from Live and Upcoming to Completed
Click Apply Filter

Initiate Program Copy
Once on the program's dashboard, click Copy this Program from the left-hand sidebar.
​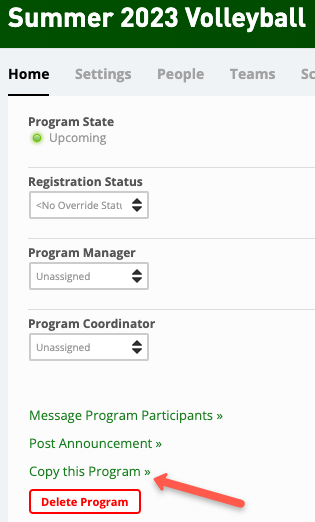 You will be taken to the Edit Details page for the new program created. After saving at the bottom of this page, the new program will be created. If you leave this page without saving, the new program will not be created.
We recommend that you audit the program name, dates, pricing, and all other important information that may need to be changed for the new program.
Payment Plans
If there are Payment Plans for the previous program, you will be given the option to carry over these payment plans to the new program. You can copy the payment plans so they have the same exact installment dates or you can change the first installment date.

Sub-Program Dates
If you are copying a grouped-program, the Activity Start Date and End Date you set when initially creating the new program will copy over to each sub-program. However, the Registration Start and Registration End dates will need to be determined for each sub-program within the grouped-program.