Admin members have access to the Admin Console and can perform administrative actions on your site. You can add new admin members and/or promote existing regular site members to also become Admins. We will also review deleting admins you already have in the system and/or removing their admin privileges.
Adding (and Editing) Admin Members
To add an admin member, select your name in the bottom-right-hand corner of your site dashboard and click on "Manage Account" from the drop-down menu.
From the "Manage Account" page, click on the "Manage Users" button under the "Admin Users" block.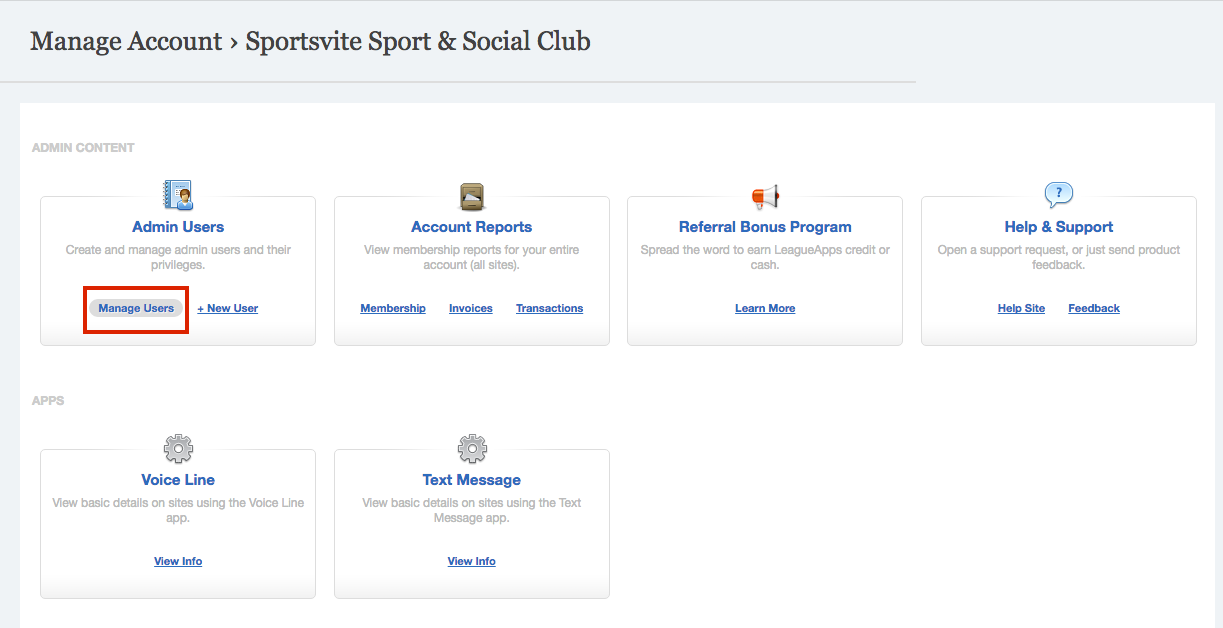 This will show a list of existing admin members. You can add new ones here, or edit existing ones (including deleting a user or removing an admin user's admin privileges).


When adding/editing an Admin member, you must specify which sites (an account can have more than one site -- see Managing Multiple Sites article) they have access to, as well as what role they are. The following roles are supported:
Org Account Owner
Org Account Admin
Site Admin
Site Manager
Site Coordinator
Program Manager
Program Coordinator
Site Reporter
** Visit the Admin Role Access Guide Help Article or fully-detailed Admin Access Matrix to see a full breakdown of the rules and restrictions for each admin role.
Promoting Site Members to Admins
You can also promote an existing site member to also be an admin. To do this, visit the member's Member Details page (see article Accessing Member Details), and click the "Promote to Admin" button in the upper right of the page. After clicking this, you will land on the newly created Admin member edit page.
Deleting an Admin/Removing an Admin's Privileges
To delete an admin or remove an admin's privileges, you must visit your Admin Users page (steps above) and click the "x" button under the "Actions" column beside the admin you want to remove. You are then presented with the option to either "Delete User" or "Remove Admin Privileges." Click the appropriate option and you're all set!