LeagueApps enables you to set up an automatic waitlist so you won't miss registrations even when your capacity is reached. Waiting lists can be configured at the program level, and are only available for Individual/Free Agent registration (Teams and Team Players do not have a built in waiting list option at this time).
Important Notes:

A waitlist can only be made for Free Agents. The waitlist option is NOT available for team registration.

The Free Agent label can be changed for each program. For example, the Camp program type will automatically change the Free Agent label to Camper.
Labels can be changed for each program (or sub-program) by going to Settings > Preferences from the program's dashboard.

Setting your Program Capacities
Go to Settings > Registration Options
Scroll to the [Program Type] Capacity Rules section
Check "Enable a free agent waiting list" (Free Agent may have a different label for your program)

Set the maximum capacity of Free Agents for the program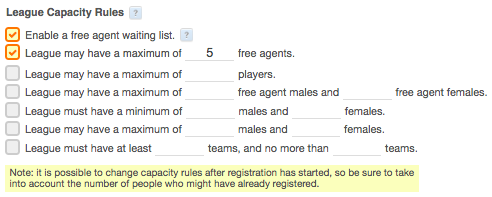 This program will allow for 5 Free Agents to register. The 6th Free Agent or more will be placed on the waitlist.


Setting your Waiting List Capacities
Go to Settings > Registration Options

Scroll to the

[Program Type] Capacity Rules

section

Check "Enable a free agent waiting list"

Set the maximum Free Agent capacity

Set the maximum player capacity to the total amount of spots available for the program, INCLUDING waitlist participants
Consider a program with 5 Free Agents and 5 Team Players currently registered. In order to create a waitlist with a capacity of 5, the maximum player capacity needs to be 15



Setting the maximum player amount to 15 takes into account 5 Free Agents registered, 5 Team Players registered, and 5 remaining spots for registrants who will join the waitlist as a Free Agent.

Registration Status
Your program will not automatically display a message that it is currently accepting waitlist registrants. Instead, you can change the Registration Status.
On the program or sub-program dashboard, select the dropdown menu under Registration Status

Change the status to "Accepting Waitlist"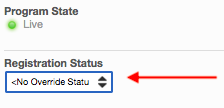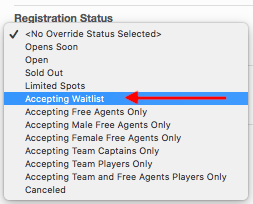 The program profile will display a note, "Accepting Waitlist".



If a user begins the registration process, the site will inform them that they will be registered onto the waitlist.


Waitlist Payment Requirement
Registering onto the waitlist will not create an invoice for the registrant and will not require payment.
Their registration will be marked with no fee until they are moved into a different role. Once moved into a different role, they will be invoiced based on the price structure for that role.

Moving a Player from a Waiting List
If a spot opens up, or your capacity increases, you'll want to move your waiting list players into those spots ASAP. This does not automate, and failing to be proactive in this step can result in new-registrants cutting in front of your waiting list players.
Hover over the People menu item within the program, and click on Players.
Use the Filters to display waiting list players only for a cleaner view.
Starting with the player who has been on the waiting list the longest (the one with the registration date furthest in the past), and click the right facing arrow next to their name to bring up the move options.


Choose to move them into the program as a Free Agent/Individual or onto a Team (select the appropriate team/group).
You can choose to notify or don't notify. This is a case where notify is helpful, so your members know to login in and make a payment.
Choose to change the invoice when prompted, unless you want them to remain free.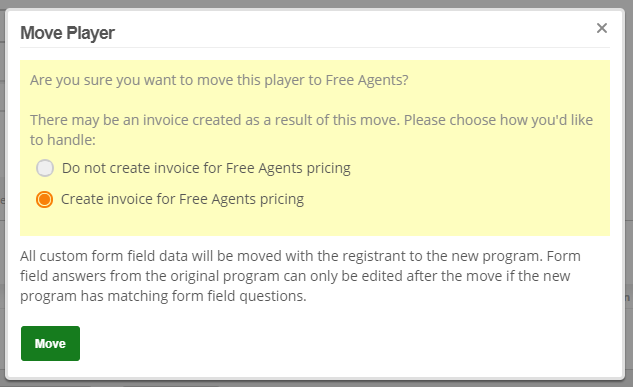 After the move you will see their Status and Payment columns update.

FAQs & Tips
Other waiting list options (non-free agent/individuals) can be achieved by creating additional free Programs or Teams titled "[Program Name] Waiting List" or "[Team Name] Waiting List". When spots open up, you can move players and teams in the same way into the paid Program or Team and create an invoice during the move.
It's good to send a reminder once someone has moved off of the waiting list. On any invoice there is a Send Payment Reminder text link. Add clicking this link to your waiting list move process to ensure all players get a direct link to pay.