Product Basics
Custom Fields
Assign To Programs
Product Order Notifications
Product Order Reports
Additional Inventories and Price Additions Per Product

LeagueApps now allows partners to sell products directly to your participants. You will be able to sell products during the registration process, as well as outside of the registration workflow. Members will be able to purchase products directly during registration, without having to go to another site or store to purchase products.

In the 1st version of add-on products, the products will most likely be sourced and distributed by you. In many cases, they will be sold during registration, before the program begins. This will allow you to determine the exact number of products to order, so that you do not have to deal with inventory. In additional to selling physical products (e.g. apparel, equipment, etc. ), you will also be able to sell "air" products such as charity donations or VIP packages, in which no physical product exists.
To create a new product, go to Manage > Products, then select the button at the top left, Add a Product. Alternatively, go to a specific program Manage > All Program Types > select Program > Products > Manage Site Products.

After creating your products host them on our new web store. Learn how to create a web-store here

Product Basics

Enter the following details to create your product. NOTE - some details are required, while others are optional.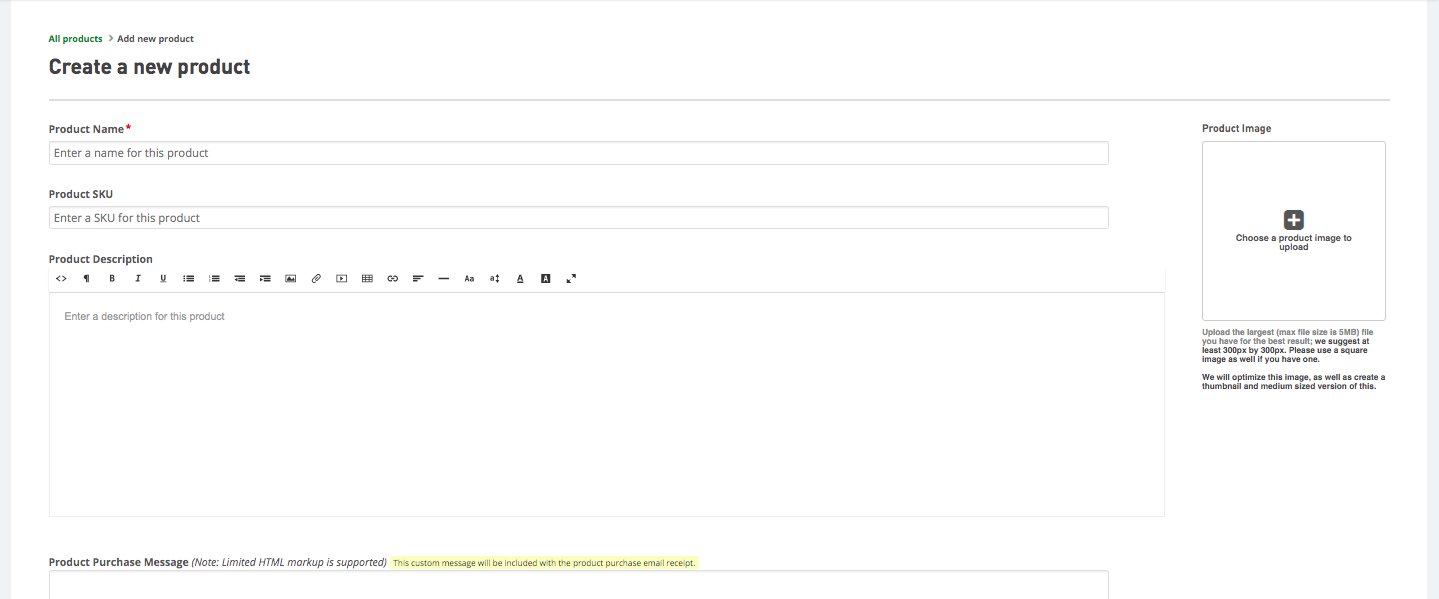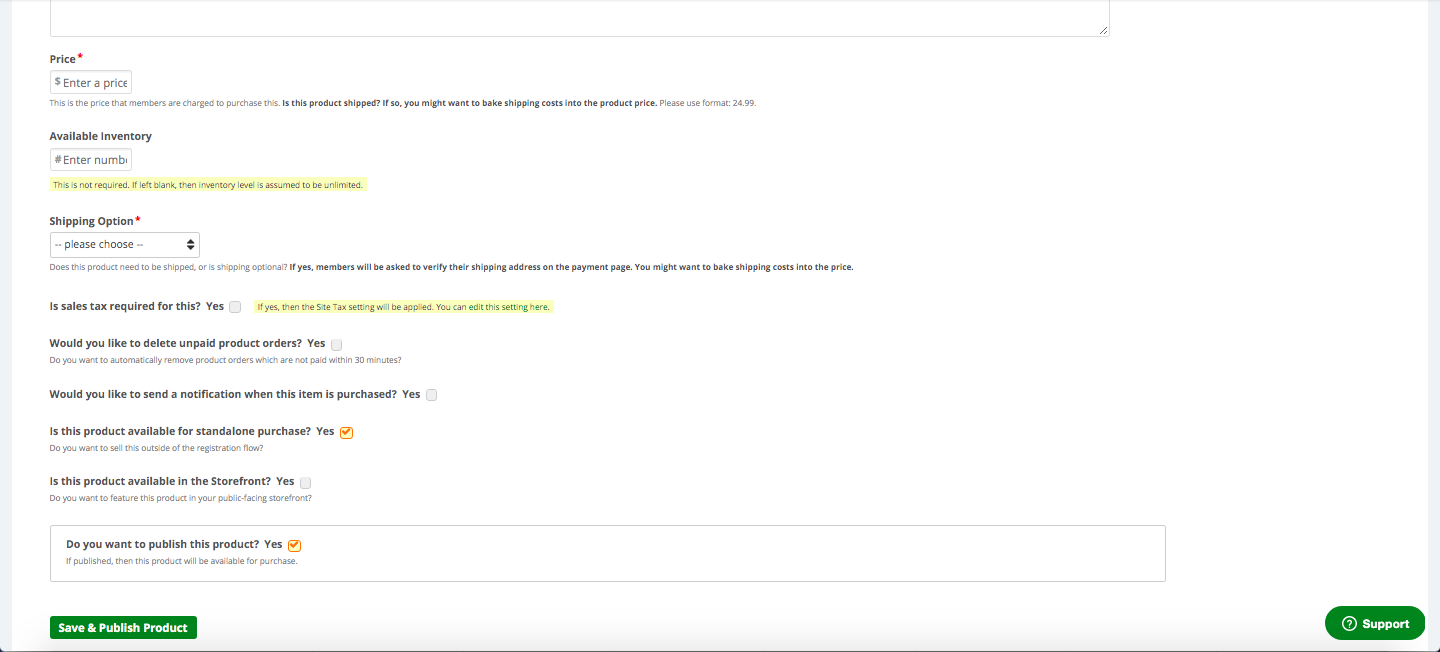 Product Name (required): Enter a name for your product.
Product Description: Add a brief description explaining your product.
Product Image: Upload an image. Upload the largest (max file size is 5MB) file you have for the best result; we suggest at least 300px by 300px. Please use a square image as well if you have one.
Price (required): Enter the price that members are charged to purchase your product. If the product is shipped, you might want to bake shipping costs into the product price. Please use format: 24.99.
Available Inventory: Enter the amount of inventory (#). If left blank, then the inventory level is assumed to be unlimited.
Fulfillment Source (required): Indicate who is responsible for the product, you (self) or LeagueApps.
Fulfillment Details: Include any notes explaining to potential buyers how/when they will receive their product. For example, members will receive this at their first game. This can be blank as it is not required.
Shipping Option (required): Indicate if the product needs to be shipped, or not. If YES, members will be asked to verify their shipping address on the payment page. You might want to bake shipping costs into the price.
Sales Tax: select if sales tax is required. If YES, then the site tax setting will be applied. You can edit the site tax setting in your Site Basics page (Settings > Site Basics).
Would you like to delete unpaid product orders? If selected, 30 minutes after a product is not paid for the product order is deleted.
Would you like to send a notification when this item is purchased? If selected you can type in comma separated email addresses of contacts you'd like to get an email notification each time a product is purchased.
Standalone Purchase: Indicate if the product is available for standalone purchase or not. In other words, do you want to sell the product outside of the registration flow.
Is this product available in the Storefront? If selected this product will appear in your site's store page (ex: sitename.leagueapps.com/store)
Publish product: Select if you want to publish the product or not. If published, then this product will be available for purchase.
Select Save & Publish Product.

Every product that is added has a public URL associated with it. You can add this link to your homepage, other site pages, or send it directly to your members. Click the View Product Details button (found both at the top & bottom of page) to view the Public Product URL. See the section titled Standalone Products (below) for instructions on how to setup a widget.

Custom Fields
Add/Edit custom fields for your product. Similar to
registration form fields
, you can capture key information from members when they purchase a product. Keep in mind that the fewer options and settings you create, the more likely a user is to purchase this product, i.e. only create what is absolutely needed.
Follow these steps to add a form field:
Select the green button Add a Form Field
Enter the Field Name (e.g. T-Shirt Size)
Select Type: Single Text Field, Paragraph Text, Dropdown List
Priority: Required, Optional
Select Save New Field to officially add the form field.
If you have multiple custom fields, you can change the order of your fields.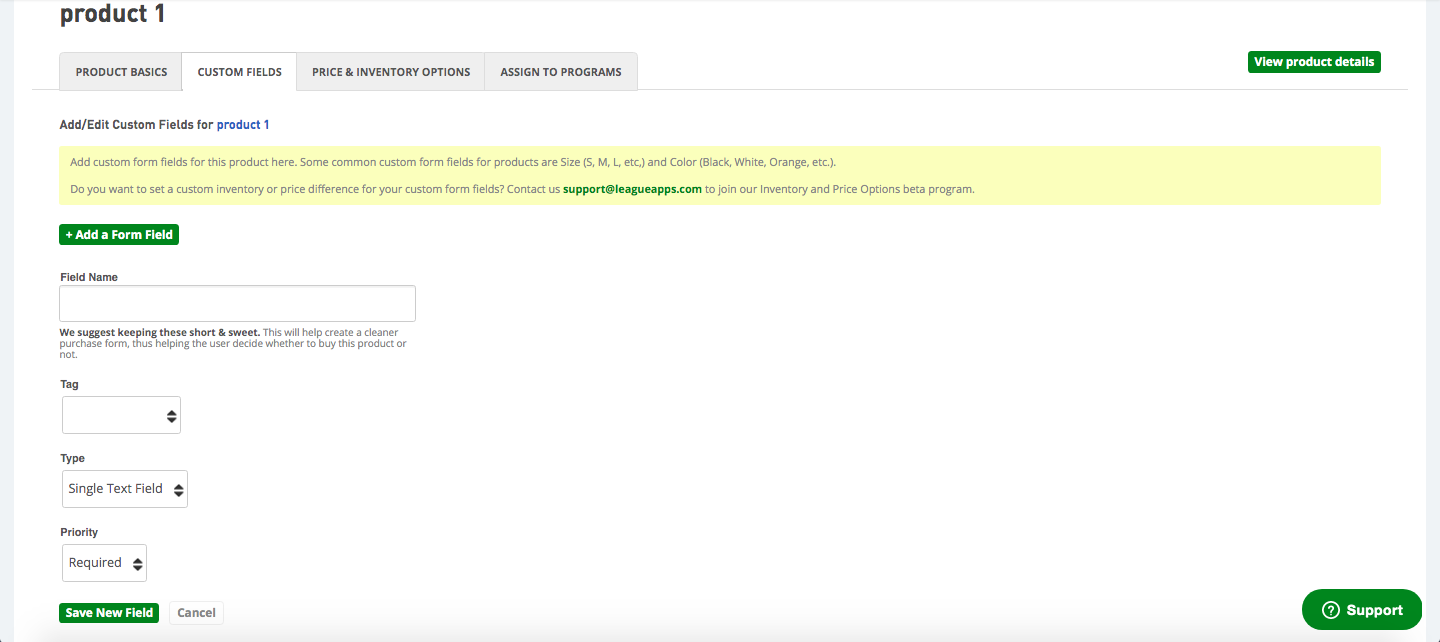 Assign to Programs
Assign your product to any or all of the programs on your site. Follow these steps:
Filter by Sport, Season, and/or Program State (Unpublished, Upcoming, Live, Completed). Select Apply to search by the criteria you selected.
The program results will appear below the filter options. Select any program(s) you want to assign the product to.
Once the product has been assigned to programs, hover over a specific program and click the red X mark to deselect the product from that program.
The bottom section of the page will show every program that your product is assigned to. NOTE - this section includes any program (league, tournament, event, camp) that has a program state of Upcoming or Live.

You can view the assigned products for a specific program by following this path: Manage > All Program Types > Select Program > Products > Assigned Products. Once you are on this page, click the Pencil Edit icon next to a product to edit the product basics, add/edit custom fields, or assign this product to other programs.





Standalone Products
You have the ability to sell your products outside of the registration workflow. You can use a widget that displays your product on your LeagueApps site, or on an external website as well (similar to the other LeagueApps widgets we offer). Follow these steps to format and add a widget:
Go to Manage > Products. Select a product from the list of products on the page. OR filter by Standalone and hit Apply.
Specify a width for the widget. If blank this will default to 150px wide. Also, we are limiting the min-width to 100px.
Select a float to apply (No, Left, Right). A float is a CSS property that will have the widget align on either the right or left and then allow content to wrap around it.
Preview the widget to get a feel for how it will look on a page.
Lastly, copy the necessary code. Paste it into the HTML section of whichever page you want to add it to. It can be added to a LeagueApps page, or a page on another content management system (e.g. WordPress).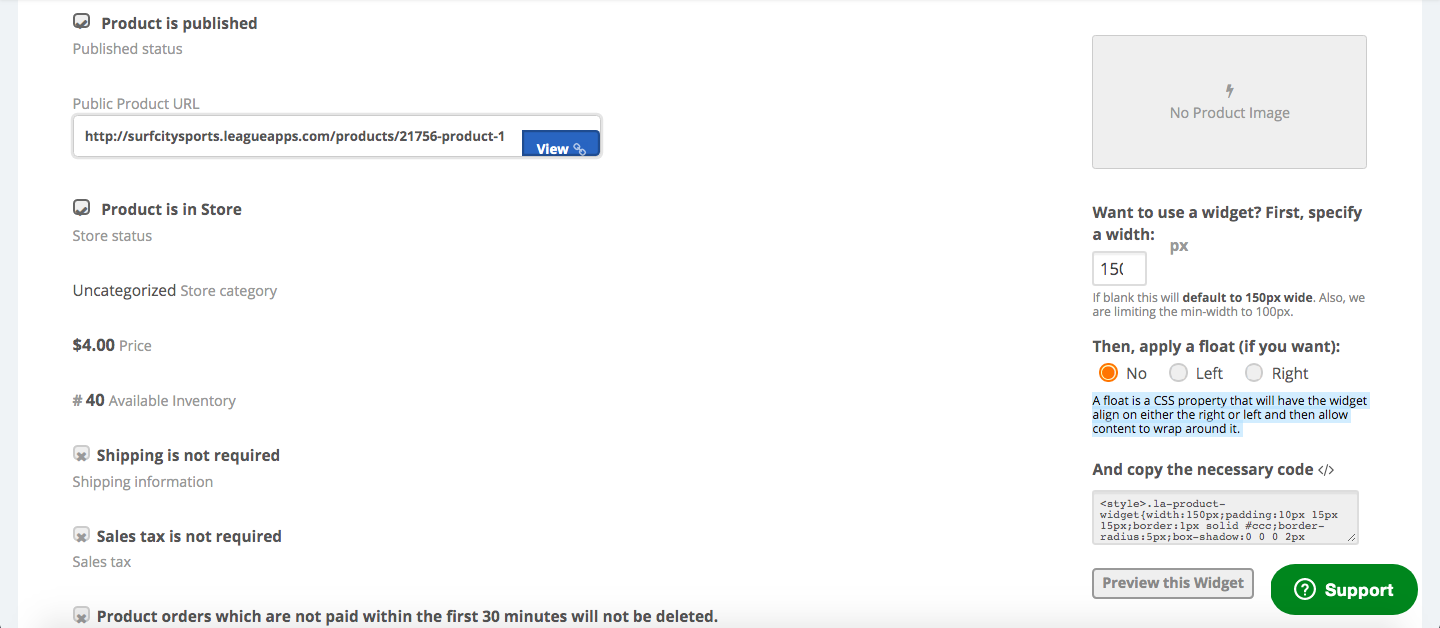 Product Order Notifications:

You can receive email notifications for each product purchase on your website. To enable notifications go to Manage > Products > Edit details and select Would you like to send a notification when this item is purchased?. Enable notifications for each product that you would like and enter the email address(es) you would like those notifications to be sent to.


Product Order Reports
You can track your product orders and generate reports for every product you have created on your LeagueApps site. Click here for instructions on how to utilize Product Order Reports.
Additional Inventories and Price Additions Per Product

You can also set inventory or price differences for your custom form fields. For example if you'd like to set an inventory per size of a t-shirt product, select your Size form field from the Price & Inventory Options tab, then click the green Add button to add inventory for each size. If you would also like to charge an additional cost for a larger size, certain color or nicer material you can add an additional cost to add to the base price of the product.
1. Set the field(s) you would like to use with the drop down and click save changes
2. Click the add, input the field answer from the dropdown list(s).
3. input inventory/ price increase and click green save button.