LeagueApps allows you to delegate scorekeeping permissions to designated staff roles and team captains. This feature can free up your time to focus on other admin responsibilities. The other major benefit is that your game results and standings can be updated quickly.
For Staff Members
Give any of your staff members the ability to input scores in LeagueApps Mobile Apps (LeagueApps Play or branded apps) by turning on the scorekeeper permissions for that staff role in your admin console. There is a default staff role called Scorekeeper, and you can also assign any other staff role the ability to add and edit game scores in the LeagueApps Mobile Apps. This is not limited to the default Scorekeeper staff role.
⚠️
You must add a staff role with scorekeeping permissions to each team to be able edit scores for any games from LeagueApps' Mobile Apps. Staff roles with scorekeeping permissions will only be able to edit scores for games in the Mobile App that exist within the team(s) that this staff member has been assigned to.
Enable the setting
From your LeagueApps Management Console, place your mouse over

Settings


Then click

Staff Roles



Once there, you'll see the Scorekeeper role, which you can edit the permissions for by clicking the green pencil button on the right.


You can also edit the permissions for any of the other Staff Roles listed by clicking that green pencil button on the right of that row, and select the checkbox: Members with this role are allowed to add and edit game scores for programs they are a part of


Click the Update button to save changes

For Team Captains
Give your team captains the ability to report scores by turning on the setting in your admin console:
Enabling the setting
From your LeagueApps Management Console, place your mouse over Settings
Then click Schedules & Standings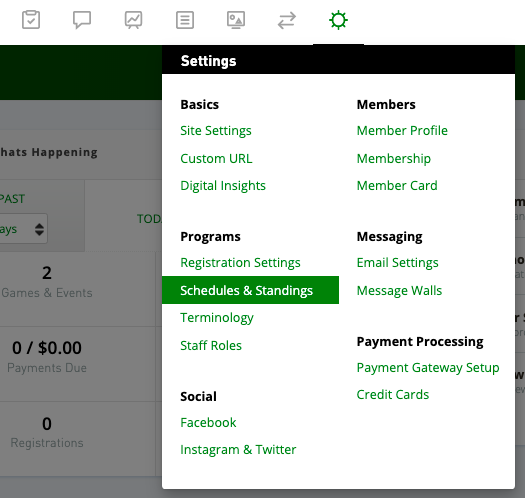 Once there click, Schedule Settings at the top
Check Captain is allowed to edit scores for his/her games.
Click Save Settings