Member Invoices can be sent at anytime to a site member. They are not associated with a program or registration. A Member Invoice is a single payment request to a site member/user that can be paid through the user dashboard in the same fashion a standard invoice is paid.
Step 1: Locate a site member
Go to Manage
Then click Members

Use the

Name or Email

filter to search for the member you want to registering


Once found, click the member's name.
⚠️ You can also click the magnifying glass icon in the top, right-hand corner of your management console to search for members.
Step 2: Issue a Member Invoice
Once in the member's profile, click New Invoice on the left-hand side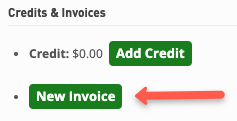 Enter the amount to be invoiced

Add a note for the invoice. This is a required field

You have the option to add a processing fee and/or send a notification email

Once ready, click Generate Member Invoice
Finding member invoices
If you need to find a member invoices after they're created, you can find them via your Invoices report.
Go to Reporting then click Invoices
At the top, set the type filter to Member.