LeagueApps Gateway is powered by Stripe, the industry-leading software platform for processing online transactions. This is our preferred gateway option for LeagueApps accounts because it allows us to better serve our partners by providing optimized financial reporting, account management and transaction fee collection, while maintaining Stripe's ease of use and high-level of security.

Benefits of using LeagueApps Gateway
- Easy and free account setup through LeagueApps
- Instant approval (in most cases;) start collecting online payments immediately
- ​​Competitive transaction fee pricing for nonprofit and for-profit organizations
- ​Credit Card and LeagueApps fees are collected as your customer's transaction is processed
- No monthly transaction fee invoices- simpler budgeting and cash flow management
- Reporting, gateway management and bank transfers are all managed within LeagueApps
- Our team provides support for this gateway- no third party involvement!

How to connect your LeagueApps site to the LeagueApps Payment Gateway
Step 1
Login to your LeagueApps console as the Account Owner and click the arrow next to your name on the top right of the screen. Then click Manage Account.


Step 2
Under Account Info > Merchant Services, click Gateway Setup. Then click the Activate button for the first option, LeagueApps Gateway.



Step 3
There will be a guide to take you through each step to set up your payment gateway.

You will need to provide basic company information and personal information on the owner and/or executive in the company.

The follow list of information is required to setup a gateway account:
Business' Name, Street Address & EIN/Tax ID
Executives Owner's Full Name, Date of Birth, Address & Social Security Number
If there is an individual or individuals who owns 25% or more of the company, you will need the to supply same information for them as well.
Bank Routing & Account Number (Checking Account Only)
Scanned JPG or PNG file of Account Owner's Driver's License or Passport (this scanned documentation is only required if SSN# verification fails.)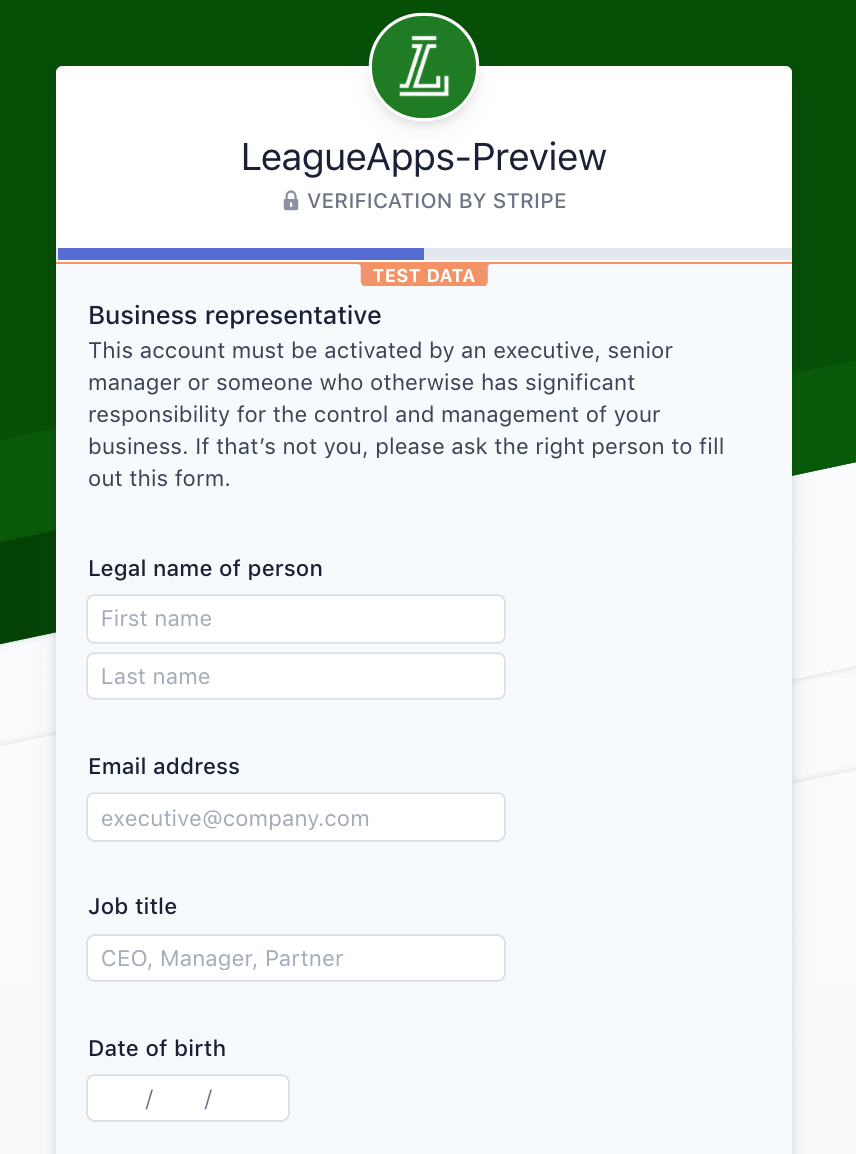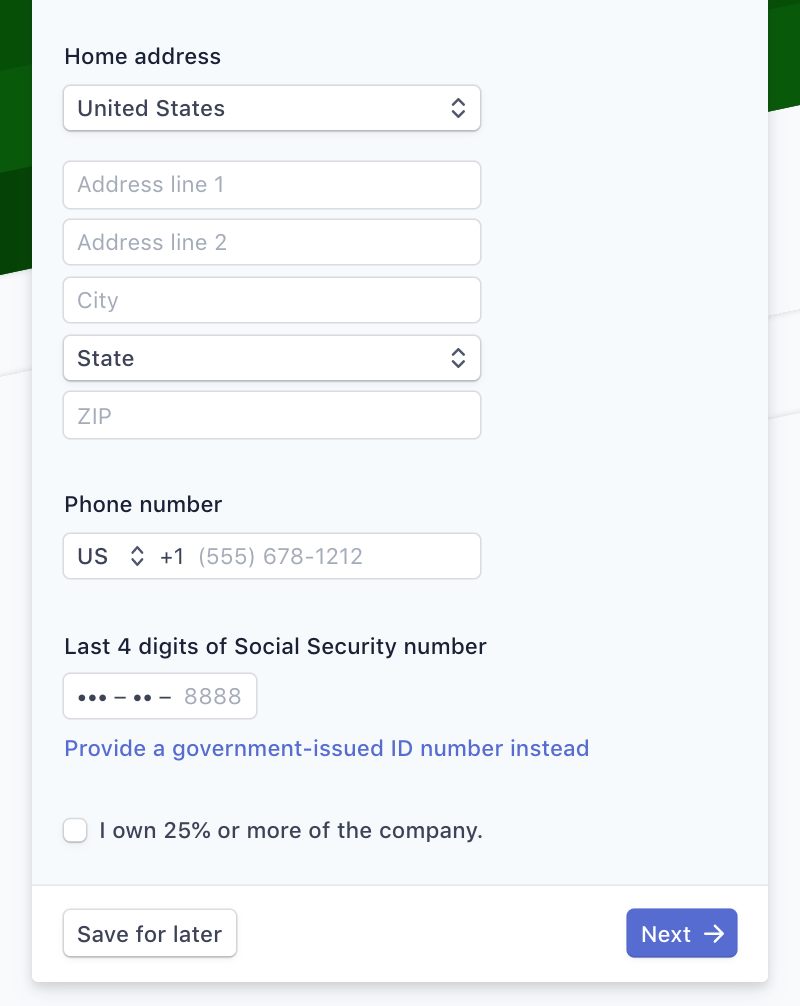 Step 4
After returning to the LeagueApps Gateway Dashboard you will be prompted to enter bank account details. A valid Checking Account Routing Number and Account Number is required in order to receive deposits and withdrawals. Click the Add Bank Account button to connect a bank account.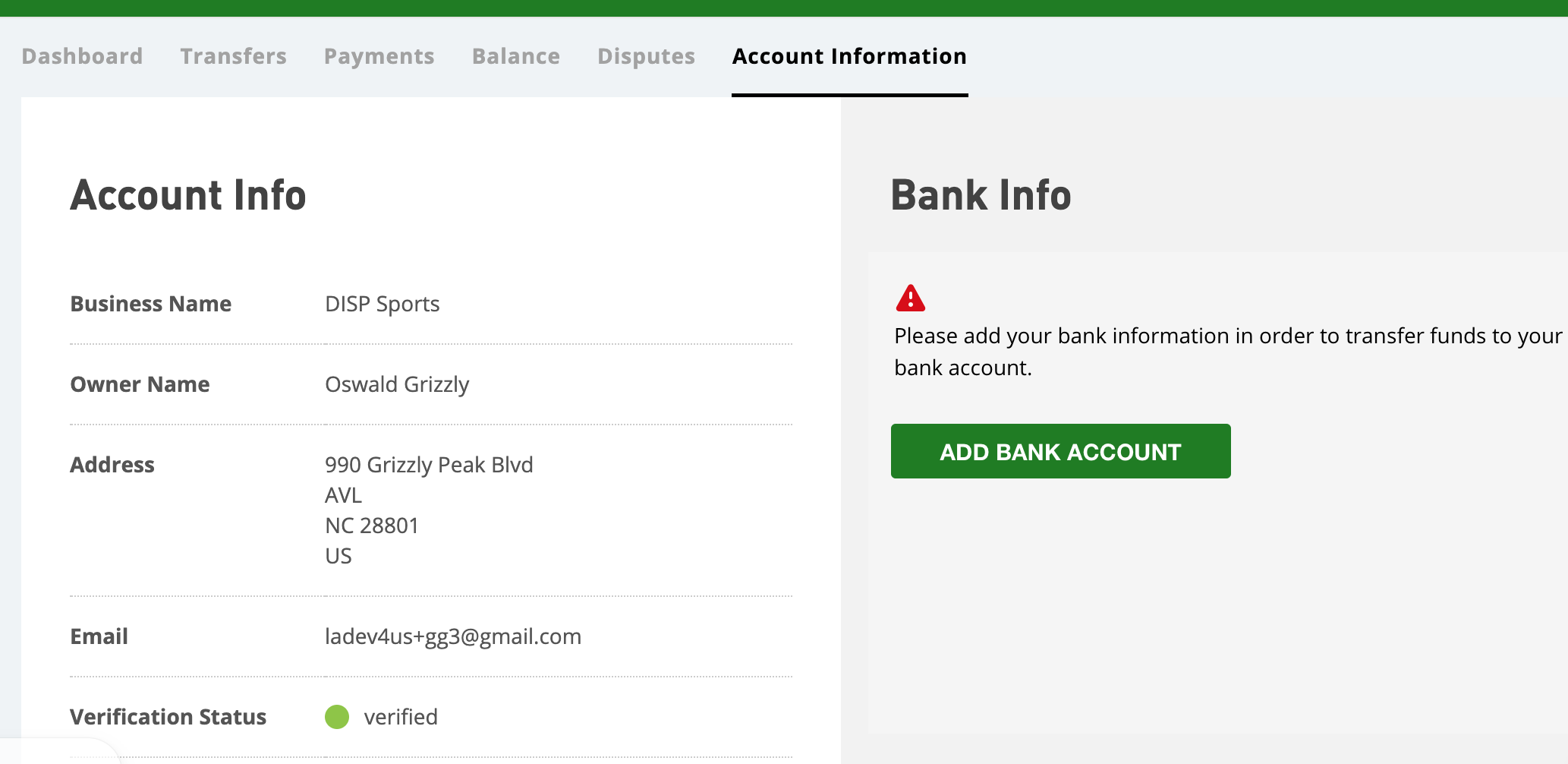 Step 5
After successfully completing the LeagueApps Gateway setup page, your account will be ready to start processing transactions! For more gateway information, check-out the LeagueApps Gateway FAQ help article.