For organization owners who opt-out of LeagueApps Gateway, they can use a Merchant Account Integration with Stripe. With Stripe, you can start collecting online payments immediately after you complete the Stripe account creation form, which is embedded into your LeagueApps account. Connecting your LeagueApps account with Stripe takes only a few minutes. Here are the 4 simple steps:

Step 1

Log into your LeagueApps console as the Account owner user, and click the Manage Account link in the top right.

Step 2

Under Merchant Services, click on Gateway Setup, and then select the Stripe option.


Step 3

When presented with the LeagueApps-Stripe setup page, fill out the details. You'll be asked to provide some basic company/personal info (e.g., EIN, last four of your SSN) and your bank info (i.e., account and routing number) for accepting funds. If you already have a Stripe account, you can choose to login to that account rather than creating a new one.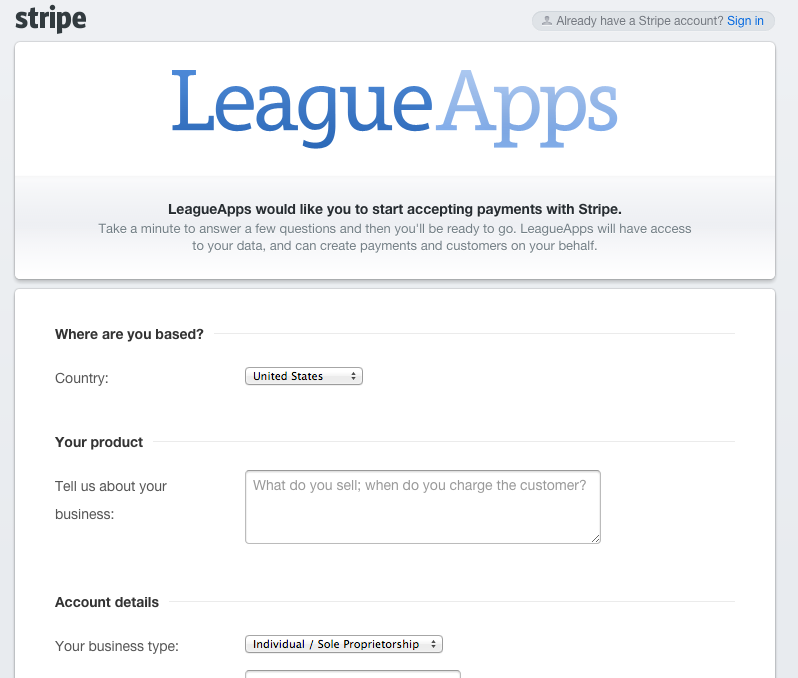 What Country are you based in
Tell us about your business: What do you sell; when do you charge the customer?
Your business type: (Corporation, Individual/Sole Proprietorship, Non-Profit, Partnership, LLC)
EIN (Tax ID)(Optional)
Business address:
Organization Contact Legal name:
Date of birth:
Last 4 of Social Security Number: to verify your identity
Credit card statement details: Business name and Phone that will appear on your customers' credit card statements
Routing number: Your bank account must be a checking account.
Account number: Your bank account must be a checking account.
Save your Stripe account: Enter Email and Password for Stripe account

Step 4

After completing the LeagueApps-Stripe setup page, you'll be redirected back to the LeagueApps gateways status page, and your Stripe account will be connected and ready to collect payments!
Step 5
For organizations in Canadian, Australia or other Stripe supported countries - If you would like to accept your currency, follow these simple steps in your Stripe account:
a. Login to Stripe - https://manage.stripe.com/login
b. In the top right, select "Your Account > Account Settings".
c. Under the 'General' Tab, change the Country.
d. Change the Currency, then click 'Save Country'.
Pricing in Australia: Stripe charges 1.75% + 30¢ for domestic cards and 2.9% + 30¢ for American Express or international cards.
Pricing in Canada: Stripe charges 2.9% + 30¢ per successful charge, or less based on volume. Non-profits can get a 2.2% + 30 ¢ rate Contact us to find out how.