LeagueApps built an App on Zapier, a web automation service. Zapier will help save you time on the computer, so you can focus on your sport.

The best part about Zapier is that you do NOT need a software developer to build these easy and lightweight integrations. Zapier makes it simple to connect one online tool to another.

How it works
A Zap is a blueprint for a task you want to do over and over, such as exporting LeagueApps Members and importing them into an Email Service. In words, a Zap looks like this: "When I get a new thing in System A, do this other in System B."

Zapier supports over 1,000 of the most popular online apps and tools, so you can mix and match all of the systems you use and eliminate endless hours of manual work.
Popular Zaps for LeagueApps Partners
LeagueApps users are saving hours of work with Zapier! Some of the most popular Zaps are Subscribing New Members to a MailChimp List or Constant Contact List and Adding New Programs or Teams to Google Sheets.
As you explore all of the different zaps that can make your life easier, we'd love to hear feedback. How are you using the LeagueApps Zap? What apps are you connecting to?
Shoot us a note here.
Get Started
In order to automate a process between LeagueApps and a 3rd party app such as MailChimp or Wufoo (just to name a few), you first need an account in the 3rd party app. We also suggest that you take time to learn how to use the app and how to best set it up for your organization's needs.
Once you have an account on the 3rd party app and have outlined the process you want to automate, follow these 5 steps to create a Zap!

1. Create a free Zapier Account - sign up here

2. Click 'Make a Zap!'

3. Choose LeagueApps

(3a) This is where you choose a Trigger which is the event that starts a Zap, (ex: If you want to automate adding a New Member from LeagueApps to MailChimp each time a Member joins your LeagueApps site, choose the "New Member" trigger.)

Here are the Triggers that are currently offered: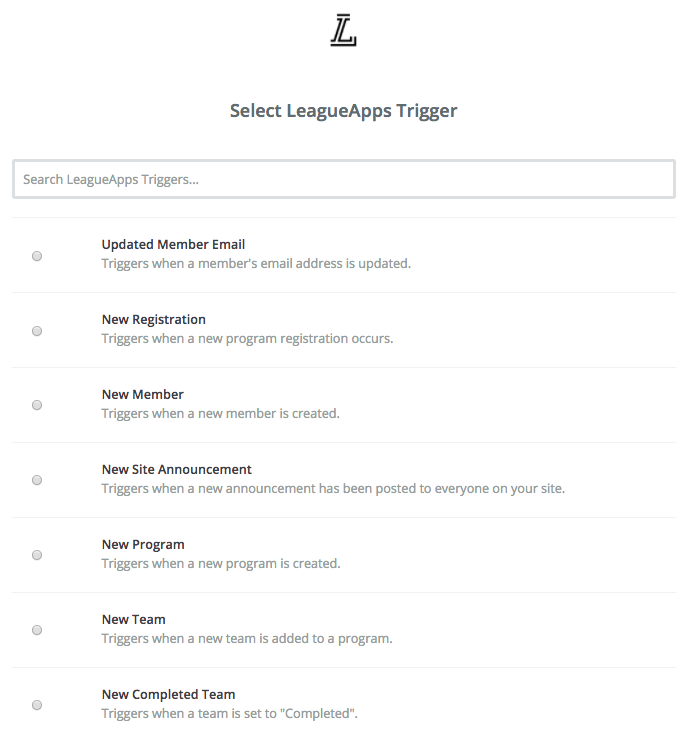 (3b) You need a LeagueApps Site ID # and API Key to connect your LeagueApps Site.

4. Choose the App you want to automate

(4a) This is where you choose an Action which is an event a Zap performs, (ex: if you want to automate adding a New Member from LeagueApps to MailChimp each time a Member joins your LeagueApps site, choose "Add/Update Subscriber" as the Action.) Each online tool has different Actions available; below is a MailChimp example.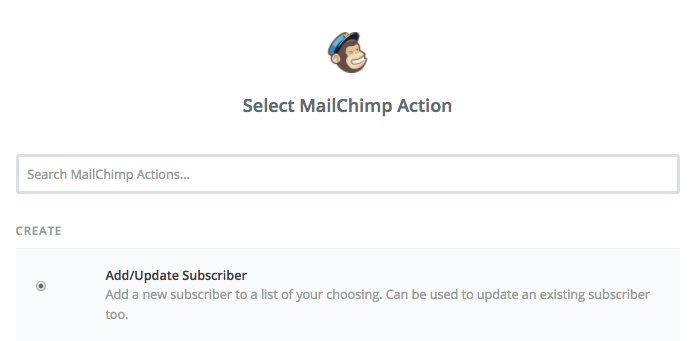 (4b) You need credentials to connect your account. This may be a Username/Password or the app may require an API Key.

Example of a New Member LeagueApps to MailChimp Zap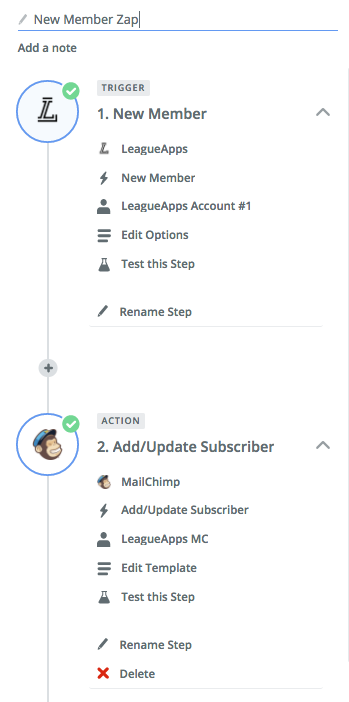 5. Turn the Zap ON!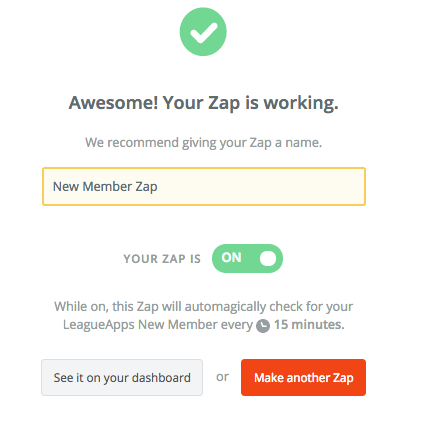 FAQs
1. How do I get my LeagueApps Site ID?
1a. Login to your LeagueApps Admin Console
1b. The URL will look like this: https://manager.leagueapps.com/console/sites/00000
1c. Copy the numbers after 'sites/####'




2. How do I get my LeagueApps Site API Key?
2a. Login to your LeagueApps Admin Console
2b. Click 'Connect' in the navigation sidebar
2c. Select API Access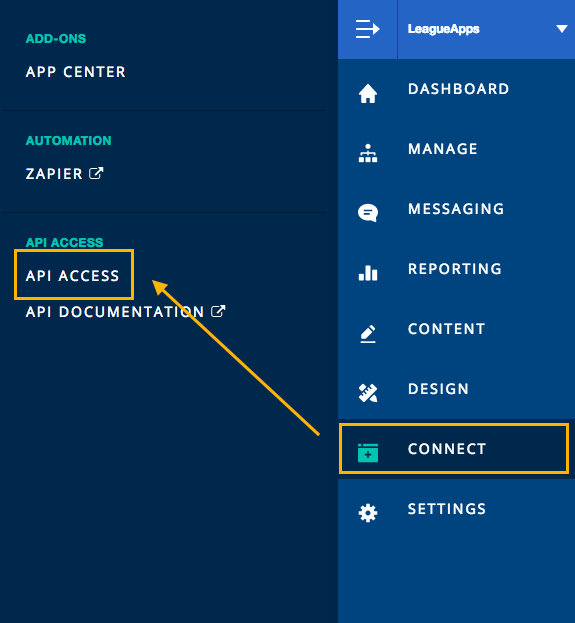 2d. Generate a Public API Key and copy it to your clipboard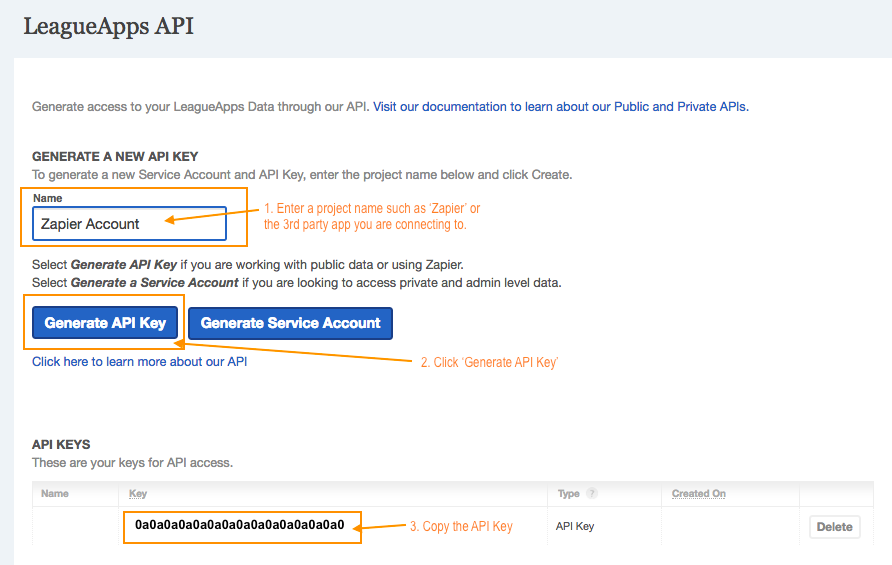 3. Can I add data from another App to my LeagueApps Account?
No, Zaps with LeagueApps are one-directional, so data can only be sent out of LeagueApps to another app.

4. What does Zapier cost?
There is a Free Forever plan with Zapier. There are also subscription based plans that unlock advanced features. Check out Zapier Plans & Pricing here.

5. I have a question about Zapier, who do I ask?
If the question is about LeagueApps, email us at support@leagueapps.com
If the question is about the 3rd party app you are trying to connect to, we recommend reaching out to that app's support team or Zapier's team, as they will have more knowledge around the question!

Interested in more integrations? Learn more about LeagueApps Connect. We have an open API that allows for unlimited customizations and an App Center filled with built-in add-ons for your LeagueApps account.