Small Group Registration is a helpful option if you're running a program that requires two or more players to stay connected, but there aren't enough players for an entire team.
Step 1
To enable Small Group registration you will want to activate it while you are filling out your Registration Options under the Allowed Registration Types section.

There is an option to only allow small groups to register for Adult-based programs by enabling Only Small Groups are allowed to register:

Step 2
Now that this is enabled players can now sign-up through the front end as a Small Group.
Once you have players sign up, you can find them by accessing the program, going to People and selecting Players. Their small group will appear under their role: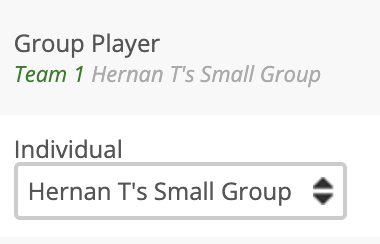 ⚠️ You can also use the Small Group Filter to help see each individual Small Group
⚠️ Make sure you move move these players together to the correct places using the Bulk Action feature

As an Admin you can also do the following:
Register a player to a program and create a small group at the same time
Register a player to a program and add them to an existing small group
Move player from one small group to another
Move player from team to small group
Move free agent player to small group
⚠️ Small Groups cannot be renamed or merged, so it's important to name them correctly from the start
⚠️ Small Groups cannot be deleted