This article will show you the new Top Programs section on the admin dashboard and the Program Summary Report. This program summary report can be easily customizable to provide you with the information need to run successful programs.
The Program Summary Report can be found in the middle of the dashboard by clicking on the blue View Full Program Summary button. You can also find the Program Summary under Reporting at the top of your LeagueApps Management Console.
From the report you will be able to customize what you see on your dashboard.


Customize & Export
When you customize your program summary, those changes will also affect what is displayed on your LeagueApps Dashboard.
Navigate to the Full Program Summary either by going to Reporting at the top of your management console or clicking the View Full Program Summary button your dashboard.
Once there, click Customize View

Select the data points you want displayed
Click Save
After saving, you can also choose to export the Program Summary data by clicking the Export To CSV button.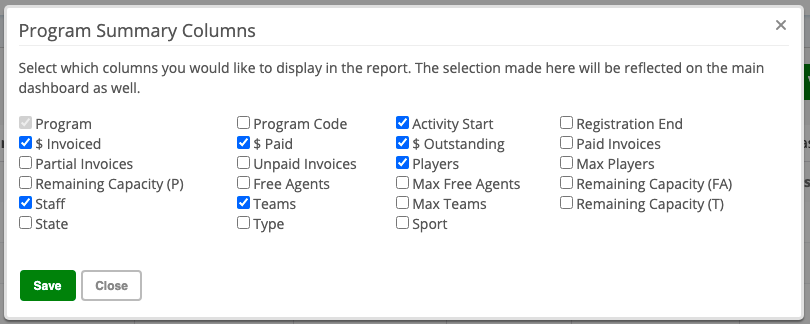 Sorting
When in the full Program Summary report, you can also use the filters at the top of each section to easily sort each field.

Tips & FAQ
Top Programs and Program Summary will only show Live and Upcoming programs. Programs marked as Complete or Unpublished will be excluded.
The Invoice and Paid amounts do not include any fees assessed by LeagueApps or your payment processor.