The USA Lacrosse Ping checks several things from our software against its database. This does not save the USA Lacrosse Number into your records. If you would like to keep that on file, you will need to ask for it in an additional form field.
The validation points are as follows:
Child's First Name

Child's Last Name

Child's Birthdate

Child's Zip Code

Email Address on file

The US Lacrosse Number

The Expiration date, against the end date of the program (child cannot have the USA Lacrosse number expire before the program ends)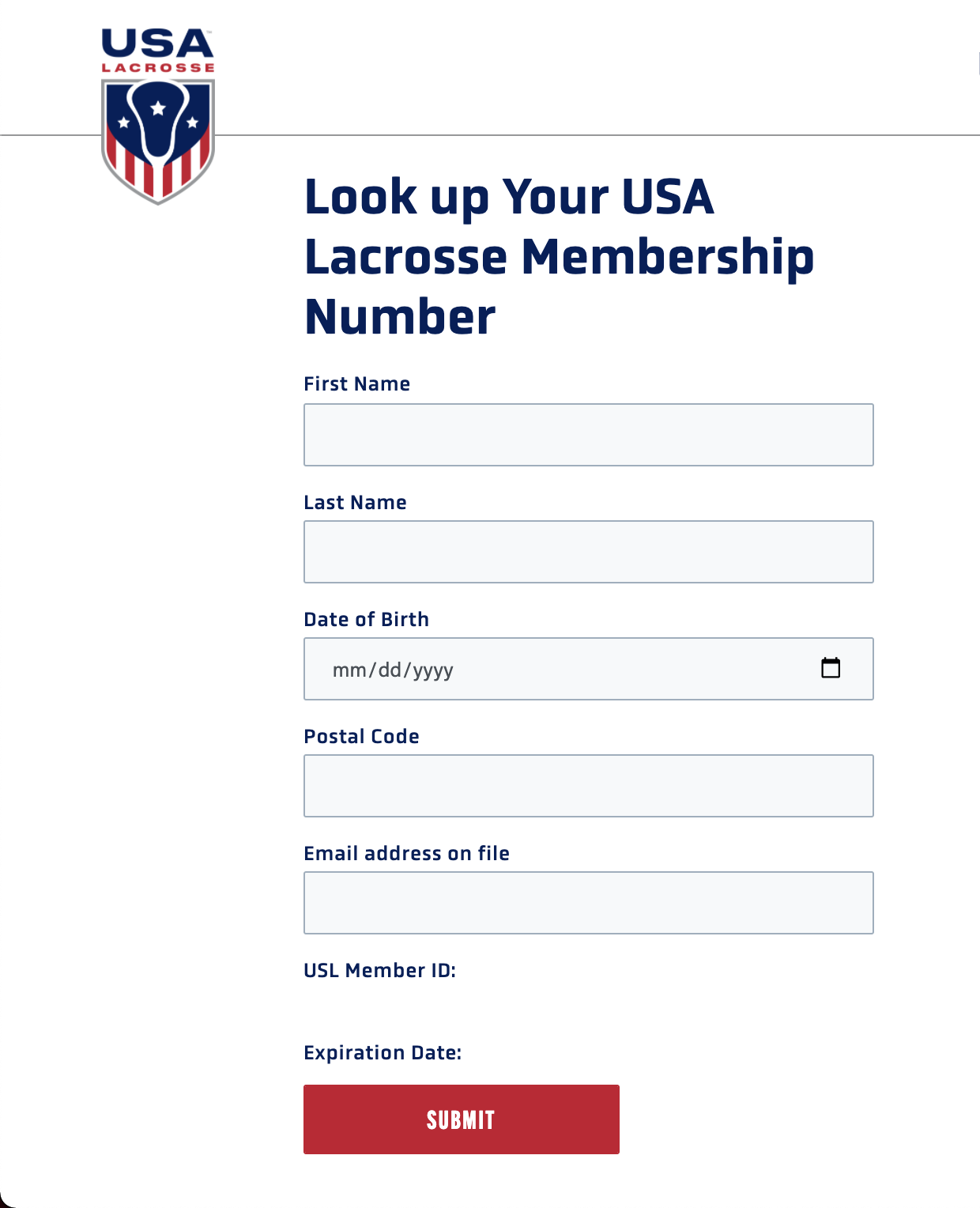 ​

​
Click the link below to check the USA Lacrosse Data Base for your information: https://memberlookup.uslacrosse.org/usl/index

---
To register when the USA Lacrosse Ping has been activated, follow these steps:
Step 1:
When creating a member profile, make sure the child's info is correct.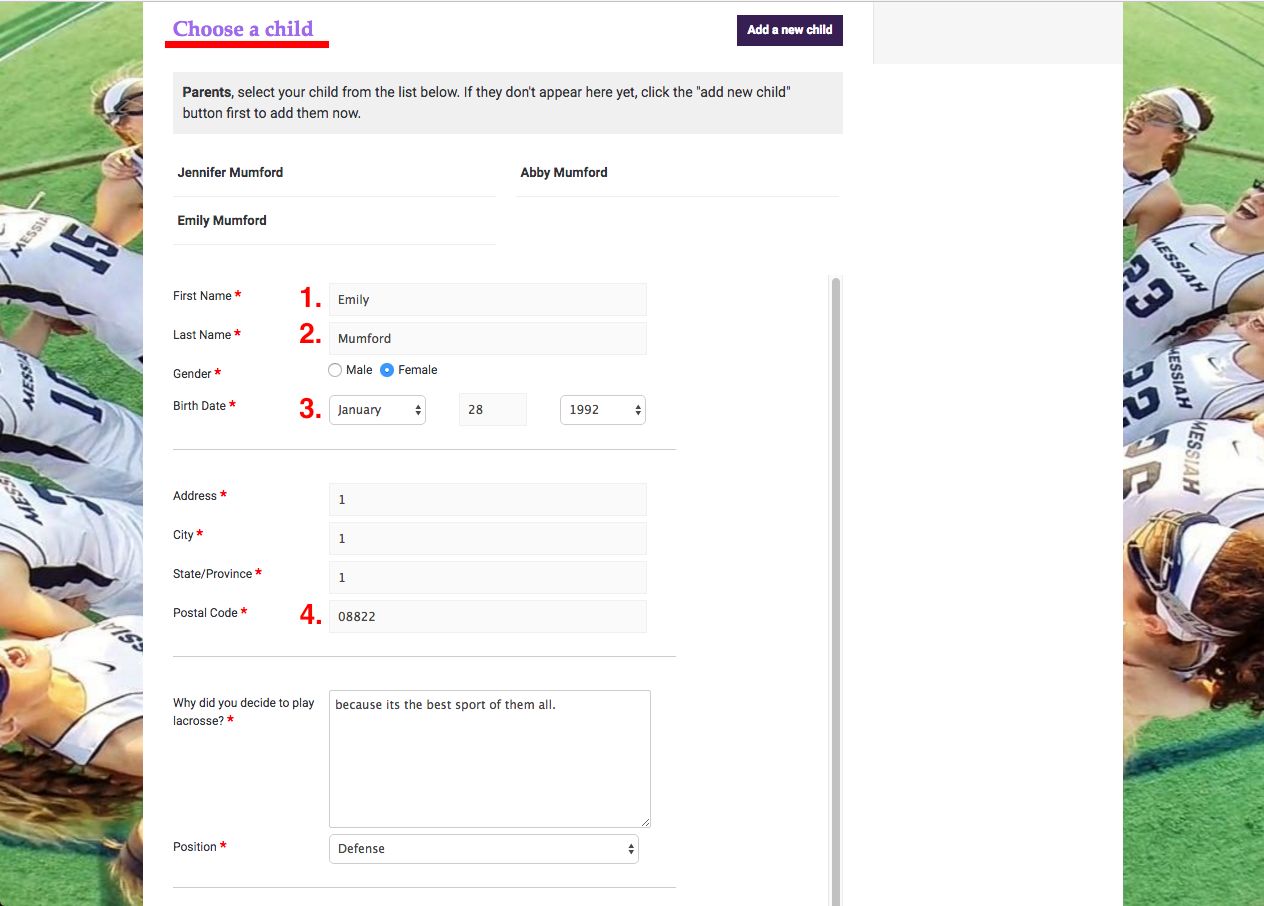 Step 2:
The Ping is located on the registration page.

Step 3:
Once you enter the number, you MUST click Verify.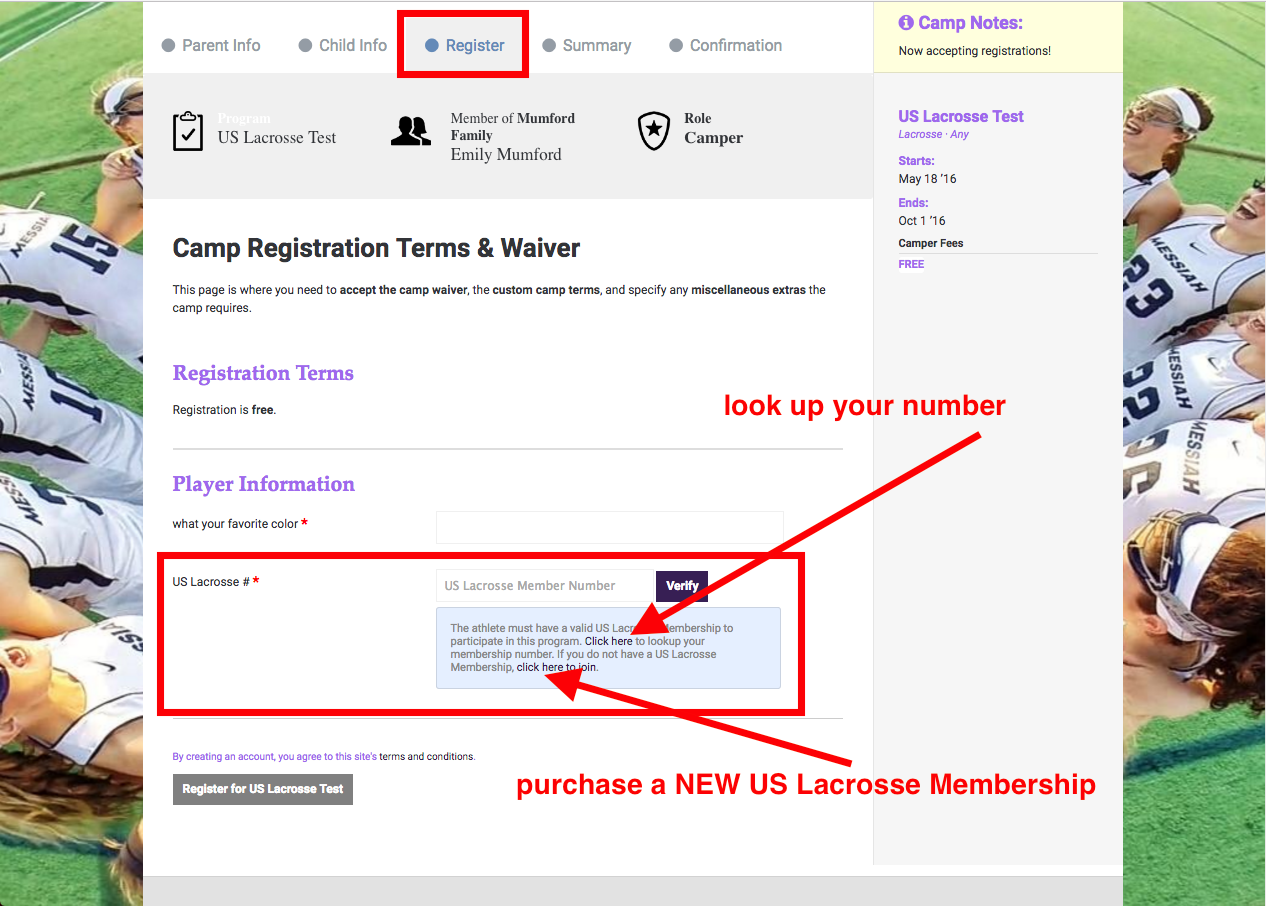 Here is an image of a Valid US Lacrosse Number.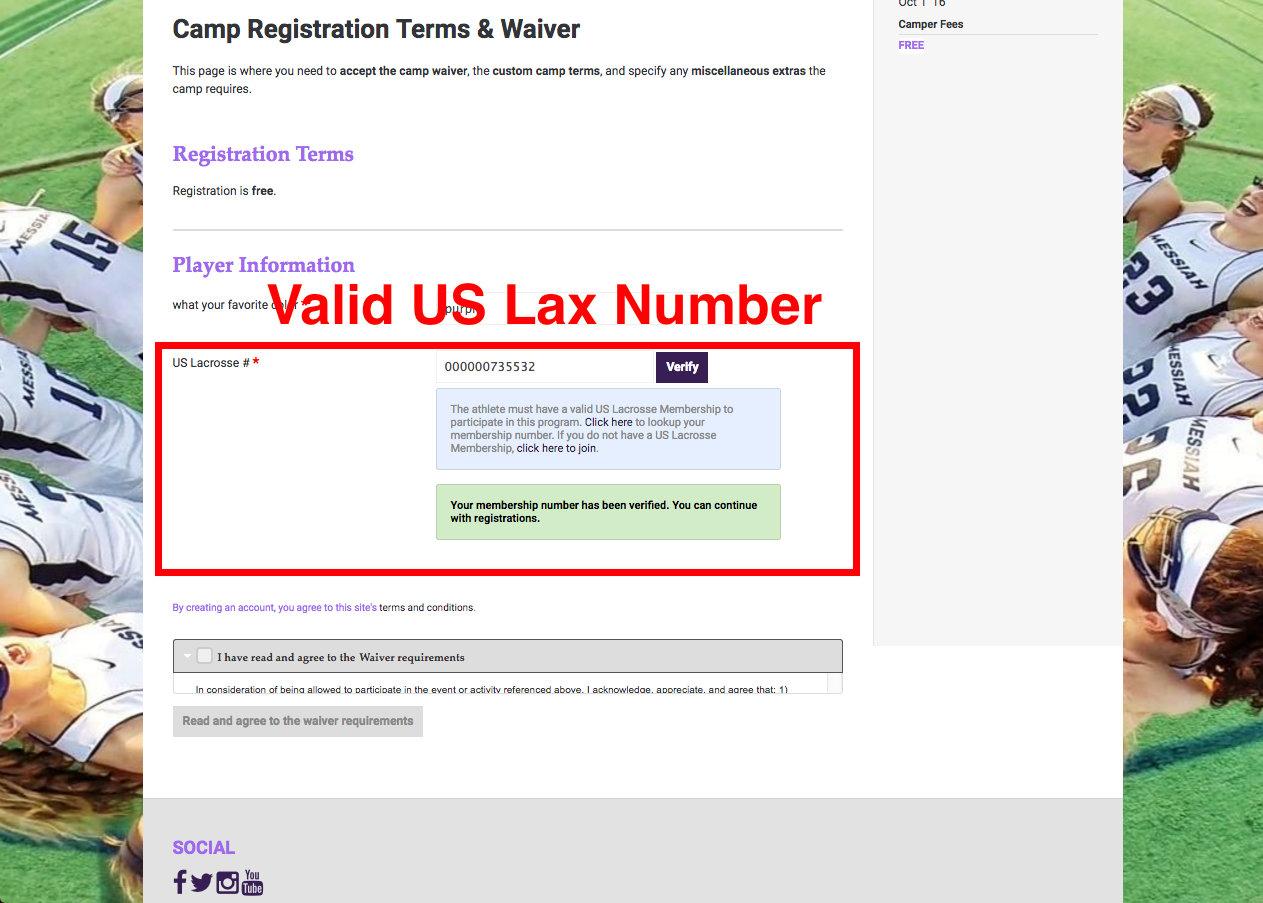 Here is an image of a US Lacrosse Number that is NOT VALID.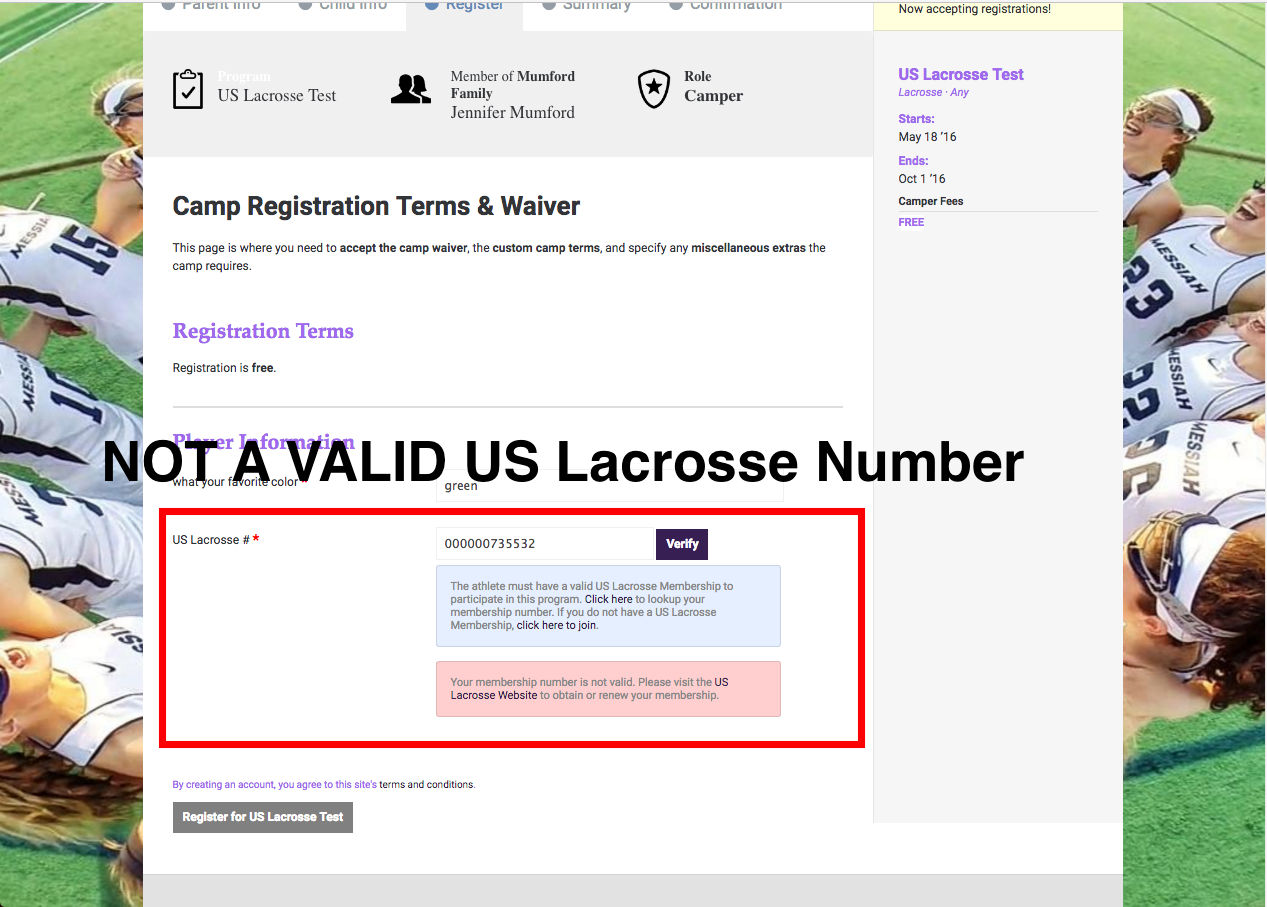 Step 4:
Once you validate your number, you can proceed by accepting the waiver, and registering!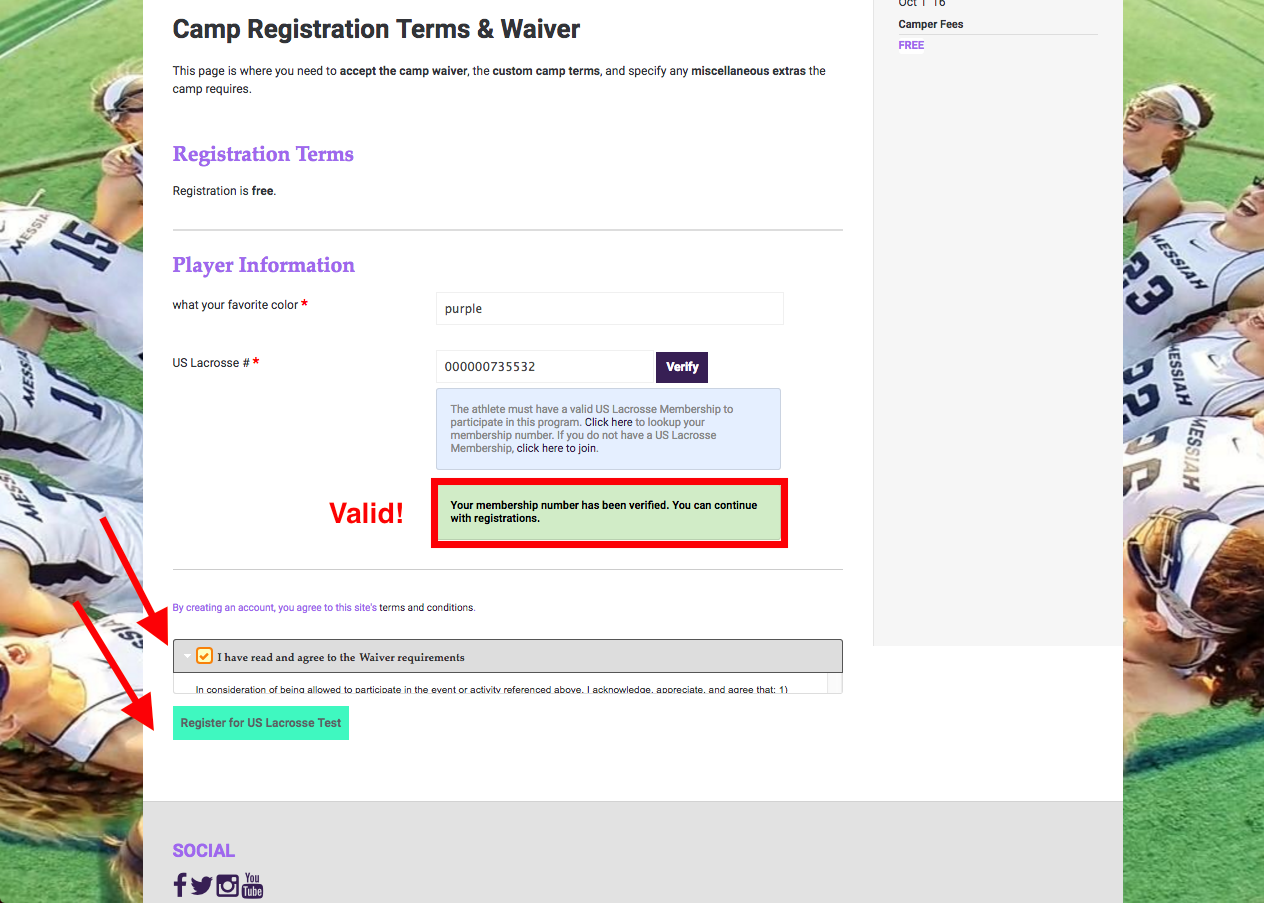 ---

The 7 possible failure results are listed below. Please note the explanations and take steps to correct it so you can successfully register.

Invalid/missing parameters
The validation box is blank.
Failed to retrieve USA Lacrosse user record by id #
The USA Lacrosse Number given is incorrect.
Program does not have an end date
You must notify the Organization owner. The validation process cannot occur without a program end date.
USA Lacrosse Membership expires before the end date of the program
You must renew the USA Lacrosse Membership because it will expire before the program is finished.
User's name does not match the name associated with USA Lacrosse Membership
Child's First or Last name is listed incorrectly on LeagueApps.
User's zip code does not match zip code associated with USA Lacrosse Membership
Child's zip code is listed incorrect on LeagueApps.
Unexpected error while processing USA Lacrosse membership validation
An unexpected error has occurred, please try again.
---


NOTE: if your USA Lacrosse Number is NOT CORRECT, please check all 6 of the validation points that are listed above. 80% of the time, the child's zip code is what is listed wrong and the parent is unable to complete registration!