Need to refund a payment? LeagueApps makes refunding easy!
We understand that payment issues can be complicated. Whether it's for a player who decided not to play after paying, or for someone who overpaid for a program, refunds can be issued on any invoice across your programs. A refund, however, is different from a void. Be sure to check out this help article about voiding an invoice.
Issue a Refund
Locate the invoice you want to refund
Head to the specific program you want to refund an invoice for.

Go to People > Players for participant invoices OR People > Staff for staff invoices.

You can enter a program participant's invoice by clicking the link under the 'Payment' column (Paid, Unpaid, or Partial Payment).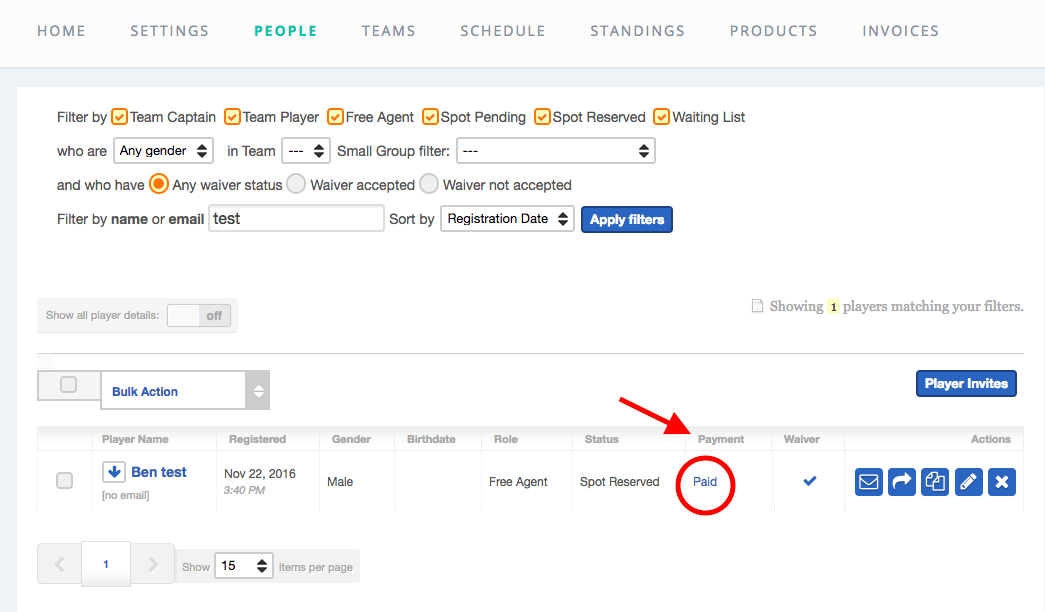 OR go to "Manage > Financial > Invoices" to view all of your organization's invoices. Locate the invoice you wish to refund using the search tools. Click on the Invoice #.


Issue Refund
Click the Issue Refund button at the top of the invoice page to issue a refund.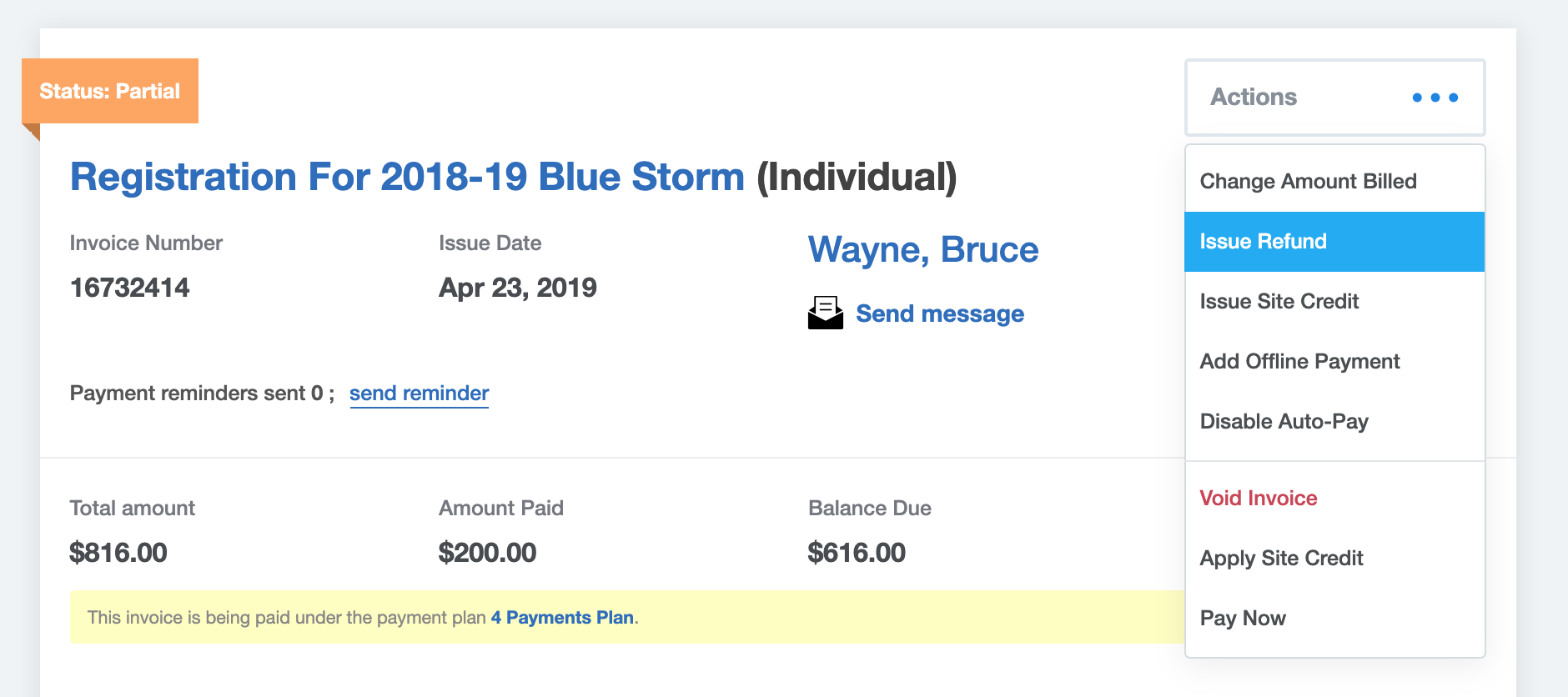 The "Refund Amount" will automatically match what has been paid on the invoice, but this amount CAN be changed to a lower amount if you wish.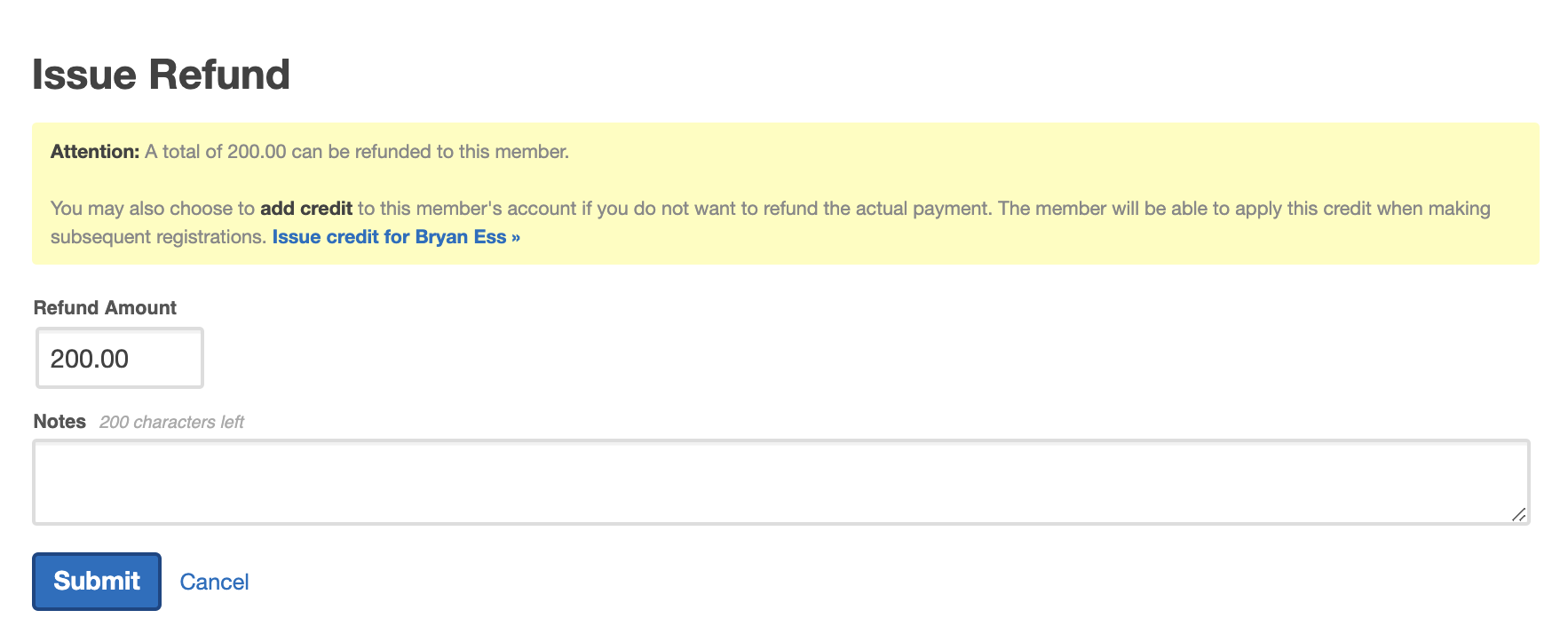 Add a note and click Submit.

The refund will be issued to the credit card used to make the payment.
How to Refund Program Participants
Refunds that are processed through LeagueApps can take 5-7 days to appear on a customer's credit card or bank statement.
To refund participants in a program, follow these steps:
Note: Bank payments (ACH) are not able to be refunded online. You may issue a site credit as an alternative.
Go to

Reporting > Invoices
Using

Within

filter at the top, select the program that participants are to be refunded




Click

Apply filters

This will present you with a list of all invoiced participants in that program

Next click on an invoice's number
On the invoice page, click

Actions

in the top right
If you are issuing full refunds, click

Void

then

Submit
If you are issuing partial refunds, click

Issue Refund,

enter the refund amount, then click

Submit
Repeat steps 4-7 as necessary
Refunds in LeagueApps return 100 percent of the refunded amount back to the cardholder.
In addition, you are credited back processing fees associated with the original transaction.


Refund FAQ

1) Why isn't the "Issue Refund" button showing on an invoice?

- The "Issue Refund" button is displayed only when a transaction has gone through on an invoice. If a player has not paid any of the balance, there will be no option to issue a refund. Instead, you have the option Void Invoice (help article linked)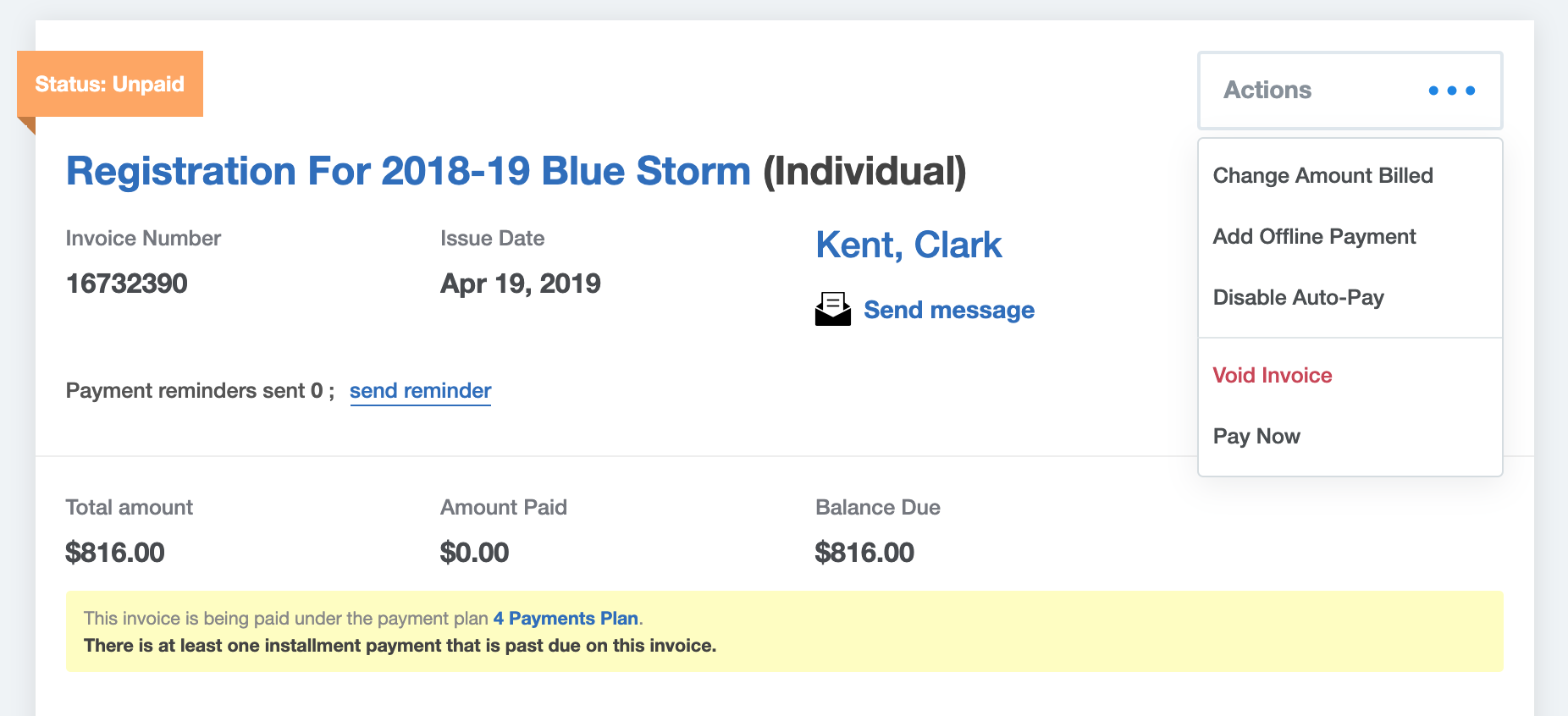 No "Issue Refund" button because no payment has been made.


2) Is there a deadline for issuing refunds? (IMPORTANT)

Yes! The deadlines to a issue a refund are as follows:
LeagueApps Gateway: 1 year

Stripe: 90 days

PayPal: 90 days

Authorize.net: 120 days
​3) Can I issue a refund on the same day a payment was made

Yes, EXCEPT if you use Authorize.net! If you use Authorize.net as your payment gateway, you will have to wait until the end of the following business day to issue a refund for a payment.

4) I recently switched payment gateways. How can I issue a refund for a payment made on my previous gateway?

If you have switched gateways and need to issue a refund on a payment mad on your old gateway, you will have to either login to that gateway outside of LeagueApps and issue the refund there, OR issue the refund offline.
5) Am I able to refund a different card than what was used to make payment?

The transaction that needs to be refunded cannot be manually re-routed to a different credit card in the LeagueApps system. For expired or cancelled credit cards, the credit card company should route the refunds to the new open card on the customer's account. It is not possible for the refund to go to an entirely new credit card that was not used for the initial payment. For this situation an offline refund in the form of a check or cash is the best option.

Learn more
Refunds FAQ
Invoices
Payment Plans Invoice Management
How to Bulk Invoice