The Team Properties reporting tool allows admins to quickly and easily tally up the number of answers to form field questions that were asked to players during the registration process. This is a great tool for tallying up information such as:
 How many t-shirts should be ordered of each size (Small, Medium, Large)

 How many volunteers offered their time for various activities (snack stand, fundraising, etc)

 How many players of each position are signed up to a team (forward, defense, goalie)
The example below uses data collected during registration that will help the admin place an order for this season's t-shirts.
Locate the report
From your LeagueApps Management Console, place your mouse over Reporting
Then click Team Properties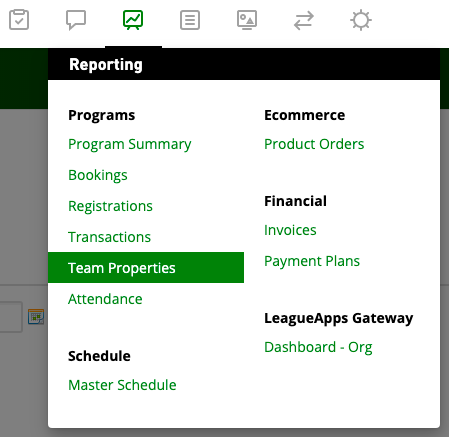 Set drop-down menus
Program: The name of the program that you are pulling the report from. 


At this time if your program is grouped, each report will be pulled at the sub-program level.

First Registration Field: This field is required and must be a registration form field question that is a drop-down list. This is the field that will get totaled up for each team and be displayed across the top of the report. In many cases, this will be a t-shirt size, uniform size, or jersey size.
The Team properties report will only work for form field questions that are created with the Drop-down option.
Second Registration Field: This field is optional, and is used to select a property for each team.
This field must be a registration drop-down field that is asked only to the captain or primary staff of a team. In many cases, this field will be shirt color or team color.
Registration Status: Some organizations allow for partial or late payment options during registration. As the admin, you can choose if you would like to pull a report for participants who are fully registered, or for every person who is in the program (regardless of their payment/waiver completion).
Click Run Report

You also have the option to save the report by clicking the Create New Save Report button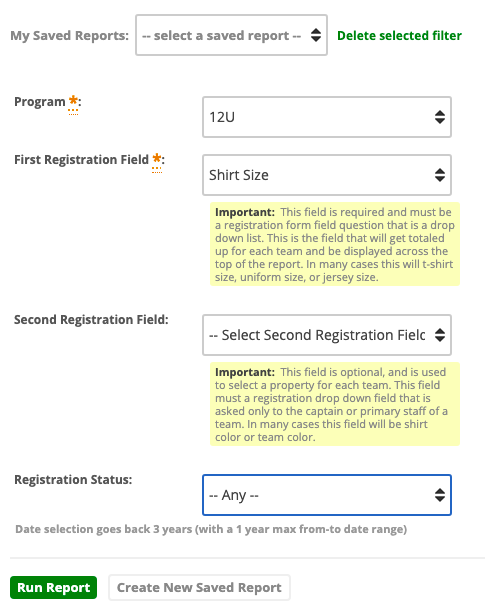 Reading the report
After the report is generated, you will see a table filled with the data related to the players and teams for the program that you selected.  The left side of the table will relay each team's name.  The top of the table will list the possible answers to the form field question that you selected.
Free Agents or Individuals will appear as a separate graph below the teams which will list the number of responses for this role.