To renew your program for next season, follow this 3 step process:

Step 1
Navigate to the program you are renewing and click into its dashboard by clicking on the program name.
Note: if the program is marked as completed and is not accessible from your Top programs area you can navigate to Manage > All programs and change live and upcoming to completed and click apply. You can then locate the program or search it's name in the search bar.
Step 2
Click the Copy this program link on the left side of the program dashboard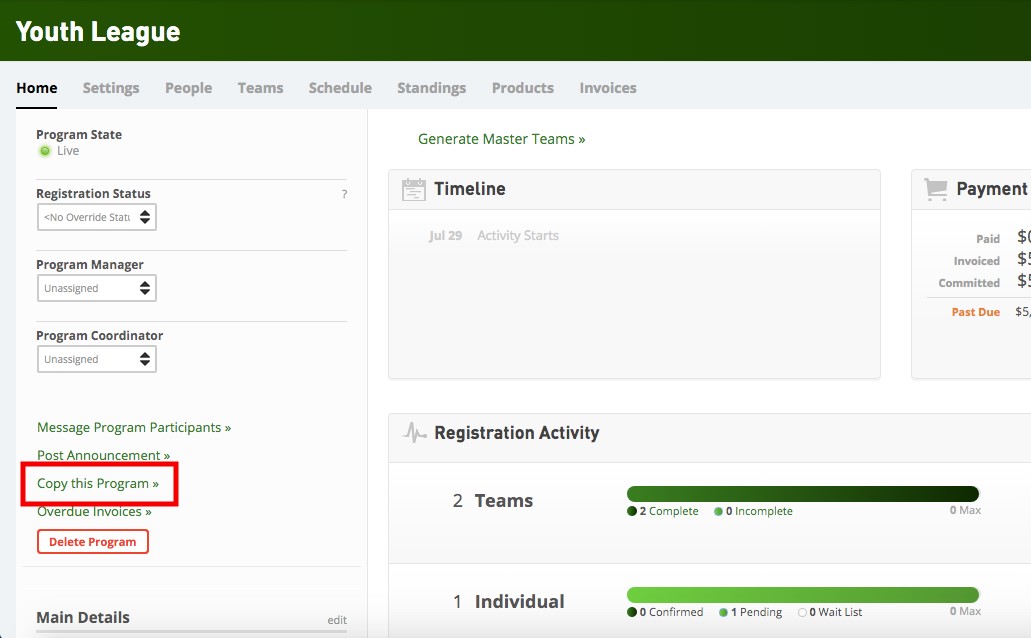 Step 2
On the Edit Details page input the new name, dates, and program state for the new program. (Note: if there were payment plans in the original program you can copy the payment plans with the same dates or with new dates starting on a new date you can input). Click the green save button at the bottom of the page.
Step 3
Navigate to the the registration options page by hovering over settings and clicking on Registration options from the program dashboard. Change pricing and any other details on the Registration Options page. Save settings at the bottom of the page.
Step 4
Navigate to the Form Fields section by hovering over Settings again and clicking on Form fields. Confirm form fields are the same, or update the ones that need to be changed and add in any new ones.
Step 5
Navigate to the Waivers section by hovering over Settings again and clicking on Waivers.Confirm Waivers are all input correctly or add any new ones by clicking add a new waiver.
Step 6
If players are registering directly for teams or groups make sure that all team names are input correctly. You can click on the Teams or Groups menu item and either confirm teams are correct, edit any teams that are there or add new ones.
NOTE - if this is a grouped program remember to update each of the sub-programs


Step 7
Message customers from last season or a certain sport
Find the program URL in the Program Dashboard. Copy this URL.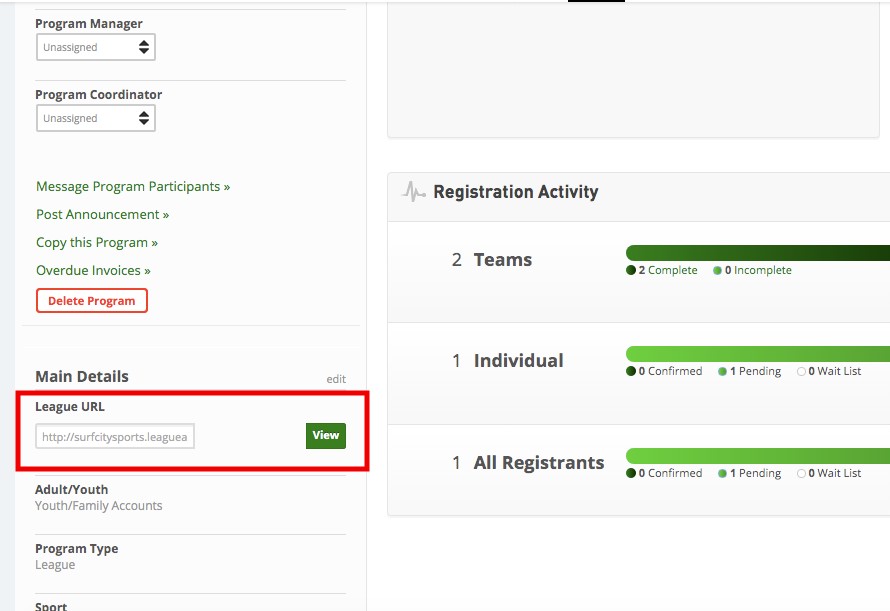 Paste the URL into your message. Click here for more instructions on how to use the broadcast messaging tool.