As a LeagueApps administrator, you may find the need to see what your members see when they log in to LeagueApps. Perhaps you need to adjust a setting on your members' behalf or help them troubleshoot an issue. Using the Log In As Member feature will allow you accomplish both as it allows you to assume a member's identity as viewed from the LeagueApps Member Portal.
Step 1: Navigate to member's profile
Click the magnifying glass in the top, right-hand corner of your LeagueApps dashboard to search for the member by name or email.
⚠️ This can only be used for adult/supervisor accounts as child members do not have login access.
Step 2: Click Log-in as member
Once in the member's profile, click on the Log-in as member link to bring up a prompt. If this is your first time using this tool, read the following steps carefully.
Step 3: Right-click Continue button
In the prompt, be sure to right-click (Command+click on a Mac) the Continue button.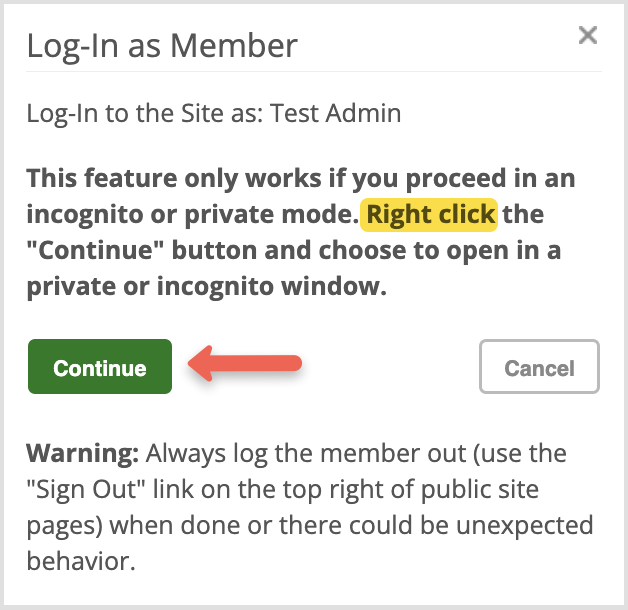 Step 4: Open link in Private or Incognito window
Right-clicking the Continue button will bring up a menu from your browser. In that menu select the option to open the link in a private or incognito window.
This action will open a new browser window that will display the member's dashboard. Once your work with that member's account is completed, simply close the private window to return to your LeagueApps administrator dashboard.