You can enter and manage a regular schedule for any program. Create your schedule by either:
(a) generating an entire schedule, OR by (b) manually entering each game
(Click here for tips on how to use our Schedule Generator and Here is a short video on how use the schedule generator.

First, make sure your program's preferences are set to "Use Schedule". This option is set by default, and can be found under "Manage > select a program > Settings > Preferences."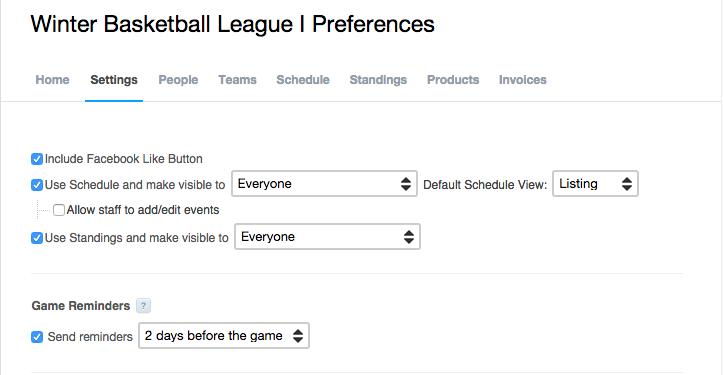 Then, create your schedule by selecting the Schedule option in the Manage tab.
Add (and Edit) Single Game
You can manually add individual games to your schedule. Here is an overview of the steps to entering a single game: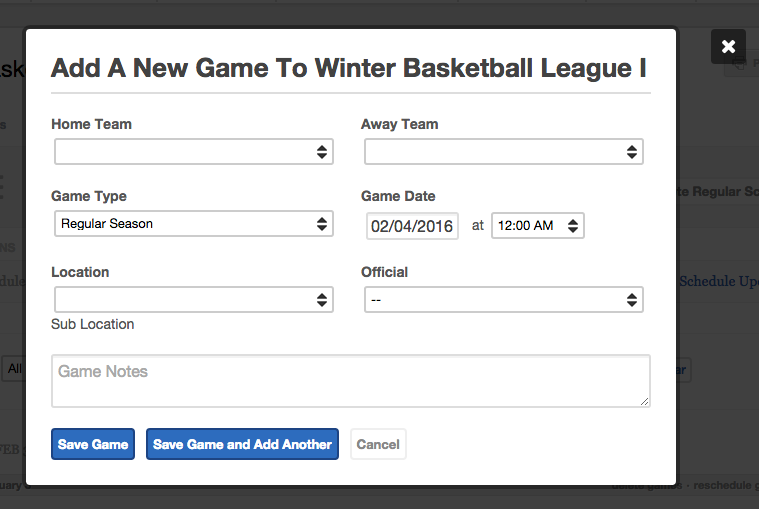 Select Home Team, Away Team, and Game Type
Select Game Date and Time
Pick a Location and Sub-Location from any of the locations you have already entered on your site. To add a location to your site, go to "Manage > Locations > Add a Location"
Select an official (referee) from the list of players in your program (optional). Each player's team will be listed next to their name.
Optionally enter Notes for this specific game. (Ex. Team Picture Day!)
Select Create Game or Create Game And Notify Participants
NOTICE: Only registered players can be selected as officials in a program. If you want to add an official that isn't a registered player, first register him/her as a player in the program.
Edit Schedule

Once you have added at least one single game, you can edit your schedule in the following ways:
Edit Game- Click the pencil icon next to the game location to make changes to your game.
Delete Game- Click 'X' to remove an entire game.
Report Scores- Click the scoreboard ('42') icon and enter scores for each team. (Click here for more on Updating Scores & Standings)
Delete Day- Remove an entire day from your schedule.
Reschedule Day- Move an entire day of games to a different date.
Add Date Note
Date notes are placed at the beginning of a date on your schedule and can be listed whether or not games are scheduled on that date (as opposed to Notes for specific games). For example, a date note would be useful if you want to explicitly indicate a holiday week on the schedule. Here's how you add a Date Note to your schedule:
Select a Date for your note
Select Style, or color
Enter Date Note content under Message
Click Save
Publish Schedule
Choose to publish your schedule immediately OR keep it unpublished until it is finalized. When you publish your schedule, it will be visible on your public-facing site.

More Resources:
- Learn how to further utilize the calendar as an Admin here.
- Improve event operations with advanced calendar tools; learn about LeagueApps' RSVP and Check-in features.
- Not an admin? Learn how to use the calendar as a coach or as a parent/player.