There are two different calendars that can be utilized within the LeagueApps platform:
Program Calendar
The Program Calendar allows you to create practices, games, tournaments and more for a specific program. If you add calendar events to a program with Teams, it will apply to all teams within the program, unless it's applied to a specific team.
Step 1: Navigate to your program schedule
The Program Calendar can be accessed from here: Manage > All Programs > (Select Program) > Schedule.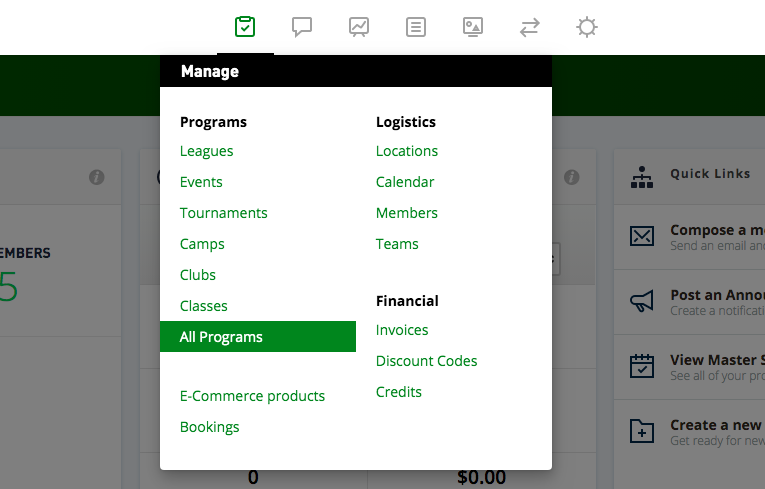 Step 2: Enable the schedule/ calendar feature
If your Calendar is not visible to the public or if you do not see the calendar/ schedule option, go to the Preferences section under the settings tab. Select the checkbox for Use Schedule to turn on the calendar function, and adjust the verbatim boxes to control the privacy settings of your calendar.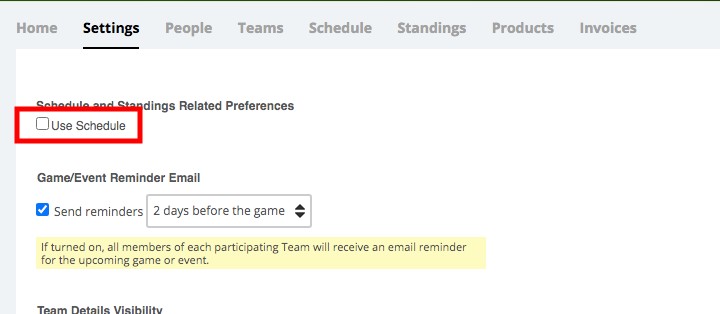 Step 3: Create your Games/ Events
In order to create a schedule that can be viewed in a calendar format click the Add Game or Add Event button in blue on the top left of the calendar page. This will allow you to create the event on the team's calendar page.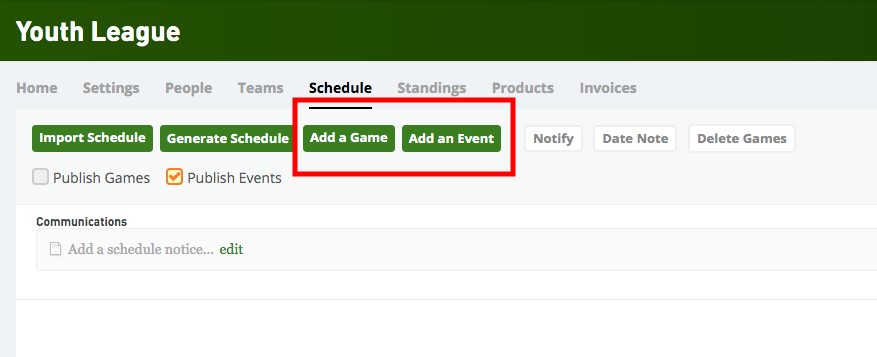 When you add a new event, a popup box will appear where you will be asked to input details for the event, such as Title, Description (Optional), Location (Optional), Start Date, and Start Time. You must click the green Save Event/ Game button at the bottom of the box in order to save your event and add it to the calendar.
*Note: The Repeating Event feature allows you to create an event that repeats every week or month. This is great for setting up weekly practices.
Step 4: Publish Games/ Events
Make sure to check on Publish Games/ Events underneath the green Import/ Generate Schedule buttons once you have your schedule created.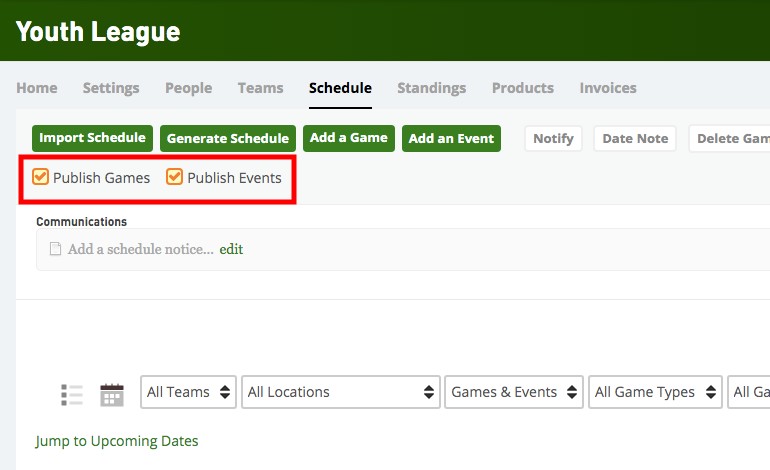 Step 5: Edit Events
If you need to edit an Event after it is created, navigate to it and click the Pencil icon, to edit the specific event. You will have the option to notify participants of the change.
Update
- change details about the event
Cancel
- the event will remain on the calendar and will have a
CANCELLED
alert on it.
Delete
- this will remove the event from the calendar.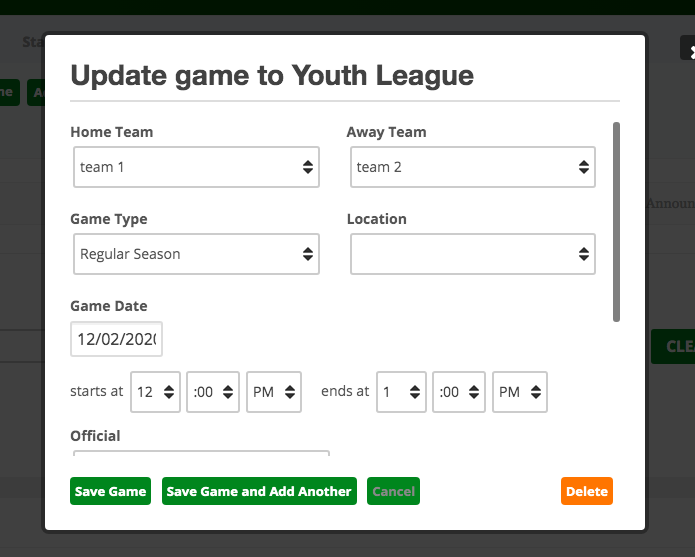 Site Level Calendar
In addition to creating a Program Calendar for a specific program, you can now manage and display a Site Level calendar. This global calendar can automatically pull in events from each program level calendar. The Site Level calendar can be accessed from the admin console here: Manage > Calendars.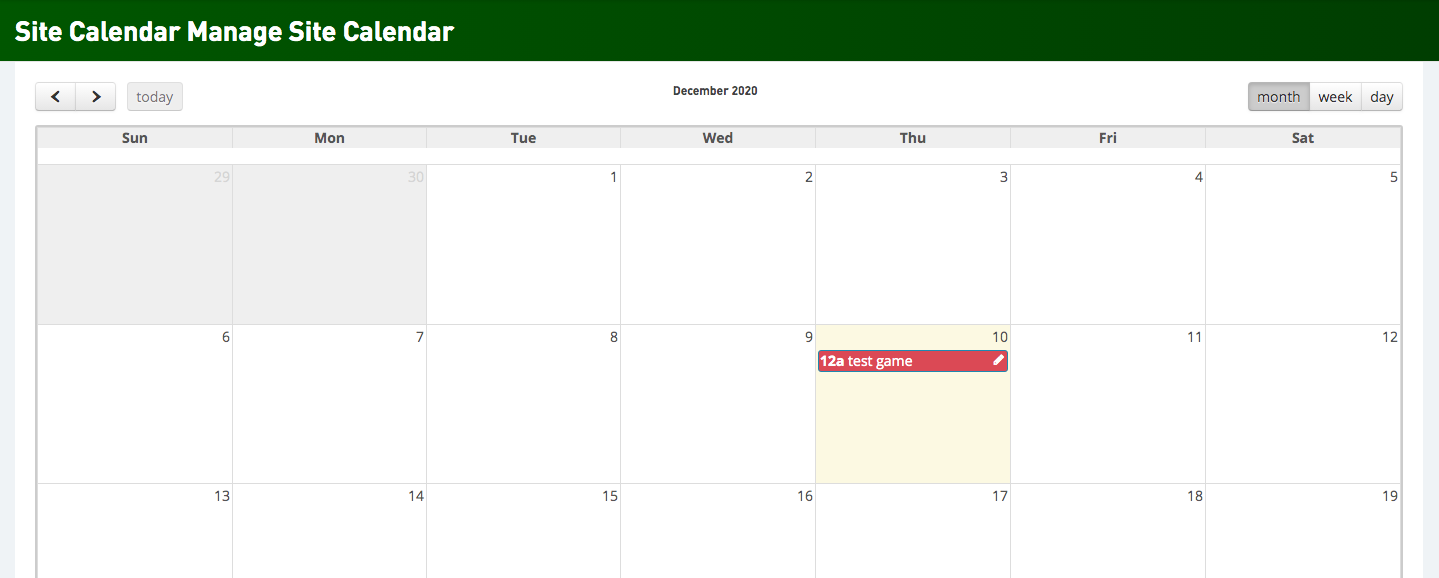 On the public site, the calendar is accessible via yourorg.leagueapps.com/calendar . The site level calendar shows all site wide events and program level events. When viewing the detail of the program event, the Site Level Calendar indicates which program the event belongs to. There is also a filter that allows participants to view events for one specific program at a time.